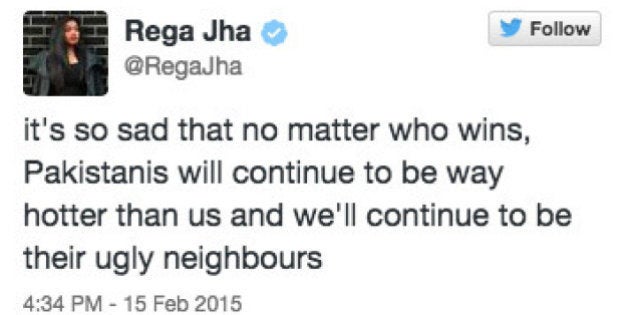 Buzzfeed India editor Rega Jha, a rising young journalist at the New York-headquartered media startup who was sent to Mumbai to set up its India edition, came in for vicious and sexist attacks on Twitter during the India-Pakistan match on Sunday for a throwaway tweet about an old and apparently touchy meme--that Pakistanis are hotter than Indians.
Jha's tweet came as the India-Pakistan cricket match, always the most followed sporting event in the subcontinent, was underway, along with a parallel Twitter war between the cricket fans in two countries—neighbours with a bloody partition, three wars and frequent border skirmishes separating them.
it's so sad that no matter who wins, Pakistanis will continue to be way hotter than us and we'll continue to be their ugly neighbours

— Rega Jha (@RegaJha) February 15, 2015
There was no dearth of Twitter jingoism and virtual chest-beating from fans on both sides as India vanquished Pakistan on the field. But as the match came to an end, Jha's tweet went viral and she found herself at the receiving end of a mountain of outrageously sexist abuse, rape threats and other vile comments.
It didn't help that celebrities like Chetan Bhagat and Suhel Seth chipped in.
Dear @RegaJha,happy to b an ugly Indian man who believes women r equal than a hot Pakistani in a society where women don't have basic rights

— Chetan Bhagat (@chetan_bhagat) February 16, 2015
Soon the match itself was forgotten and Jha's name was trending higher than everything else happening in India.
Soon her mentions were flooded with vile abuse.
We are not publishing the worst abuses. But a perusal of Jha's mentions throws up numerous examples of vicious sexism, threats and abuse.
The abuse continued to pour in through Monday. Jha declined to comment for this story.
India has cyberlaws that the government itself terms draconian (but deems necessary anyway), and has been used against people mocking politicians. But the fear of the law has done nothing to rein in the sexist abuse that is heaped on women on Twitter.