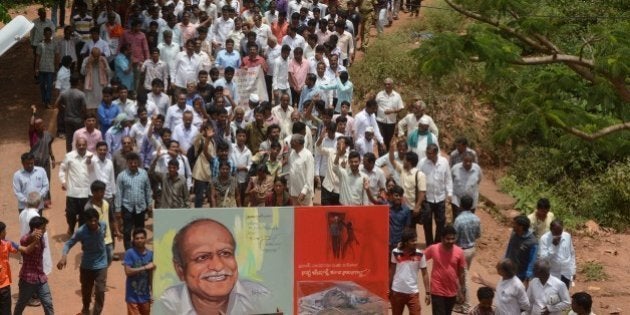 Nearly two months after the murder of scholar Malleshappa M Kalburgi, the Sahitya Akademi, an institution committed to promoting Indian literature, on Friday finally broke its silence over the attacks on rationalists and urged writers to take back the awards they have returned to protest curbs on free speech.
"We all condemned the killing of MM Kalburgi," Akademi member Krishnaswamy Nachimuthu said after a meeting of the Akademi's Executive Board.
The Akademi "unanimously decided that writers who have returned awards should take them back, people who have resigned should join back", Nachimuthu said.
Earlier, writers held a silent march to protest against instances of intolerance and particularly against the murder of Kannada scholar Kalburgi. The writers marched to the Sahitya Akademi with black bands across their mouths in a sign of protest.
"This protest is about the violence on people, artists, rational thinkers and in general on the art practice. You can't dictate to the artists what they can and cannot do, it completely defeats the purpose of art," writer Anuradha Kapoor told ANI.
Meanwhile, writers who have taken a stand against those who have given up their awards, were also present at the venue with placards and banners saying 'writers returning the awards, get well soon!"
Over 40 writers and poets have returned their awards in protest against the Akademi's silence over recent issues of rising intolerance.
The 77-year-old author and academic from Dharwad in Karnataka was shot dead at his home for criticizing idol worship and writing against religious superstitions.
Another rationalist writer from Maharashtra, Govind Pansare, was gunned down earlier this year. In 2013, two men gunned down Narendra Dabholkar, a 68-year-old writer, while he was out for a walk in Pune.
The government has largely been dismissive of the growing voices against such attacks on thinkers.
"The new strategy of anti–Modi, anti–BJP sections appears to be to resort to politics by other means. The easiest way is to manufacture a crisis and subsequently manufacture a paper rebellion against the Government in the wake of a manufactured crisis," wrote Jaitley.
Nayantara Sahgal, Ashok Vajpeyi, Aravind Malagatti, Mangalesh Dabral, Rajesh Joshi and Uday Prakash are among those who have returned their Sahitya Akademi Award, India's highest literary honour, over the the murders. (With agencies inputs)