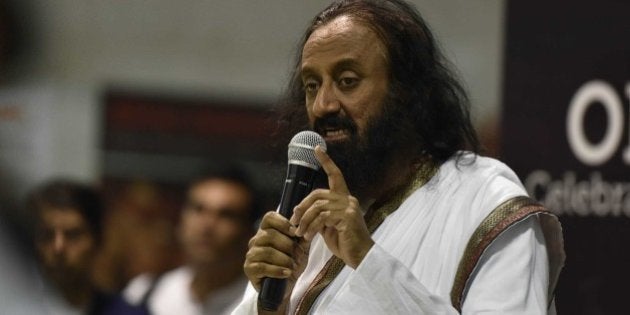 Changing an earlier stand of not paying a penny to the National Green Tribunal for holding a mega Art of Living event on the Yamuna flood plains, spiritual leader and AOL founder Sri Sri Ravi Shankar on Sunday said he will pay Rs five crore, but not as penalty, but as a "development fee" for a biodiversity park.
The NGT also told AOL that if they failed to pay up then the tribunal will attach the grant which the Culture Ministry is supposed to pay to AOL. The next hearing is scheduled for April 4.
"All through, I have lived a spotless life. I have never been late to school. I have never paid fine, even of a single paisa. So, we said we will not pay any fine. But then I was told that this is not a fine or penalty. It was wrongly reported in newspapers. They said it was for the development here. We said, if this is for development and restoration, then we will whole-heartedly support this and put everything into this," Sri Sri said.
The green panel took strong exception to Ravi Shankar's remarks about refusal to pay Rs 5 crore and instead saying he would prefer to go to jail.
"When a man of his stature makes such statements, it hits the very rule of law. If anybody hurts the image of the tribunal, he will be taken to rule of law. Don't treat tribunal as subject to your controversy with regard to the event," a bench headed by NGT Chairperson Swatanter Kumar said.
Meanwhile, Delhi Chief Minister Arvind Kejriwal has sought Ravi Shankar's assistance in cleaning the Yamuna river.
"We are sitting along the banks of Yamuna river. We have taken several initiatives for cleaning it. If Guruji takes a little initiative... Several governments need to come together to keep the Yamuna clean. The Delhi government and the Centre and many of its ministries need to come together. Today, on the left side of Guruji is the Union government and to his right is the Delhi government. If he takes the initiative and pledge to clean Yamuna under his leadership, then I think this can be achieved," Kejriwal said.
"I consider myself very fortunate that I could see this historic moment. I am thankful to Guruji. Jai Gurudev," Kejriwal added.
The World Culture Festival, organised by the AOL on the floodplains of Yamuna, is facing criticism from several quarters over ecological damage. The Centre and the Delhi government too have been criticised for giving the go-ahead to the function.
Senior ministers in the NDA government also came out in full support of Art of Living's controversial cultural event on the floodplains of Yamuna river, lashing out at those criticising it and said the "Yamuna is clean, but some minds are polluted".
Telecom Minister Ravi Shankar Prasad said the event was posing no problem to the environment and instead the venue was witnessing a smooth flow of culture.
"I saw in the media that some people are saying Yamuna is polluted. See the Yamuna, very neat, very clean, very quiet, very calm,...only some minds are polluted. I hope that with the teachings of Guruji, their minds will also be clean, their country will be clean and the world will be clean," he said.
Union Urban Development and Parliamentary Affairs Minister Venkaiah Naidu said, "Human values are eroding, the morals are going down. Violence, obscenity, vulgarity, is increasing in certain parts of public life. We should put an end to all this. In spite of verbal violent reaction from some people. Don't worry about them. In every society, there will be some people like them."
A string of Union Ministers, including Finance Minister Arun Jaitley, Railway Minister Suresh Prabhu, Science and Technology Minister Harsh Vardhan, and Delhi Chief Minister Arvind Kejriwal attended the last day of the event. BJP national president Amit Shah too was present at the event.
(With inputs from agencies)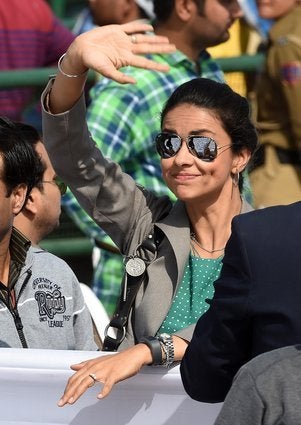 Bollywood Actors Who Turned Politicians
Popular in the Community