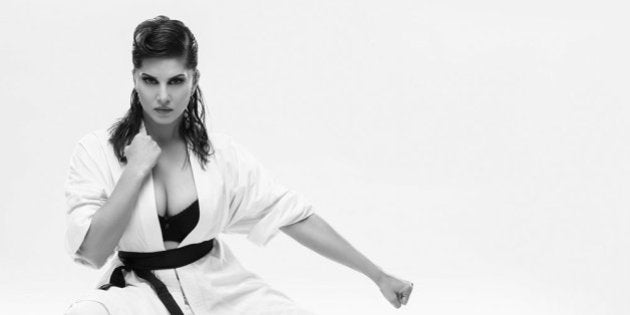 Sunny Leone has appeared before us in various avatars in the last couple of years. As the go-to heroine for Bollywood's new money-spinning genre 'horrex'. As the face of this decade's most popular Indian dance track. And most recently, as a woman who won't take any sexist nonsense.
Now, how about Sunny Leone the martial arts warrior? Or the Taekwondo fighter? Or the fierce Tekken girl?
Yes, FHM magazine is all set to wow Sunny Leone fans with a new photo spread on the actor in its May edition, where she is seen in all the above avatars.
In some of the photos, she is seen rocking a blonde wig like it's nobody's business. Wearing a sexy black leotard and brandishing a katana, Leone looks like every gaming geek's fantasy come to life.
In another series of photos, Leone is clad in a karate uniform, her haired slicked back and her face contorted in a fierce concentration. The same series also features Leone's husband Daniel Weber, who looks no less smoking. Though Weber is slightly stiff compared to Leone in front of the camera, you'll have a tough time taking your eyes of the fabulous tattoos on his arms and chest.
Check out the photos here: