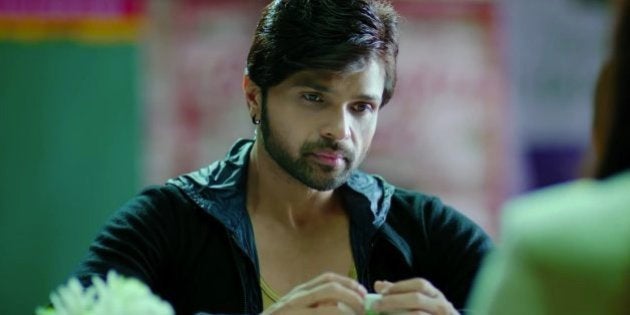 Who is Himesh Reshammiya, at his very core? A relentless hit-maker with a famously nasal voice and a lapsed fondness for baseball caps? Or a man surrounded by the worst (best?) kind of sycophants, who exist primarily to reinforce his own ideas?
Look, it's fine, I get it — the man wants to be an actor and it's great to have hopes and dreams and everything. I remember even somewhat enjoying Anant Narayan Mahadevan's The Xposé (2014), Reshammiya's previous outing as a hero, which portrayed him as a vain '60s movie star in a cheeky, self-aware manner.
But starring in movies like Shawn Arranha's Teraa Surroor isn't, in this writer's humble opinion, likely to accelerate his journey to stardom. An action-thriller, it features Reshammiya as Raghu, an undercover assassin who dresses like a Korean pop star. He is engaged to Tara Wadia Bronson (Farah Karimaee), a musician who looks vaguely like Katrina Kaif from a decade ago and has never made acquaintance with a top that ends below her midriff (this is more an observation than it is a complaint).
A 'spiritual sequel' to Aap Kaa Surroor – The Moviee (2007), which was made to capitalise on Reshammiya's singing stardom in the mid- to late-'00s, Teraa Surroor is, as vanity projects go, bad in an occasionally fascinating manner. It features a number of his older songs, such as 'Tera Suroor', 'Tanhaiyaan', 'Assalaam Vaalekum' as well as — funnily enough — Anand Raj Anand's ' Ishq Samundar' from Kaante (2002). Arranha employs several drone shots, sometimes with footage in varying formats, to capture Mumbai and Dublin, where this film is largely set. Quite often, it feels like an interminable music video.
When not resembling a T-Series YouTube playlist, however, Teraa Surroor is a brainless, melodramatic actioner with a hackneyed, pulpy story. Early on, an earnest Raghu confesses to Tara, his to-be wife, that he has cheated on her. This makes Tara very upset indeed, but not enough to break off their engagement. She simply gives him the silent treatment and flies off to Dublin for a show. However, Someone Very Evil has framed her — cop cars marked 'Garda' surround her and find drugs in her taxi. Raghu, that lovable, unfeeling, unsmiling murderer, lands up in an Ireland where everybody speaks in bad American accents. I didn't stick around for the credits, but my best guess is that a random guy was picked off the streets of Andheri and offered cash to dub for several Irish junior artistes.
Even the title doesn't hold up, in relation with the film. 'Suroor' is Urdu for joy, and there is none to be found in this movie.
Occasionally, a real actor like Naseeruddin Shah appears on screen, his eyes glazed over as he delivers his lines in his practiced, characteristic manner (possibly because of the paycheck he's getting for easy work). Oscar-nominated director Shekhar Kapur also wanders by, playing the genial Indian ambassador who casually involves himself in illegal activities. An animatronic robot that looks remarkably similar to Monica Dogra plays Tara's lawyer.
How does one take a movie like this seriously enough to even sit through it? A movie whose story hinges on Tara accepting an offer to play in Dublin on 'India Day', which she later finds out isn't a thing. A deluded, dated 'hero movie', starring a lead actor who can't seem to move most of his facial muscles. A film that forces a deshbhakti moment upon you that ends with said lead actor mic-dropping: "You understood what I said? Want me to translate? Translation denied". A waste of filmmaking resources that contains the line: "I didn't cheat on you. I only penetrated her for the sake of my country."