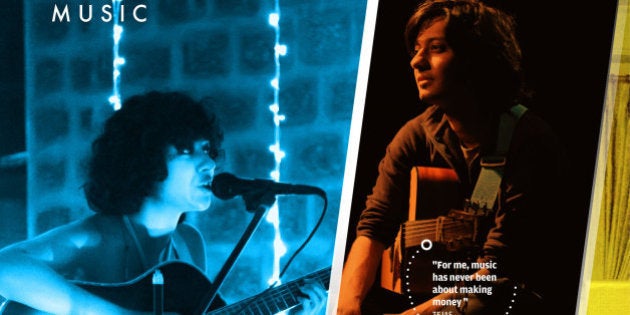 Before my soul does sleep
When Prateek Kuhad is asked to strike a pose with his guitar for a photo shoot for this magazine, his casual demeanour starts to dissipate bit by bit. After some 15 shots, clicked against four different backdrops at his barsati in Delhi's Defence Colony, the 25-year-old singer-songwriter from Jaipur looks traumatised. "Dude, this is not working," he pleads, "I am very bad at pictures. I simply can't stage an expression."
The spartan lyrics of his song Flames excerpted above reflect this very aspect of his personality. Born to a Marwari family in Jaipur and armed with a degree in Math and Economics from New York University, Kuhad had always been musically inclined. From being just another guy-with-a-guitar to sharing the stage with Midival Punditz and Indian Ocean at the NH7 Weekender in 2014, Kuhad has traversed quite a distance since he left his consultancy job in New York to pursue music full-time in 2012.
On 21 January, Kuhad launched his debut full-length album In Token and Charms, an all-English tapestry of gentle, free-flowing melodies, expressive of love and longing, personal encounters and non-events, "the little details of my life"--recalling the likes of Nick Drake and Elliott Smith. The album has created the kind of buzz that is rarely associated with indie music in India, and Kuhad is being hailed by critics as the most exciting singer-songwriter to watch out for. With his upcoming four-city promotional tour in Mumbai, Pune, Bangalore and Delhi, Kuhad will attempt to cultivate a fan following that was once commanded by pop bands of the mid-1990s like Euphoria, Silk Route and Strings.
Many obituaries have been written on the demise of Indipop, which in its golden age--just after liberalisation in India--had its own poster boys and girls like Lucky Ali, Shweta Shetty, Leslie Lewis, Anaida, Alisha Chinai and many more, until Bollywood came along to play spoiltsport. In the digital age, however, Indipop has reinvented itself: it comes in different packaging, with a new band of independent singer-songwriters who are attempting to fill in the gap between a monolithic Bollywood and alternative indie music in the form of folk, rock, metal and electronica. The genre of pop music has had to deal with several presumptions in India. A singer trying to make a mark with a personal composition tuned to the accompaniment of a guitar or drums was considered juvenile. It was mostly seen as a stepping-stone towards forming one's own band or entering the hallowed portals of playback singing for Bollywood. But thanks to a vibrant independent music scene today--which includes an exciting roster of music festivals, and niche and intimate performance venues across metros--along with a 'digital-first' mindset in an age of declining album sales in physical form, the reach of singer-songwriters has multiplied.
The new-age singer songwriter isn't just a pretty face, passing off bad high school poetry as lyrics. The new pop stars are far more sophisticated, proactive and serious about musical craftsmanship--finding innovative ways to beef up the sound and reach of their music. With no dearth of listeners who want to hear voices that are not televised or played on the radio, the young singer-songwriter is making music that's novel in its lyrical nuances and sounds.
Gowri Jayakumar, 29, popularly known by her stage name Kozmi Cow, has been making music since 2009 and left her day job some two years ago to devote herself completely to her craft, after releasing her debut album Sad Little Shoebox. Her compositions tell stories which are poignant, wistful, irreverent, glum, tempestuous even. The release of her album put her in the limelight--with comparisons to Norah Jones and Joanna Newsom.
Jayakumar is thankful to the internet, which has enabled her to reach a much wider audience without managers, record labels or any such inbetweeners. And she is full of praise for the new faces of indie singer-songwriters who display such seriousness about perfecting their art, especially production and packaging. But Jayakumar has refrained from being as aggressive in order to secure gigs or perform at the right festivals or jam with more musicians--one of the reasons that she still considers herself a struggling artist. "I have been on the fringe and I am mostly broke. I could sit and pine that I put my heart and soul into my songwriting, to make it as honest as possible, but still the world won't listen to it. But this is the reality in which I have decided to become a musician. Maybe there is not enough demand for my music. Maybe my songs don't make people dance. But I still carry on writing my songs... I don't know why."
"In Mumbai itself, there are so many singer-songwriters that the music venue Blue Frog was able to create a special early evening slot for aspiring guys with guitars to showcase their talent, in addition to having a regular night dedicated to the genre," says music journalist Amit Gurbaxani. Pulling out all stops to get roped in by a record label is passé. "Thanks to technological developments in the last couple of decades--production software, audio and video streaming websites, social media--it's become much easier to compose, record, release and popularise music as a singer-songwriter. It's no coincidence that a lot of singer-songwriters the world over have first found fame as a 'Soundcloud sensation' or 'YouTube star'," Gurbaxani adds.
Some of the big-hitters among those writing and singing in English are names like Sohrab Nicholson, Nikhil D'Souza, Nischay Parekh, Prateek Kuhad, Shantanu Pandit, Siddharth Basrur, Alisha Batth, Sidd Coutto, Tejas, Alisha Pais and Gowri. Most of these artists are in their early or mid-twenties or just out of college. Most of them are not 'trained' in the classical sense of the term. They are mostly self-taught, at least with the guitar. Most come from families that are usually supportive of their creative endeavours, and quite often serve as the first point of exposure to good music--especially Western folk, pop and blues of the 50s, 60s and the 70s. These artists mostly start writing songs in their late teens--lyrics that do not really deal with universal themes but tend to be introspective and confessional. Songs that are mostly soft, lilting love ballads with occasional shades of grey, or are happy, upbeat and forward-looking. The principal focus is on songwriting, fuelled by a love for original unadorned lyrics.
Says Ankur Tewari, one of the established names among singer-songwriters today and head of content at Pepsi MTV Indies: "Earlier, people would take the help of lyricists. Now, it is so interesting to see people writing personal poetry. I feel envious of this current crop of singer-songwriters. All of them are so young and they are doing such good work." For Tewari, pop music is all about writing and singing with earnestness and authenticity. You need not be a dissident poet with great flourish.
Nischay Parekh, 21, a Kolkata-based singer-songwriter is another artist who has caught attention. His 2013 debut album Ocean was praised for its clean and fresh soundscape. For his second album, which is expected to release later this year, he has decided to do something more "balanced, urban and contemporary". As an artist, he felt compelled to move beyond personal preoccupations to music that is more exploratory in nature. "I am moving towards more universal themes. There is a high level of professionalism that is required. It is not just about expressing your feelings with a guitar."
Interestingly, Parekh, whose hit singles include I love you baby, I love you doll, has never performed solo or recorded any of his released songs in a formal studio set-up, but has chosen unconventional spaces like parks and hallways instead.
According to Mumbai-based Tejas Menon (stage name Tejas)--a 25-year- old who is currently a poster boy for acoustic pop in India and who released his EP Small Victories to rave reviews in November last year--India is in an awkward sort of place when it comes to encouraging singer-songwriters. He is certain that the indie singer-songwriter fraternity is steadily growing. Yet, he adds, "There are still very few musicians in every genre and therefore the Indian audience is currently tolerant of every kind of music coming their way." He also points out that while most indie singer-songwriters earn money from live gigs and ticketed sales of performances, it is still not enough since most music festivals do not even cover the entire cost of travel and accommodation for performers.
Menon works in digital advertising as his day job even though music takes up all his time and attention. He is currently in the process of fine-tuning the original content of his songs. "For me," he is quick to add, "music has never been about making money. We (singer-songwriters) are growing and that's a good thing." This sliver of thought is also reflected in one of his songs, aptly titled The Next Best Thing:
The people that think we don't matter
I'm not trying to change history,
All I wanted was for us to be a certain
And have each our small victories
All images have been provided by Open Magazine.
Popular in the Community