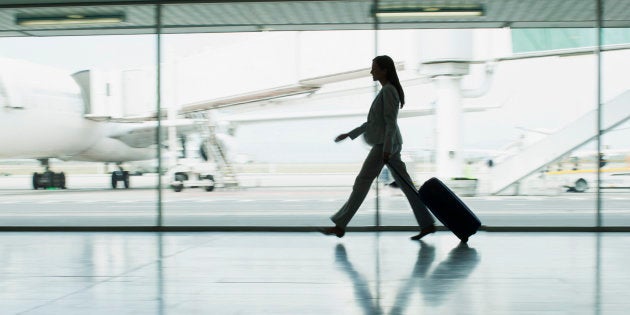 The concept of full-time travel has captured the popular imagination for several years now. While some people are critical of this way of life, others are inspired by it. I belong to the second category, and while I haven't made a decision to go nomad yet I've had the privilege of having some heart-to-hearts with people who have. On a recent press trip to the Philippines I met a bunch of passionate travellers and gleaned some interesting nuggets about their lifestyle and what they've learnt along the way.
1. Shuttling between time zones
Being a pseudo time traveller is not always fun. The constant change in time zones can wreak havoc. One week you are waking up in South East Asia and the one you are in a European time zone.
Natalie Deduck (LoveandRoad):"We get sick because of changing temperature or seasons very often."

Pötpöt Pínílí (Travel Trilogy): "My common problem is sometimes I wake up to a new place without knowing what day it is or what time."
2. Living out of a suitcase/backpack
When you are travelling full time, you have to downsize your belongings to accommodate baggage allowance limits.
3. Home food... what's that?
For most of us, global cuisine is something we try at a new restaurant nearby, but for full-time travellers it is "home food" that's rare. They constantly eat the local fare wherever it is they happen to be at the moment and it is these "foreign" dishes that may ultimately be what their palate craves.
Shivya Nath (The Shooting Star):"For me it's strange food cravings from different cuisines around the world. What's home food anymore?"
4. Owning a bouquet of sim cards
Staying connected is a priority for any traveller and that's the first counter one looks for at airports. Being on the go often means that it's handy to keep a stash of different sim cards on the ready. It goes without saying that the rest of us don't carry a bunch of sim cards in our wallet.
Kashyap Bhattacharya (Budget Traveller):"I always have a wide selection of micro-sims in my wallet when travelling. It is easy to pick up a data only sim in most international airports and they are usually quite affordable. Setting it up takes a matter of minutes or a few hours at most."
5. "Work e-mails" don't mean the same thing
Spreadsheets and reports don't dominate the inbox. Instead, there's a lot of back and forth with visa agencies and travel insurance companies. These exchanges are often very frequent, depending on the plan ahead. A lot of countries have 15-30 day stay restrictions and hence the need to constantly hop between countries.
6. Language doesn't matter anymore
It is practically impossible to learn all the languages in the world. Fortunately, you don't always need fluency in a local language to communicate.
Natalie Deduck (LoveandRoad):"We often have a mix of languages in our vocabulary."

Pötpöt Pínílí (Travel Trilogy):"It might also be strange but I get the feeling that I can understand the people even if I don't know the language. Sometimes, you just get used to the sound of the language and you somehow get clues from intonation, phrasing and other paralinguistic signals like hand, eye and body movements."
7. You change as a person
Most full-time travellers have a certain unique aura about them. They are the kind of people you want to be friends with. Their stories go beyond the novels you have read and their knowledge transcends the boundaries of education. With just one trip solo I began to feel altered. I wonder what treasure these guys hold.
Kashyap Bhattacharya (Budget Traveller):"Travel gives you a rich perspective of what an amazing, diverse and beautiful world we live in. You grow as a person and definitely become a wiser and happier version of you. As clichéd as it sounds, travel really is the best education a person can have."
8. Travel doesn't necessarily mean happiness
When travel is just an experience, something you do once a year or once a month before returning to the routine, it definitely brings happiness.
But when you hit the road with an open-ended plan it is very different and not necessarily all gold. Running short on money or not being able to get home when feeling homesick could bring in low points too. So the next time you see an article that talks about someone who sold everything to travel the world, don't think it was nirvana from that point on. Think long and hard before you take a drastic path such as full-time travel.
Sachin Bhandary (Eccentrips):"Travel is not just about great sights and Rumi quotes. Long-term travel is hard work peppered with miserable moments. But that is where some of the best learning comes from. So if you are not ready for the lows, then it may not be for you. In that sense, it is like any other pursuit -- you can sustain only if you truly love it."
9. You learn to manage money
Money management is one of the toughest life skills to master, at least for me. But ask a full-time traveller and they will tell you how they got the hang of it in a month. Budgeting, keeping track of expenses and being debt-free are key survival skills when you're constantly on the go.
Barbara Wagner (Jet Settera): "I am a resident of three countries and I have three bank accounts, one is dollar denominated, another one is Euro denominated and the last is Pound denominated. I try to use the account that is the most favourable in a certain country. When I am in Europe, I use the Euro account, when I am outside of Europe I usually use my US or UK accounts. This means I have to remember all the PIN codes for all debit and credit cards and to be honest, I don't always succeed. It has happened that I was in Asia for three months and I was unable to use a card because I forgot the PIN code. Also, I have to make sure I pay all my credit card bills on time while travelling to make sure I am not charged a late fee."