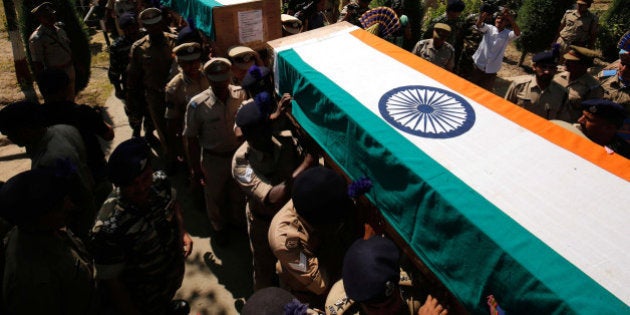 NEW DELHI -- Constable Vir Singh was among the eight men of the Central Reserve Police Force who were killed by militants in Pampore on Saturday, the deadliest attack to hit the state of Jammu and Kashmir in the past three years.
Back in his village in the Firozabad district of Uttar Pradesh, upper caste men denied Singh's family just a little bit of public land for his funeral, The Times of India reported today.
It was only after district officials intervened that the upper caste villagers gave up by a 10 by 10 meter plot for the last rites of the soldier, who belonged to the Nat (acrobat) community, TOI reported.
"In the morning, the local villagers had raised objections over martyred soldier's family's demand to cremate his body on public land and then erect a statue of him. But later, after long hours of talk with SDM, the villagers agreed to respect the family demand," Vijay Singh, the Gram Pradhan, told TOI.
Singh, who joined the CRPF in 1981, was the sole bread earner for his family, who live in one small room, which has tin shed as a roof, TOI reported. Rajni, his 22-year-old daughter, is pursuing M.Sc, while Ramandeep, his 18-year-old son, is pursuing B.Sc, and Sandeep, his 16-year-old son, recently cleared his Class 12 examinations.
Ramsneh, Singh's father, who is a rickshaw puller in Firozabad, said, "My son gave up his life to protect the land of our country, but over here our own people have objections to give a 10-by-10 sq. meter land for his cremation."
"I don't know, who will now take care of his children," he said.
Popular in the Community