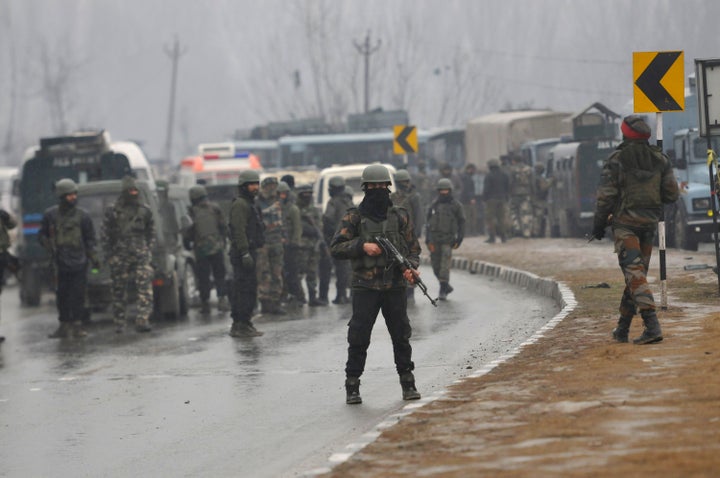 Jammu and Kashmir Governor Satya Pal Malik said the Pulwama attack was partly the result of intelligence failure and some negligence, reports said.
At least 40 CRPF personnel were killed on Thursday when a terrorist rammed an explosives-laden vehicle into the bus they were travelling in. The Pakistan-based Jaish-e-Mohammed (JeM) terror group claimed responsibility for the attack.
The governor told The Indian Express there had been no intelligence inputs that among the militants being tracked by security forces there was a Jaish militant training to be a "suicide bomber".
"The fact that we did not know that there was a fidayeen among them is also part of the intelligence failure. I can admit that. This man (identified as Adil Ahmad Dar) was very much on our list of suspects. But due to the pressure they were under, no one was giving them shelter in their homes. So he must have escaped to the jungles or the hills and got lost. We knew about him but could not trace him. This was just a chance thing and he was the rare one who got away. The rest have been getting killed," he said.
However, Malik told NDTV that the administration had received inputs on a possible attack.
"There was no intelligence failure because we had received inputs (of a possible attack). But there was surely some kind of negligence. If the terrorists could bring such a big vehicle without being checked, it had to be because of failure on our part," he told NDTV.
On Thursday, soon after the attack, Malik directed immediate enhancement of surveillance and review of the security management of all important installations and establishments in the state.
"Such acts of terror will not deter the resolve of our security forces and the spirit of the people. We will finish these inimical forces to their last. The forces responsible for insurgency in the state are desperate and frustrated. They just want to prove their presence," Malik said.
The governor urged all commanders of security forces to enhance surveillance on every front and directed the district and divisional civil and police administration to immediately review the security of all important installations and establishments, an official spokesman said.
Malik expressed sympathy to the families of the soldiers who lost their lives and prayed for the speedy recovery of all the injured persons.