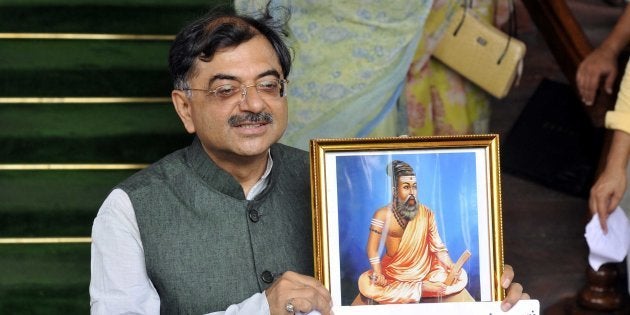 Former Rajya Sabha member and head of an India-African Parliamentary Friendship Group, Tarun Vijay, was called on by broadcaster Al Jazeera to speak about the recent racism allegations against India after four Nigerian students were brutally attacked in Greater Noida.
African students, who were also on the panel, spoke about how unsafe they felt in recent times in India. They said despite making an attempt to blend in, they still faced sporadic incidents of racism, and their lifestyle habits were looked suspiciously upon by Indians — be it food or clothes.
When it was time for Vijay to speak, he did something extraordinarily ridiculous. Instead of admitting that indeed the incidents in Noida were racist in nature — the African students were suspected of eating the flesh of a young local boy who had gone missing — Vijay steadfastly maintained Indians weren't inherently racist.
"If we were racist, why would we have the entire South, which is complete...you know...Tamils.... you know Kerala, you know Karnataka, Andhra? Why do we live with them? We have black people all around us."
Although the other panelists did not call Vijay out for his racist statement, the politician himself validated every argument they had made during the debate. To clarify for the benefit of Vijay — who defended his stand later on Twitter by saying that Indians worshipped dark-skinned Lord Krishna — the southern states are part of India and it beggars belief when he condescendingly says "we live with them".
Secondly, to bring up the four states and their residents in a debate on racism only supports the argument that Indians, such as Vijay himself, are deeply conditioned to view skin colour as a dividing social factor.
To Vijay's credit, he later apologised.
Vijay's faux pas did not go unnoticed by his colleague.
You had one job, Mr Vijay.
Popular in the Community