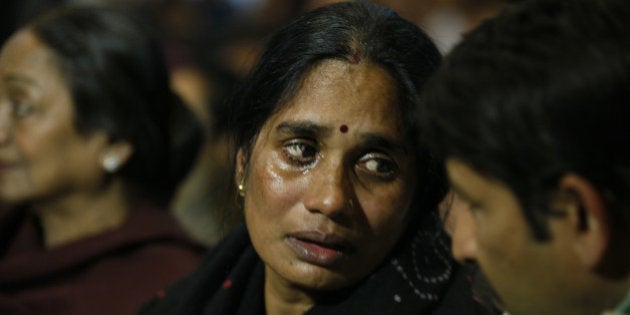 "I am not speaking to the media today," said Enakshi Ganguly to one news TV producer after another yesterday.
The child rights activist has been on TV on many occasions, defending juvenile justice for the juvenile convicted in the Nirbhaya case, against growing demands that juvenile offenders like him be tried and punished like adults. Yesterday, she refused all invitations.
"What TV does is that it juxtaposes my comment with that of Nirbhaya's parents. And that's very sad, because we are actually with her. We work with victims, we know what it is like to be a victim. Victimhood destroys entire families."
Ganguly runs the HAQ Centre for Child Rights. Among many things that HAQ does for child rights, is the counseling of juvenile offenders, on the invitation of courts and juvenile justice boards.
For those who have the patience to listen, she has a story to tell, the story of children who commit crimes.
"Young people are easier to bring in to an offence, because they are easier to influence and brainwash," she says, "But for the same reason, they are easier to reform. The idea is not to forgive, but to make them understand what they did, but give them a fresh start, a second chance, because they have a long life ahead of them."
"Young people are easier to bring in to an offence, because they are easier to influence and brainwash"
Many are not willing to buy arguments like these today because, in the case of the Nirbhaya juvenile, a lot of people are seeking retributive rather than reformative justice. Juvenile offence has become synonymous with the 17 year old in that white bus three years ago.
Three kinds of juvenile offenders
There are three types of juvenile offenders, according to Ganguly, whose organisation has counselled hundreds of children.
A large category is that of adolescents in consensual sexual activity. Since the age of consent in India, 18, is much higher than the age of puberty, these are under-18 boys found having sex with under-18 girls, and parents typically file kidnapping and rape charges.
A second category is that of children who commit crimes in the spur of the moment. Ganguly remembers, for instance, the story of 14-year-old couldn't take the sight of his father coming home drunk and beating his mother every night. He bashed up his drunk father, who died. She remembers another story of a 12-year-old domestic worker employed by an elderly couple in south Delhi against child labour laws, who murdered the couple. When asked why he committed the crime, he said that they would keep him hungry to make him do work. One night, it was midnight and he wasn't yet given food, and the elderly woman was scolding him for something. He pushed her and she fell unconscious. He got scared when the old man saw this, and managed to kill them both.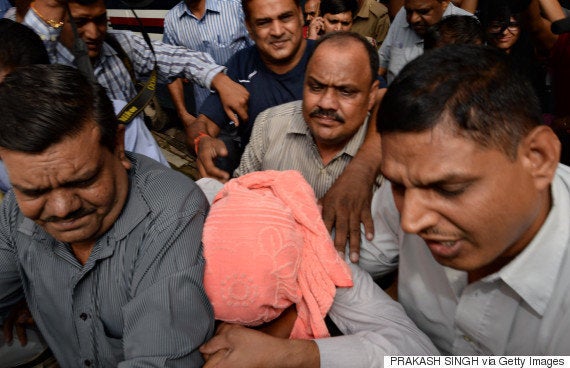 The juvenile convict being escorted by police.
In both these cases, Ganguly's organization followed the journey of the children, and found that they both returned to their homes and families, making a fresh start in life. "Had they entered the adult prison system, they would have been stuck there for life." The adult prison would have increased the chances that they would have entered the vicious cycle of crime and punishment.
Then there was a eight year old who had killed a 5 year old fighting for a ball. The eight year old thought he was only hurting the five year old – stabbing him with a knife.
The third kind, a small minority, are the repeat offenders. These are children who, often, live on the streets, are raped, forced into crime, begging and drugs. "In all these years, only one or two of the children we have worked with have returned as adult criminals. Almost all of them get a new life. If a child does return as an adult criminal, treat him like an adult. But you can't tell in advance whether someone will be a repeat offender," says Ganguly.
"Only one or two of the children we have worked with have returned as adult criminals"
The juvenile in the Nirbhaya case, she says, committed the acts that he did under peer pressure, and he has no prior history of crime. HAQ's counselor who has met him, says he looks very scared, fears for his life, speaks little.
The reason why many are outraged to see him get a second chance in life is the extremity of his crime. "Why is it," asks Ganguly, "that CRPF men raping tribal women in Chattisgarh is not seen as an extremity?" referring to a recent news report. She says it is dangerous to demonise all adolescent young men from poor backgrounds as potential criminals. "We don't care for them when the languish on the streets, but want the harshest punishment for them when they come in conflict with the law," she says.
The juvenile is said to have told officials at his special home that he longs to go back to his native village in Badaun in Uttar Pradesh, use his new-found tailoring skills to open a tailoring shop, care for his ailing parents.
At the home, he was not allowed to speak to other children for the first two of his three year period of incarceration. He also claims he did not commit the crimes he is accused of and in any case wants to forget his past.
By contrast, intelligence agencies suspect he was radicalised as a jihadi as he mingled with a Kashmiri youth in the special home. If he violates any law, the police can arrest him. "If he became radicalised, then who is to blame? He didn't go to a madarsa. He went to a government institution," says Ganguly.
News reports three years ago had said that the juvenile was the most brutal of the six in Nirbhaya's gang-rape and murder. These stories were based on Delhi Police sources, but the Delhi Police in its chargesheet before the Juvenile Justice Board made no such claim.
"The Juvenile Justice Board commented that there was no reason to believe that the juvenile was the most brutal of the six"
Neither Nirbhaya nor her boyfriend had specifically mentioned or indicated anything special about the juvenile – that he was the most brutal, or that he was the one who wielded the rod. It was Ram Singh, the driver and the juvenile's exploitative employer, who mentioned the juvenile
The main evidence presented by the police against the juvenile was a blood-stained shirt, but the shirt was suspected to have been Ram Singh's, and planted on the juvenile to produce some evidence. Otherwise, there was very little evidence. The Delhi Police did not take his teeth bite sample to check if they matched any of the various teeth bites on Nirbhaya's body. There was no matching of his semen from the semen found on Nirbhaya's clothes or body. By contrast, the DNA samples of fluids found on driver Ram Singh's and his friend Vinay Sharma's clothes matched the fluids found on Nirbhaya's body and clothes. As for the juvenile, even his fingerprint marks were not taken.
Perhaps the Delhi Police had a good reason for not trying to collect much evidence against the juvenile: they knew he wasn't going to get much punishment anyway. Yet, whatever the reasons, even the Juvenile Justice Board commented that there was no reason to believe that the juvenile was the most brutal of the six, a claim even the police did not make in its chargesheet before the board. Eventually, the board convicted the juvenile of various heinous charges only because he was there, part of larger criminal conspiracy, and thus, under various IPC provisions, liable to get as much punishment as direct perpetrators of the crimes.
The weak evidence against the juvenile is another reason why he deserves another chance in life.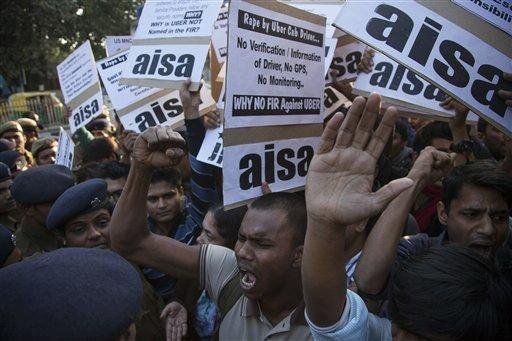 India Protests Against Rape