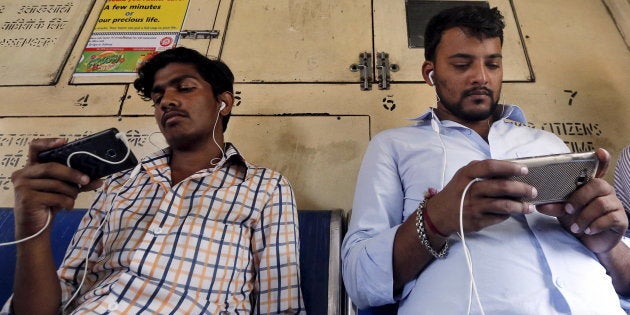 The number of smartphone users in India crossed the 300 million mark in 2016, making it the largest smartphone market in the world. The number of users grew by 16 percent year on year, and India surpassed the US in terms of total number of smartphone users.
The total volume of mobile shipments to India was down 10 percent in 2016, according to a new report released by the technology market research firm, Counterpoint.
However, the most encouraging figure for the year 2016 is that over 83 million smartphones were made in India in 2016. That covers 67 percent of the Indian market, as compared to just 14 percent in the calendar year 2014. However, the Counterpoint report suggests that the value addition to the devices in India stands at just 6 percent as most components were imported from abroad.
Also, in the last quarter of 2016, a mammoth 46 percent of the phones sold in India were by Chinese brands. This came at the expense of Indian companies such as Micromax and global giants such as Samsung, who lost market-share.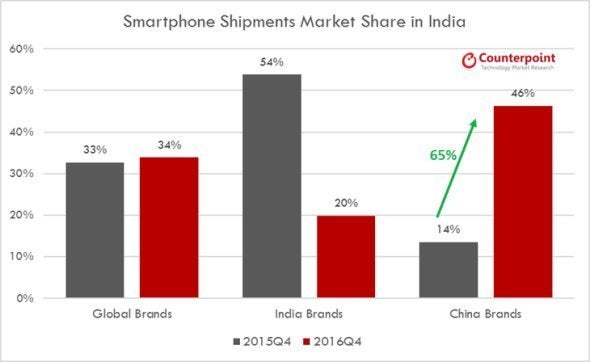 As Huffpost India reported earlier, Chinese companies have started manufacturing smartphones in India on a larger scale. In fact Chinese phone companies such as Xiaomi and Lenovo, which offer great specifications in their smartphones at an affordable price, have gained a lot from the government's 'Make in India' initiative.
The next phase of the initiative will focus on Indian components for smartphones as well, with the goal of taking it up to 17 percent in the next two years.
For the first time, there were four Chinese companies in the top 5 smartphone shipment list for Q4 of the calendar year 2016. There were no Indian companies in the Q4 list, though Micromax, Intex and Jio are in the second, fourth and fifth position respectively in the yearly 2016 rankings. Samsung topped both the charts, with a huge lead over others.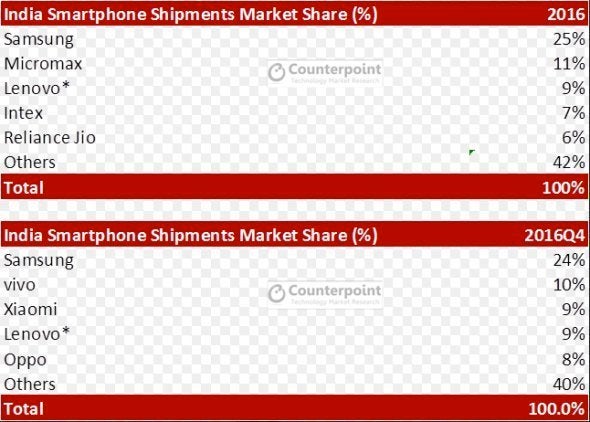 Indian smartphone brands need to offer their customers better hardware and software. Most of their sales comprise the very low-end smartphones that sell for under ₹7,000, whereas other brands are offering much more at a competitive price. It won't be surprising if local manufacturers slip further.
At the premium end, Apple has the top spot with a 62 percent market share. The company sold more than 2.5 million smartphones in India in 2016. Reportedly, close to 1 lakh units of Apple phones were sold just within three days of the demonetisation announcement. While offline sales were strong for players such as Oppo and Vivo, there was a 24 percent growth in smartphones sold through online channels. The Counterpoint report also states that one out of three smartphones was bought through e-commerce channels, an indication that e-retailers such as Flipkart and Amazon are spreading their reach.