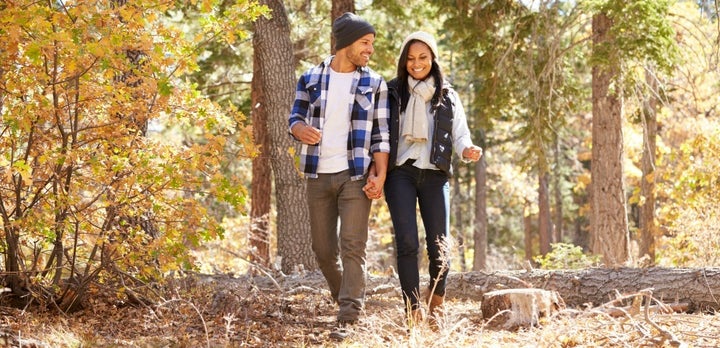 Whether you're single or partnered up, going out for a date night can be a necessary expense to fuel your romantic life. However, dating isn't always cheap -- a 2012 TurboTax analysis found that a date night in New York City (delivery of a dozen roses, two movie tickets, a 2-mile cab ride and other expenses) costs a staggering $183.01.
While you might be willing to splash out for special occasions, there are frugal date options that are easy on the wallet and possibly more fun than some traditional date ideas.
Consider going for a unique experience, which could give you lasting memories and keep some money in your pocket.
Here are 10 fun, inexpensive date ideas.
1. Go to a free museum night.
If you live in a big city, you probably have access to some great museums full of art, history and culture. And if you go on the right day, admission could be free.
"Some art museums have one night a week when they're open without an admissions fee. This is a great date idea for summer nights," says relationship expert April Masini, author of "Ideas For a Fun Date."
I recently employed this strategy at The Geffen Contemporary at MOCA in Los Angeles and had a fun night of arts and culture with my partner. The museum may be more crowded, but could be worth it.
To save on additional costs such as parking, consider taking public transportation. You can find out if your local museum has free admission days by checking out their website for visitor information. You can also Google "free admission days + city name" to see what comes up.
2. Take a class together.
Having a hands-on, experiential date can be more fun than traditional date ideas. If you're dating someone new, taking a class together could help you bond over something quickly. If you're in a relationship, you can grow together by trying out new experiences.
"It can be yoga, golf, painting or ceramics -- or get creative with a wine appreciation course in a vineyard or an improv class at a theater. You'll have had an interesting experience and memories made, and you can really get to know a lot about each other this way," Masini says.
Taking classes at your local community center or community college can be cost-effective options. You can also check out sites such as Groupon and LivingSocial for deals on classes. For example, a couples dancing class on Groupon could be as low as $35.
3. Try your hand at mini golf.
Erin Lowry of the blog Broke Millennial suggests mini golf as a fun, frugal, hands-on date. In New York City, she and her boyfriend go to a place where it's only $5 to play a round.
"It's generally a pretty cheap activity around the country, and lots of places run specials," Lowry says.
If you're the competitive type, play against each other and make it a competition -- whoever loses can buy the other a drink.
4. Set up board games and pour a beer.
Want a night at home, but not sure what to do? Liz from personal finance blog Frugalwoods suggests having a board game and beer night. She and her husband, Nate, recently bought a homestead in Vermont and are pursuing early retirement after years of extreme frugality. Over the years, they've learned how to enjoy being at home in each other's company.
"We play Scrabble on the porch and drink beer after the baby is in bed," she says. This activity is good for double dates as well!
5. Volunteer together.
Looking for something different to do? "Volunteer somewhere together. It's a good way to give back and do something together, and it won't cost you a penny," says Jim Wang, founder of Wallet Hacks.
You can pick a cause you are both passionate about and sign up to do something through a site such as VolunteerMatch. For example, you can volunteer at a soup kitchen, or build houses with Habitat for Humanity.
Not only will you not spend any money, but you can make an impact on your local community and serve others.
6. Create your own adventure.
When it comes to dating, you can stay within your budget by getting creative. One way to do this is by constructing your own tour and exploring local delicacies.
Karen Cordaway of MoneySavingEnthusiast.com goes on frugal adventures with her husband by creating a local tour based on a certain theme. Sometimes the tour will be based on beverages, and they'll go to a local old-fashioned soda parlor and then a brewery.
Other times, they'll plan their tours around various culinary delights. "We also look for different places in our state to try desserts like cupcakes, ice cream, frozen yogurt, smoothies, cookies, etc.," she says.
Their next tour? Checking out the local food truck scene. Focusing on one small sweet treat at a time can be cost-effective. For, example, you can do a gourmet donut tour and try out a few donuts each for less than $20.
7. Netflix ... and chill.
While the phrase "Netflix and chill" may have taken on a different meaning, one way you can save money on date night is to watch your favorite show or movie and hang out at home. Stefanie O'Connell, author of "The Broke and Beautiful Life," says she and her boyfriend replicate happy hour at home by making fancy cocktails while catching up on the latest series release.
There are many online streaming services or movie rental options to choose from, including Netflix, Hulu, Redbox, etc. Having happy hour and movie night at home can help ensure you're still having fun, without the high prices.
8. Explore your artistic side.
If you're artistically inclined, consider going on a photoshoot, suggests Jackie Lam, founder of Cheapsters. You don't even need fancy equipment. Most smartphones have decent cameras these days, so you can explore your neighborhood together and have an impromptu photoshoot.
You can even have a theme such as architecture, animals, nature or people. Post your best shot on Instagram and watch the hearts roll in.
9. Rent bikes.
Another fun option to consider is renting bikes together. The cost could vary from $10 to $45 or more and be a fun way to explore. Even better? Get a tandem bike for your adventure.
To save money on food costs, pack a picnic. Get some affordable bread, cheese and fresh fruit at Trader Joe's, and hang out and enjoy the scenery.
10. Go on a hike.
If you enjoy the great outdoors, consider going on a hike together. Hiking doesn't cost much -- only the cost of parking and entrance fees, which could vary.
One way to save is to check out free admission days for your local National Park or go on hikes that are off-the-beaten path. The exercise is good for your physical health, and it can be a great way to disconnect from phones and technology while connecting with each other.
Bottom line
Dating can be a budget-buster if you aren't careful, but there are ways you can minimize costs. Using these 10 inexpensive date ideas, you can be kind to your wallet while still having fun.
About the Author: Melanie Lockert is a freelance writer and editor currently living in Portland, Oregon. She is passionate about education, financial literacy and empowering people to take control of their finances. Her work has been featured on Rockstar Finance, GoGirl Finance, The Globe and Mail and more.
Credit Karma Editorial Note: The opinions you read here come from the Credit Karma editorial team. While compensation may affect which companies we write about and products we review, our marketing partners don't review, approve or endorse our editorial content. Our content is accurate (to the best of our knowledge) when we initially post it, but we don't guarantee the accuracy or completeness of the information provided. You can visit the company's website to get complete details about a product. See an error in an article? Use this form to report it to our editorial team.
Support HuffPost
The Stakes Have Never Been Higher
Related
Popular in the Community