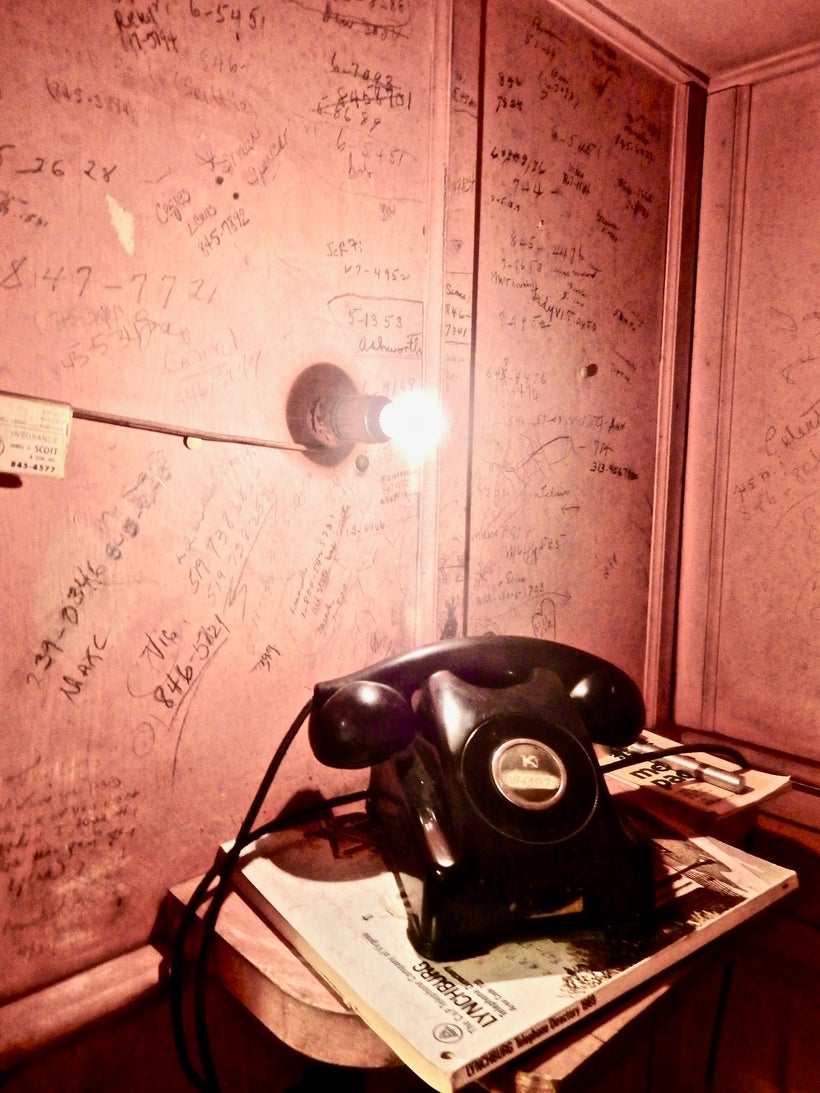 Why is "Virginia For Lovers," as its tourism tagline goes? Of course the romance of its mountains and beaches leap to mind, as well as the nightlife in cities near Washington DC, and the growing "eat local" scene for foodies. But for those lovers who love to delve into history together, who bond by checking out oddball attractions, who thrill to the thought of wedding in a cemetery, seeing naughty Civil War graffiti, wandering through the home of a poet built from found objects, standing on the stage of the world's only indoor Shakespeare Theater recreation and more, read on.
This list is just the beginning. There's plenty more where this came from on GetawayMavens.com.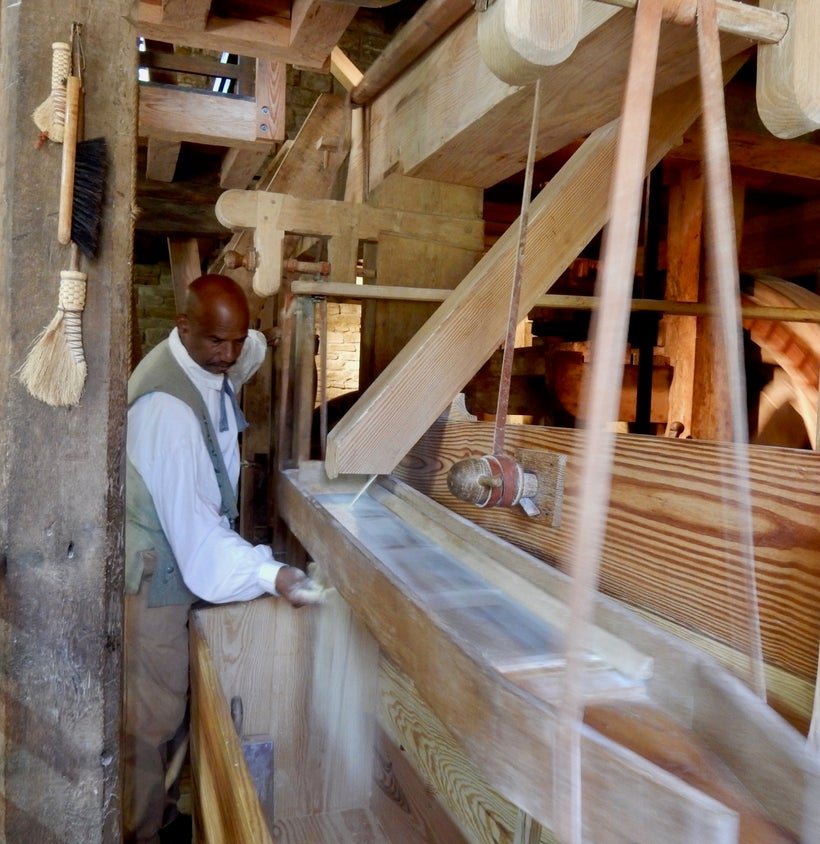 Mount Vernon: George Washington Distillery and Gristmill. Discover how our first President made his own whiskey and spirits. You can see the nuts and bolts of grain and corn milling, watch the 16 ft tall waterwheel turn, learn about the most advanced 1700's technology, and how whiskey was distilled in Washington's time at this recently opened historic site. Take the shuttle from Mount Vernon to the reconstructed buildings on the footprint of Washington's original businesses: flour milling and Rye Whisky making.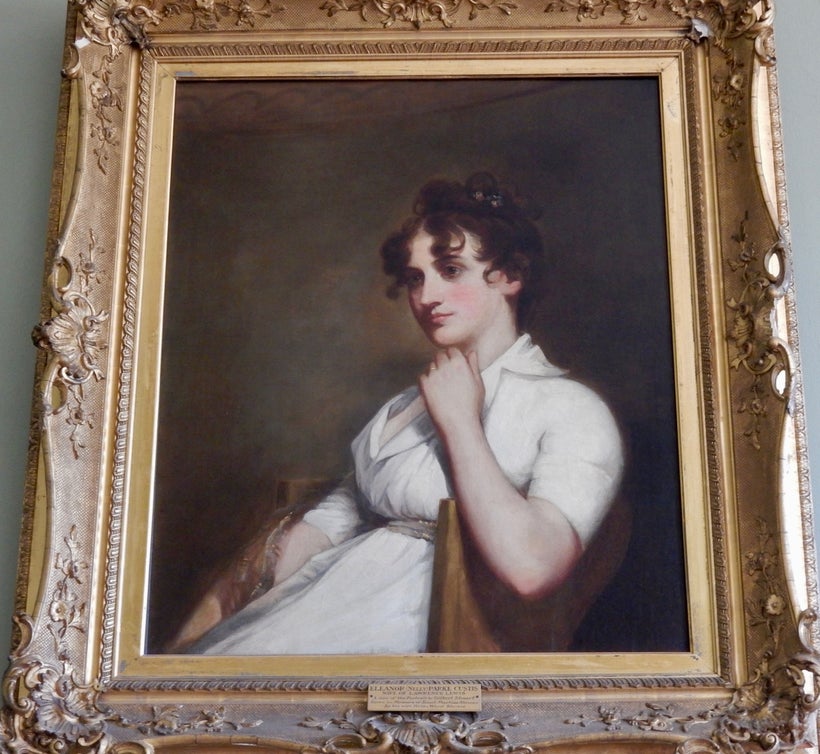 Alexandria: Frank Lloyd Wright Pope-Leighey House and Woodlawn Plantation. Two very different homes, two distinct eras, two important architects, are on the same "campus." Woodlawn, the very first property acquired by the National Trust, was designed by Dr. William Thornton – a Renaissance Man who was a physician, artist, and architect best known for designing DC's Capitol building. George Washington commissioned Thornton to build this estate for Martha's granddaughter, Nellie, and her new husband, Lawrence Lewis, within telescope-sight of Mount Vernon. A fascinating time-line tour showcases 200 years of adaptations by each of many owners. Next door, a short walk away, the 1,200 sq ft. Pope-Leighey House – the only Wright home in Virginia open to the public – built in 1939, was somewhat of a challenge for Wright. This middle-class Usonian house was scaled down from its original 1,800 sq. ft blueprint– a significant reduction of space.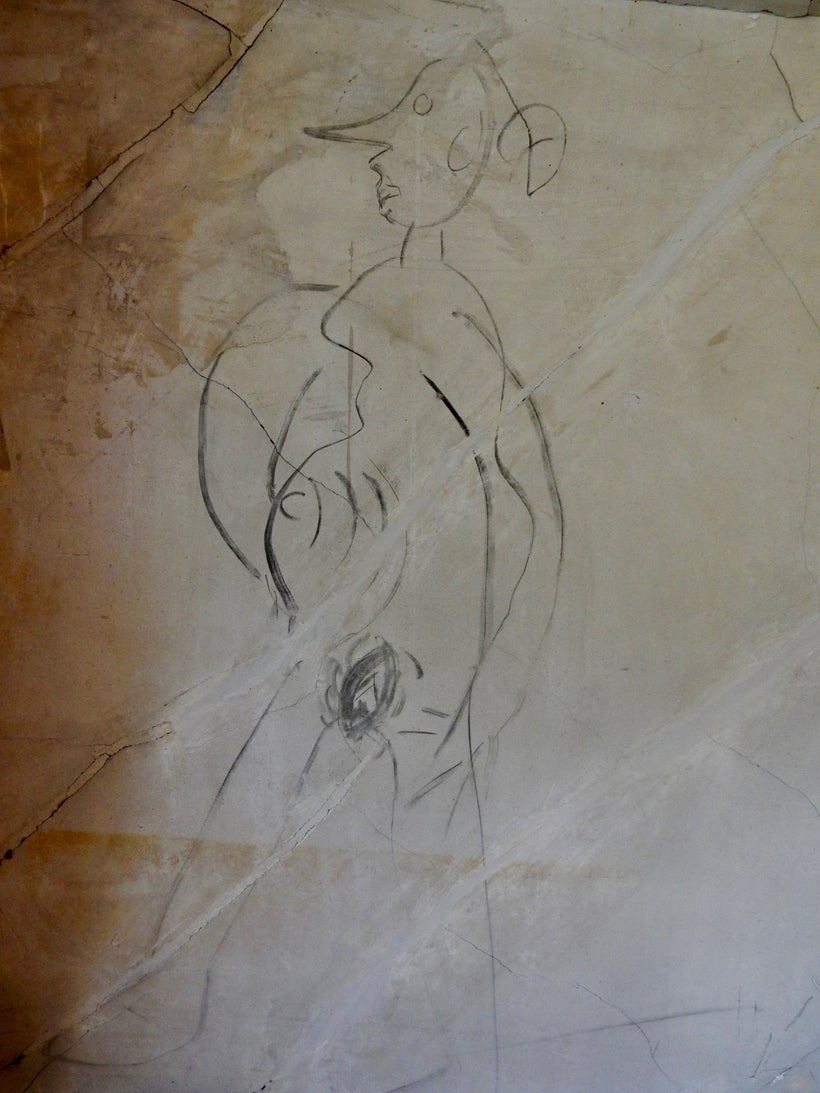 Fairfax: See shocking Civil War era porn on the walls of Historic Blenheim. This 1859 Georgian style brick farmhouse and estate is less known for its first occupant, the mixed crop and dairy farmer, Albert Wilcoxon, who supplied farm goods to the Confederate troops, and more for its inordinate amount of Civil War soldier graffiti, drawn by bored teenagers awaiting orders, or while convalescing when Blenheim became a war hospital. In fact, Fairfax County has earned the distinction of having the "largest collection of German-born Union soldiers' signatures who wrote on walls of houses."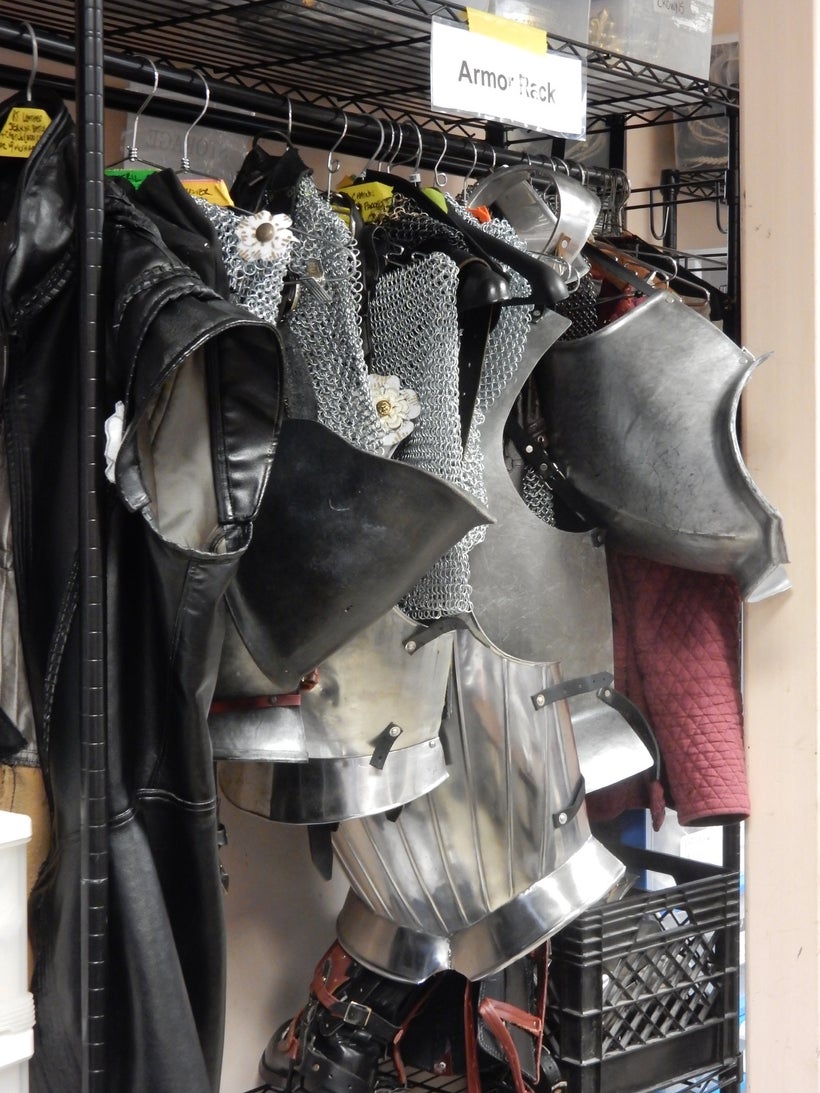 Staunton: Take a behind the curtain gander at the Blackfriars Theater, Home of the American Shakespeare Center. A backstage tour of the "World's only recreation of Shakespeare's indoor theater," Blackfriars Playhouse, is a highlight of a stay in Staunton – even if you don't catch a professionally mounted show there. A plaque in the lobby identifies the "Original sharers of Lord Chamberlain's Men" – the financial backers of Shakespeare's plays in 1590 - and the tour continues into the Elizabethan theater, and then onto the boards, where you'll learn of Shakespeare's "staging conditions:" some, but not all, followed today.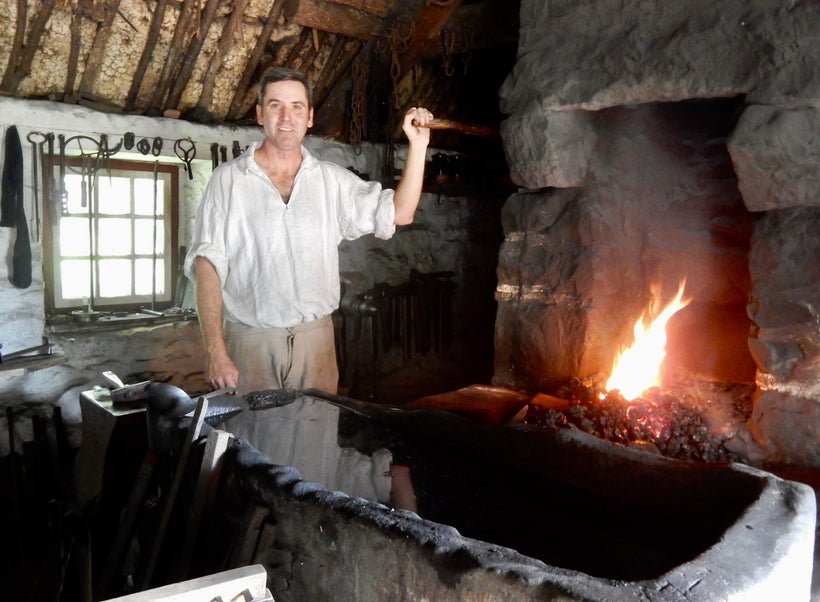 Staunton: Frontier Culture Museum. For fans of living history museums staffed by costumed interpreters, you'll be happy to know that the Frontier Culture Museum is one of the best in the country and well worth at least a few hours to be immersed in the lives of those who came to the New World in the 17th and 18th centuries. The outdoor museum is divided into two parts: the Old World section – featuring homesteads of immigrants from West Africa, England, Germany, and Ireland - and the American section, contrasting a 1740 settlement and 1850's home, schoolhouse and church.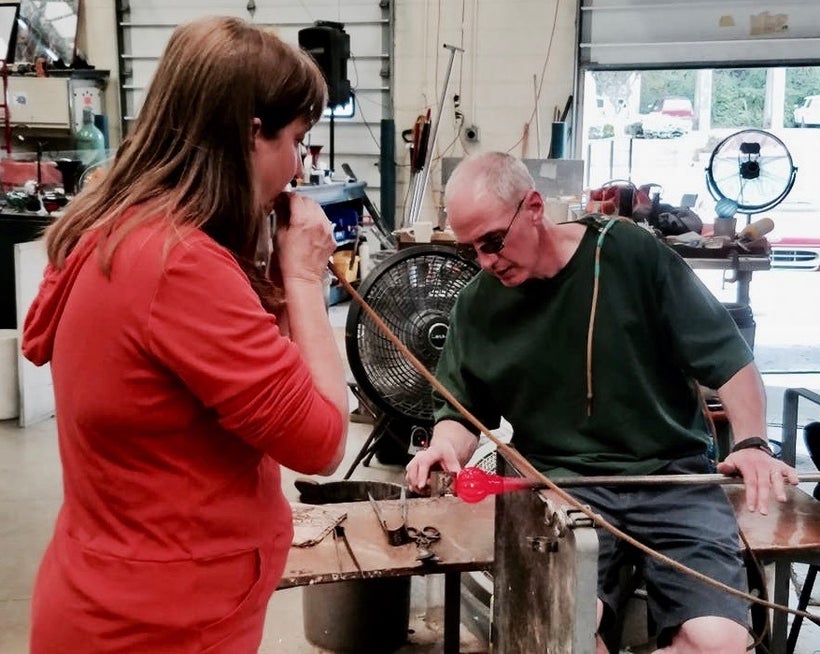 Staunton: Make a glass ornament at Sunspots Studios. Ever wonder what it's like to get off the viewing stand and help a professional glassblower with his craft? This is your chance. Though your role in the activity is small (choose from an assortment of vibrant colors and then blow air into a rubber tube to inflate a teardrop of molten glass while the artisan shapes it), you're right where the action is and can take "your" creation home the next day after it's had time to cool.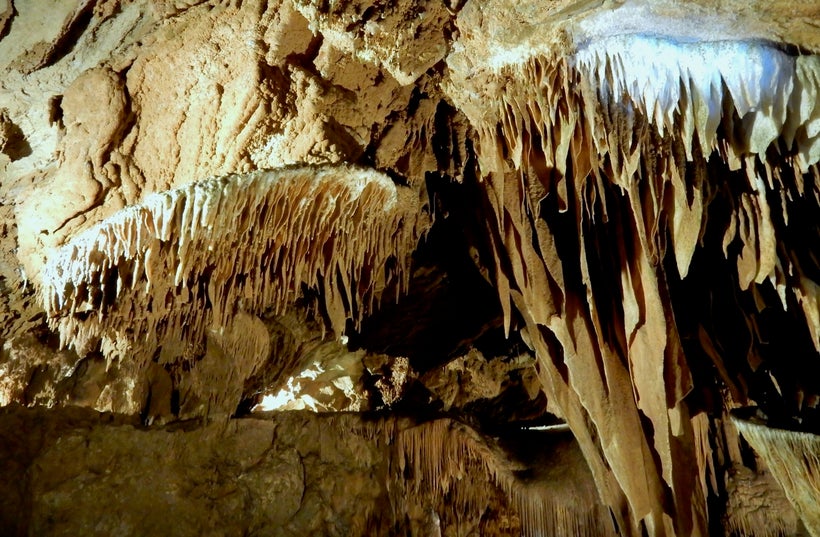 Grottoes: Tour Grand Caverns. Grand Caverns, "The oldest Show Cave in America," has been offering tours consistently since 1806 – and was even a popular tourist attraction for Civil War soldiers. During the Victorian-era, intrepid curiosity seekers used candlelight to crawl and climb though the caverns, taking over eight hours to cover the same ground that the modern visitor traverses in just over a hour. Surprisingly, with all this past fame, hardly anyone outside of the area knows about this cave system, which has more "Shield Formations" than any other cave in the country. Most cave systems have one, if any, such structure: "shields" are that rare. However, Grand Caverns features over 200 of these thin round discs, and their unusual horizontal growth is still a mystery to scientists.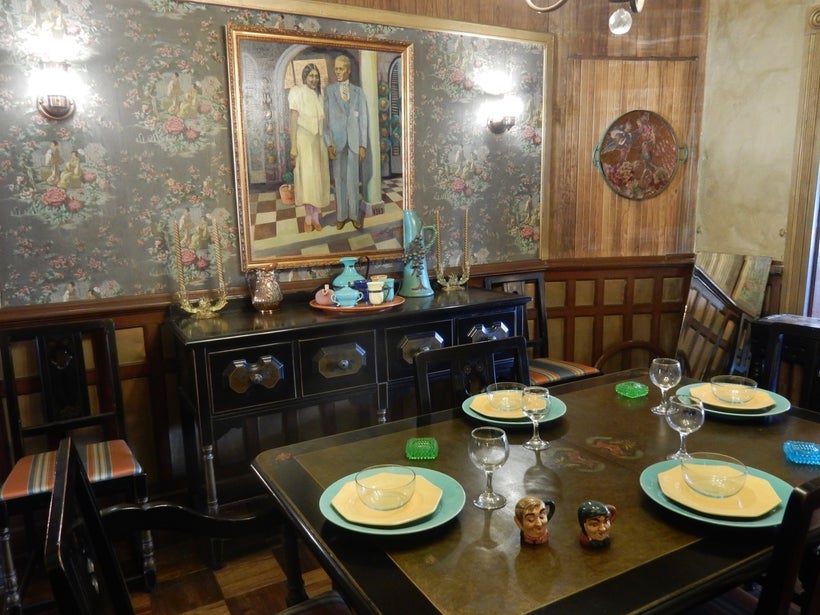 Lynchburg: Tour Anne Spencer House. The precocious Anne Spencer, a beautiful, exotic looking Harlem Renaissance poet born in 1882 and sent to college at age 11, moved to the now historic Pierce Street (also home to Dr. Robert Walter "Whirlwind" Johnson, a physician and tennis coach who trained Althea Gibson, Arthur Ashe, and other promising players in his backyard court) at age 21 with her devoted husband, Edward, and two young children. Edward was a self-taught architect, builder and visionary artist, who drew the design for this wildly decorated home on a napkin. Like another famous poet, Emily Dickinson, Spencer wrote on every scrap of paper she could find, including Edward's used checkbooks. The walls of a phone booth that Edward built for her just off the small living room are blanketed with phone numbers of friends and family. These friends included some of the most celebrated Black men of the time – Adam Clayton Powel, who spent his honeymoon in the home, Langston Hughes, Martin Luther King, Jr., and co-founder of the NAACP, W.E.B Dubois. The dining room, though small, could serve as a full-page spread in a lifestyle magazine – and visitors can just imagine the important topics discussed around the table.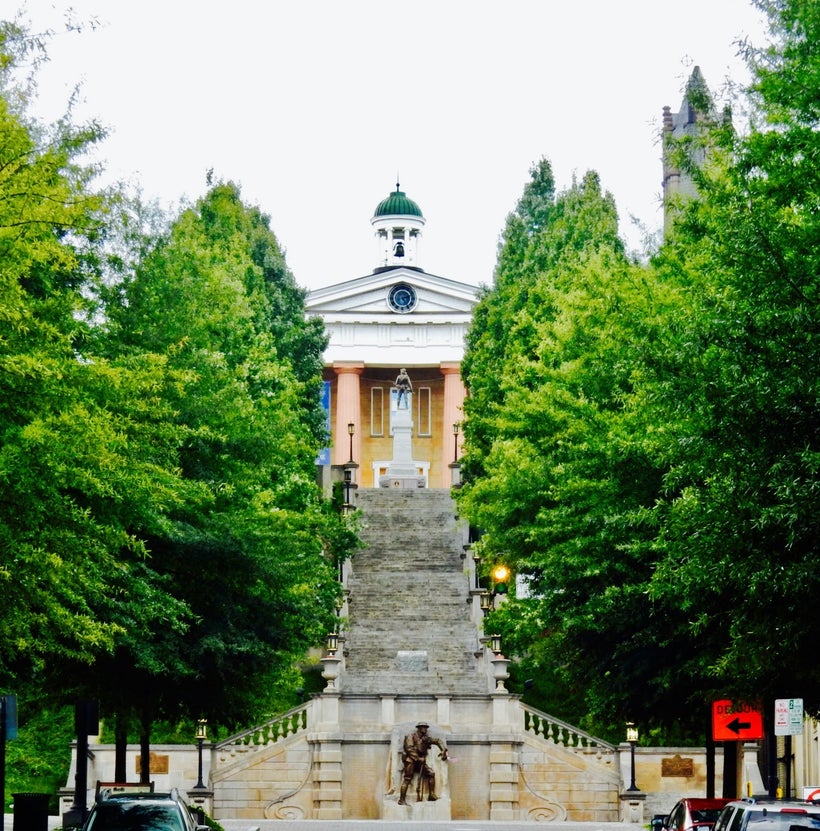 Lynchburg: From the Lynchburg Visitor's Center take a Walking Tour with Judi Harvey. The town of Lynchburg leans into a steep slope (it's called "the Hill City" for a reason) so spitfire Judi Harvey has to be in great shape to lead these one-hour tours on a daily basis. She brings you from the Visitor's Center, formerly a gas station, down to the "Bluff Walk" – a brand new esplanade perched above the railroad tracks and James River beyond – as she discusses Lynchburg's status as the second wealthiest per capita city on the East Coast (whaling capital, New Bedford MA, was No. 1), as tobacco grown here could be shipped all over the country via the James River.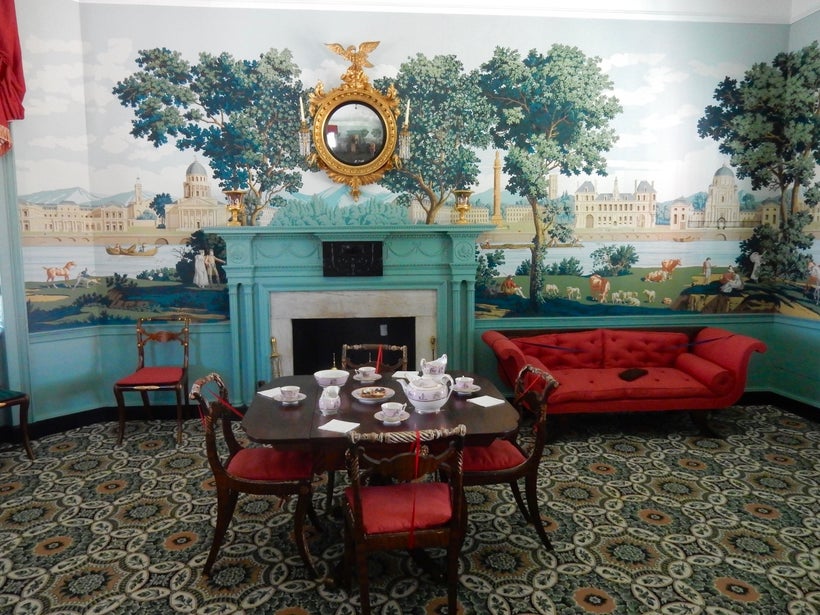 Lynchburg: Point of Honor Mansion. On Daniel's Hill (one of seven Historic Districts in Lynchburg), the symmetrical Federal-style Point of Honor Mansion displays the wealth gleaned from America's early transportation trade. Built in 1815 by Patrick Henry's personal physician, Dr. George Cabell, who also owned a fleet of bateau riverboats that he rented to tobacco farmers, Point of Honor was indeed that, as the estate, high on a hill, overlooked the town and industry below. Woodwork and wall colors match the original after a 1970's restoration. The parlor is the most extravagantly decorated – with a reproduction of a popular wallpaper mural of the day: the panoramic, non-repeating "Monuments of Paris," encasing the whole room inside the City of Light. That one feature alone makes a 30-45 minute house tour completely worth it.
Lynchburg: Old City Cemetery. One of the most visited attractions in Lynchburg, this 1806 cemetery is as quirky-fun for the living as it's a resting place for 20,000 deceased (including 2,200 Confederate soldiers). Couples book weddings at the on-site chapel, visitors can sign up for walking tours, including the "Bawdy Ladies Tour" (apparently, there are quite a few brothel owners and workers buried here), you can pick up some cemetery-made honey at the gift shop, smell the antique roses, stop into several bite-size museums, and drive around to find random architectural artifacts from demolished city buildings. Weird, wonderful and quiet – and not a peep from the residents.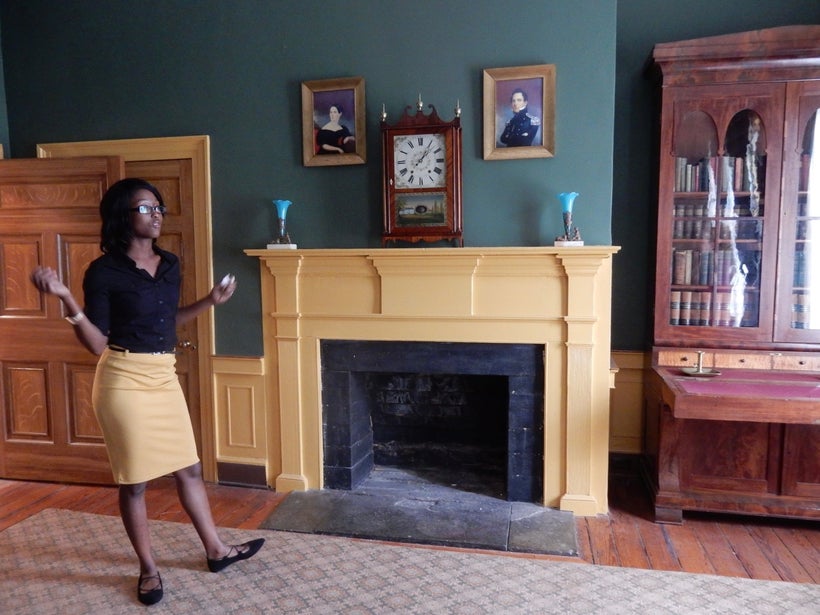 Lynchburg: Historic Sandusky (Union General Hunter's Headquarters for Battle of Lynchburg). Historic Sandusky tells the tale of how a private home was appropriated, used, and abused by military officers during the Civil War. Union General David Hunter, a "radical Abolitionist with a temper," was ordered to take Lynchburg "in the foothills of the Blue Ridge Mountains," as the city was then a flourishing trade center with a canal, three railroad lines and six turnpikes: In other words – a major hub.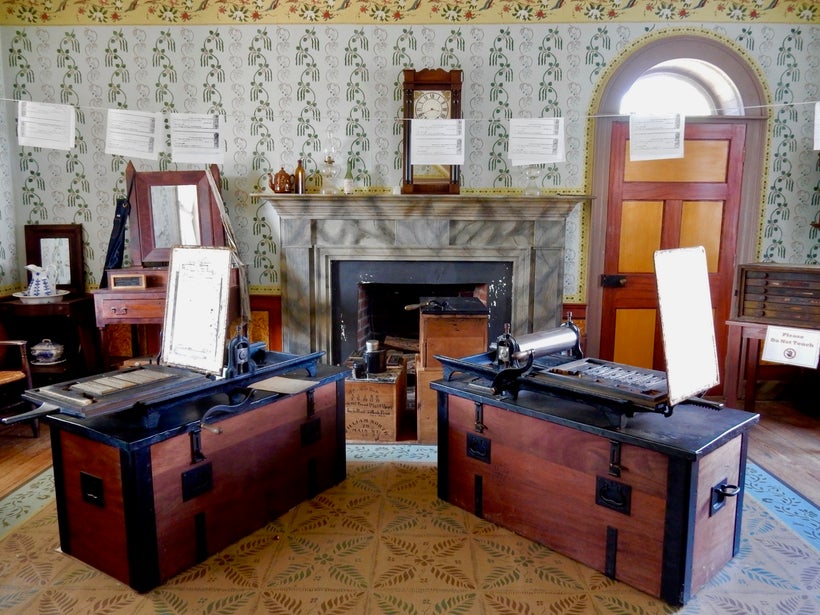 Appomattox Courthouse: Appomattox Court House National Historic Park. The Visitor's Center of this historic National Park, encompassing over a dozen buildings, is in the actual Court House of the town called Appomattox Court House. (Confusing? Yes). You can spend a half day here, but if short on time, make sure to visit two buildings: the McLean House, a replica of the home where Lee surrendered to Grant, and the Clover Hill Tavern, the village's only tavern/hotel at the time, where "paroles" were printed for Confederate Troops so that they could travel home safely.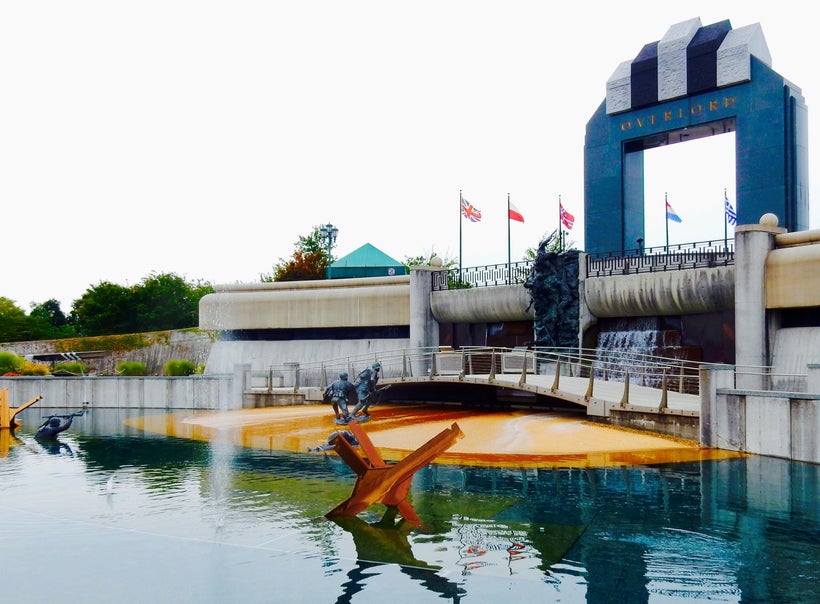 Bedford: D-Day Memorial, Bedford. About 40 minutes from Lynchburg, this memorial to the Allied forces that participated in the invasion of Normandy on June 6, 1944 – D-Day, the "largest amphibious landing the world had ever seen – is a very worthy and dramatic stop. Monuments and figures of men making their excruciating way through enemy fire are positioned around a large circular plaza. At its center is a basin of water, men emerging from an LST (Landing Ship, Tank) carved in granite, as waterspouts, like shots, fly up around them. It's powerfully evocative, as are the lifelike sculptures of the soldiers emerging from the fray.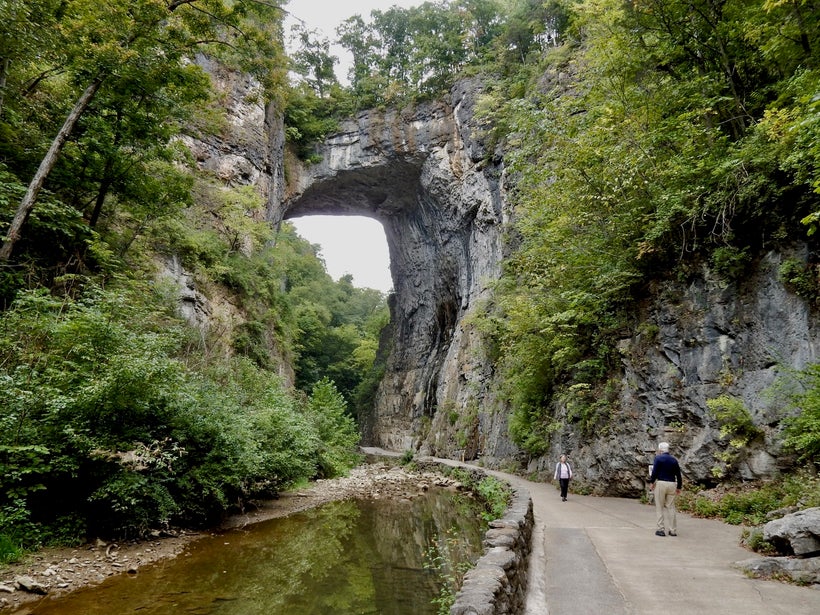 Natural Bridge: Natural Bridge State Park. Surveyed in 1750 by George Washington and "granted to Thomas Jefferson" on July 5, 1774, the Natural Bridge remains a Wonder of the World. The solid grey limestone arch is 215 feet high (55 ft. higher than Niagara Falls), and spans 90 feet.
Calling all HuffPost superfans!
Sign up for membership to become a founding member and help shape HuffPost's next chapter
This post was published on the now-closed HuffPost Contributor platform. Contributors control their own work and posted freely to our site. If you need to flag this entry as abusive,
send us an email
.