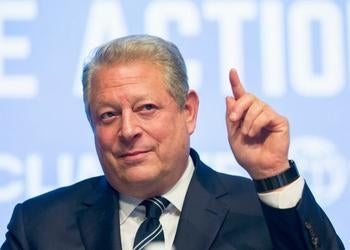 Amidst all the frustration and fury engulfed into the brains of concerned environmentalists, following the President Trump' decision to withdraw from the Paris Agreement, the former Vice President Al Gore from the very soil emerged as a face of renewed hope for climate action!
This week, Al Gore took to the stage for a continuous 24 hours and was joined by millions of supporters and viewers from across the globe. The most stunning live stream, along with the blend of watch parties at almost every corner of the world map, stormed the internet, allowing people to watch stories of solutions and urging world leaders to take action on climate change.
And you won't stop yourself appreciating this live webcast which reached over half a billion households on TV and more than 30 million views online in just 1440 minutes- a new record!
Climate Change is a real threat, more than the terrorism the world is confronting with. That's why we saw an unusual practice during the last UN Climate Change talks in Bonn where, despite the US government announcement to stay out of global agreement on Climate Change, a parallel US delegation took to the two-week negotiations, saying- "we're still in".
A decade ago, when Al Gore predicted in his academy-award winning documentary- The Inconvenient Truth, that the sea water would inundate New York city, everyone skeptic laughed. The reality was unfolded when the Super storm Sandy made landfall and flood water was literally flowing into the 9/11 Memorial.
This very US centered argument is one of the small explanations that the reality of climate change is above any political stance by any politically or economically stronger regime. Of course, the extent of potential damage that climate change will cause to rest of the world is now beyond any doubt. We can avert this damage if the world leadership changes the discourse of so-called carbon-based development.
The Global Climate Risk Index 2017 recently talked about ten most vulnerable countries affected by weather related catastrophes during the period 1996-2015 and in single year 2015. A mix of poor, developing and fast growing economies like Honduras, Mozambique, Pakistan and India are in unfortunate rankings that faces the brunt of climate change. The US also stands at 21st position in the 2015 list. The report simply reaffirms the reality that climate change is now everyone's problem.
Global carbon emission is to be blamed for causing climate change. Everyday, this world emits 110 million tons of global carbon pollution into the atmosphere. While the sad reality is the clear lacking of political will to limit warming average below 1.5 °C- a threshold set by climate scientists to avert irreversible climate catastrophes, the bright reality is the advent of technology which still gives us hope that nothing is impossible.
The 24 Hours of Reality' live webcast put together all these budgets of hopes in front of us. The show presented case studies, enthusiastic politicians, activists and scientists to explain how they're taking action. Many countries are pledging to net zero emissions. Earth is getting blessed with the rise of solar and wind energy technology and climate advocates are urging economies and companies to divest from fossil fuel investment.
REAL LIFE. REAL NEWS. REAL VOICES.
Help us tell more of the stories that matter from voices that too often remain unheard.
This post was published on the now-closed HuffPost Contributor platform. Contributors control their own work and posted freely to our site. If you need to flag this entry as abusive,
send us an email
.