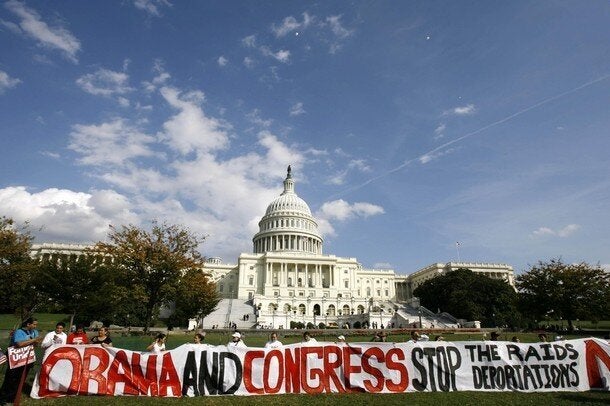 Corrupt lawmakers from both sides of the aisle are polluting the United States Capitol. These members highlight the need for increased oversight by the Office of Congressional Ethics (OCE), as well as the need for a similar independent ethics watchdog in the Senate. Today my organization, Citizens for Responsibility and Ethics in Washington (CREW) released The Most Corrupt Members of Congress: Unfinished Business, which highlights the need for active ethics enforcement in Congress. The report shows that ethical lapses are the only true bipartisan activity in Washington today.
Since the release of CREW's first Most Corrupt report in 2005, more than half of the hucksters we've highlighted have left office. Tom DeLay (R-TX) resigned in disgrace, William Jefferson (D-LA) was found guilty on 11 counts of corruption and was sentenced to 13 years in federal prison (although he is currently free pending his appeal). At least Randy "Duke" Cunningham (R-CA) went to jail; he is slated to remain behind bars until June of 2013. That's a pretty good batting average, but not good enough. 26 shady politicians remain, most of whom have never been investigated by the congressional ethics committees.
There is no better way to make the case for increased ethics enforcement, than by highlighting the deplorable conduct of lawmakers who belong to an institution that that refuses to police itself. Their actions run the gamut from bribery, to using their office for personal gain, to solicitation of prostitution. Sadly, many of these members of Congress will never have to answer for their misdeeds.
As it stands now, the OCE has no subpoena power and a very limited time frame to investigate any allegations of wrongdoing. What's more is that it can only look at misconduct that has occurred since March 2008. In spite of being forced to fight with one hand tied behind its back, the OCE has referred 13 cases to the House Ethics Committee for review, though the committee has taken action against only two. Even that limited success has brought the OCE powerful enemies, prompting members of both parties to openly talk of stripping away the OCE's authority -- or even dismantling the office altogether -- in the 112th Congress. Congresswoman Marcia Fudge (D-OH) has proposed legislation that would eviscerate the OCE, and Minority Leader John Boehner (R-OH) has said he wants to "take a look" at its usefulness.
It's clear that the House and the Senate have both done a dismal job of policing the conduct of their members. While Congressman Charles Rangel (D-NY) and Congresswoman Maxine Waters (D-CA) are scheduled to face ethics hearings for their actions next month, there may not be any future ethics enforcement if OCE is kneecapped, or worse, eliminated.
Ethics isn't about Republican or Democrat; it's about right and wrong. Both houses of Congress and both political parties have a less-than-stellar record on this issue. The American people deserve a Congress free of ethically challenged people. The best way to make that happen is to ensure there are strong, independent ethics offices keeping an eye on our supposedly "honourable" elected officials.
Calling all HuffPost superfans!
Sign up for membership to become a founding member and help shape HuffPost's next chapter