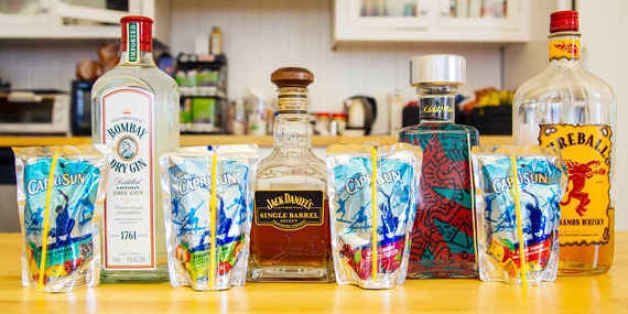 By: Jeremy Glass
Main Photo Credit: Cole Saladino/Supercompressor
Back in the day, Capri Suns were lunchtime essentials just like Gushers, Lunchables, Dunkaroos and those little bread stick-and-cheese packs that kids always traded for the cracker-and-peanut butter ones. Of all the ways one can pay homage to nostalgia-inducing childhood snacks, the method of "cocktailification" is the best way to show your appreciation for the foods and drinks you grew up with.
Since we're in the business of making things that typically aren't boozy alcoholic, we decided to get our paws on a few pouches of Capri Sun -- um, 40 actually -- and mix them with some choice bottles of liquor. The results were, of course, wonderful, so check these out and try them at home. Tell 'em Jeremy sent ya. Also, don't use my name.
Alright, let's turn these innocent drinks guilty.
The Capri Sunrise
INGREDIENTS:
Fruit Punch Capri Sun
One bottle of tequila
One lime wedge
Rock salt
DIRECTIONS:
Cut open your pouch
Pour in a generous dose of tequila
Drop in a pinch of salt
Garnish with lime
Tasting Notes
It became immediately apparent that Capri Sun is the ultimate mixer for alcohol--something that never would've never occurred to us as children...though, I'm sure our parents probably knew. Tequila is a double-edged sword, because it goes down so easily. Then you wake up in the morning to all those texts from your girlfriend's dad. Ugh. This was delicious, by the way.
The Cherry Sunfeld
INGREDIENTS:
Wild Cherry Capri Sun
Jack Daniels (or Tennessee Fire for spice)
Cherries
An orange wedge
DIRECTIONS:
Cut that sucker open
Drop in a cherry
Pour in some Jack
Garnish with orange
Tasting Notes
How is this not on the menu of bars across the nation? Jack Daniels is one of the best boozes to cut with juice because it still retains that signature Jack taste (god, I sound like a billboard) and that taste is not lost in the depths of the Capri Sun pouch. Surprisingly light, summer-y, and a wonderful cherry surprise at the end...pending you don't forget and accidentally swallow it whole.
The Capri Sunburn
INGREDIENTS:
Fruit Punch Capri Sun
Fireball
Hot Tamales
DIRECTIONS:
Cut that beast right open
Drop in a Hot Tamale
Add enough Fireball to kill a small pig
More from Supercompressor: