Münster (aka Muenster), in Germany's Westphalia region, is a lovely, university town with lots of reasons to visit. In addition to some fascinating history, there are cobblestone streets, charming, historic buildings and churches, and plenty of pubs, restaurants, and year-round cultural events. In fact, Muenster is designated one of the "Historic Highlights of Germany."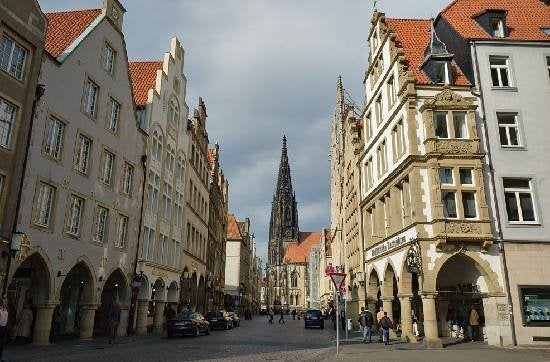 1) HISTORIC SIGHTS TO DELIGHT
Rathaus - Town Hall (Prinzipalmarkt 10; http://bit.ly/2gmtb2e) - In 1648, the Peace of Westphalia treaty was signed here, ending the Thirty Years War. It's now a European Heritage site open to the public to view the Friedenssaal (Hall of Peace). Prinzipalmarkt: The Rathaus is located on the Prinzipalmarkt, a lovely pedestrian area where you can stroll, shop, or just relax at a cafe.
Churches: Muenster has so many beautiful churches in the Gothic, Romanesque, Classicism, and Baroque-style that their towers define the skyline. Be sure to visit: St. Paulus-Dom - St. Paul's Cathedral (Domplatz 28; www.paulusdom.de) - This Gothic and Romanesque-style cathedral was originally built in the 8th century and restored in the 13th. St. Lamberti Kirche (Lambertikirchplaz 1; http://bit.ly/2iGr4a1) - Famous for the Anabaptist Rebellion of 1533-34 and as the church where Cardinal Clemens von Galen gave anti-Nazi sermons.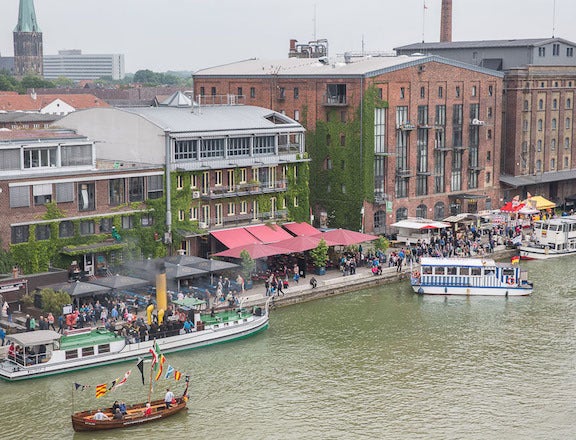 2) DRINK & DINE ON HISTORY TO MODERN TIMES
Muenster's got great beer and grub and a timeline to prove it: Brauerei Pinkus (Kreuzstrasse 4-10; www.pinkus.de) - Be sure to sample some local beer at the bar/restaurant of Muenster's oldest brewery (1816). Altes Gasthaus Leve (Alter Steinweg 37; www.gasthaus-leve.de) - Enjoy regional specialties at Muenster's oldest restaurant (1607). And, when the weather's nice, head to the newly-hip Hafen (harbor) district with its assortment of restaurants, bars, and beer gardens overlooking the Dortmund-Ems Canal.

3) GO GREEN: BIKING, NATURE & CASTLES
Bike - Muenster is considered the "Bike Capital of Germany" with a truly-impressive network of bicycle paths throughout the town and beyond with lots of places to rent/park bikes, making it easy to explore the lovely lakeside area, Lake Aasee. Visit Castles: In the surrounding countryside of Münsterland, there are 100 magnificent castles to view. See them biking on your own or on a bike tour.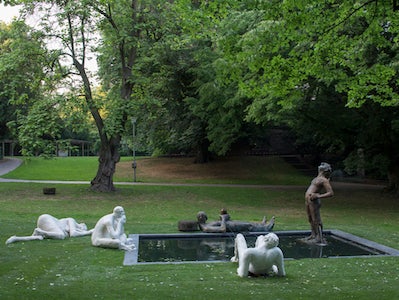 4 ) SENSATIONAL SCULPTURES & A PIECE OF PICASSO
The Münster Sculpture Project is organized every 10 years, but you don't have to wait till 2027 to see incredible works of art. After each Project, Muenster selects a piece to add to their public art collection. There are now over 60 sculptures on permanent display around town. Kunstmuseum Pablo Picasso (Königsstrasse 1; http://bit.ly/2iJ2WDK) - Germany's only Picasso museum features prints with more than 800 of his lithographs; it also mounts fascinating special exhibitions.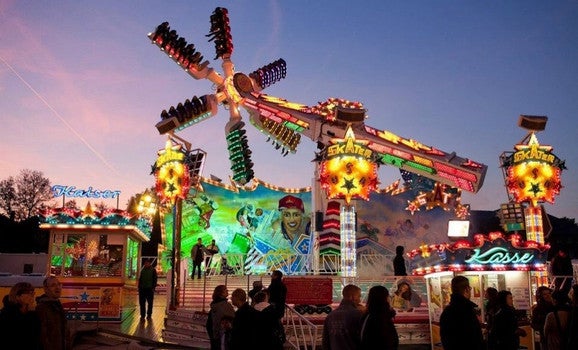 5) FUN FESTIVALS & HOLIDAY SHOPPING
Festivals: Throughout the year, there is always something festive going on: Rosenmontagsumzug - A parade that is the highlight of the Carnival season. Frühjahrssend - Fun fairs in spring, summer and fall. Hafenfest - This three-day festival celebrates the transformation of Muenster's harbor area from industrial to hip. Christmas Markets - Germany is world-famous for Christmas Markets; Muenster has five! From the end of November through December, the Altstadt (Old Town) area is turned into a winter wonderland.
Making Your Trip Easier: Münster AudioGuide - Wander around on your own and/or download this new, helpful App. Münstercard - Admission to museums & attractions, plus transportation. Der Münster Bus - For hop-on-hop-off sightseeing.
Where To Stay: There is a wide selection of hotels for all budgets in Muenster with several new hotels opening over the next few years. For convenience, Hotel am Kaiserhof right across from the train station or, for something cool, the Factory Hotel in a former brewery.
Getting There: The easiest way to get to Muenster is through Düsseldorf, a transit hub and another interesting German city to visit. Several airlines have direct flights to Düsseldorf from various US gateways (i.e., United, Lufthansa), then catch a train right from the airport to Muenster. Germany has an excellent train network between cities; you can even get your tickets before you leave through RailEurope or GoEuro, a great site that cost compares flight, train & bus options.
Related
Popular in the Community