 Belikin in Monkey River Town
Our boat landed in Monkey River Town, ten miles south of Placencia, Belize. It was May 1999, very hot, and I was almost literally starving. For days, fettered with a novice traveler's fear of mostly imaginary tropical maladies, I had eaten little more than timid spoonfuls of rice and the occasional banana. But after a day spent idling up the wild, Conradian Monkey River, where I went for a swim not a half-mile from where I'd seen a Morolet's crocodile, my stomach had had enough of my anxieties. I was dehydrated and in the throes of a blood-sugar crash. Food--real food--was needed.
Alice, owner of the only restaurant in town, seated our small group in the shade of her house. Chickens roamed freely in the yard while kids splashed in the nearby river shallows. Within minutes, she produced trembling plates of stewed chicken, rice, and beans, garnished with fried plantains. I ate with abandon, delighting in the chicken (very, very fresh, based on the sounds which emanated from Alice's kitchen during preparation), the sweet barbecue sauce perfectly offset by the starchy rice and beans.
Even today, your beer choices in Monkey River Town are limited. In 1999, there was only one: Belikin, the "Beer of Belize." This was also true in San Ignacio, Caye Caulker, and everywhere else I went in the country. Fortunately, Belikin is not at all bad. A light lager with a crisp, neutral flavor and four percent alcohol by volume, it is perfectly suited to a sweltering climate. Corona sells a tropical fantasy of golden beaches and sunshades, but Belikin is a beer of dirt roads, power outages, stifling heat, and late buses. Belikin is Belize.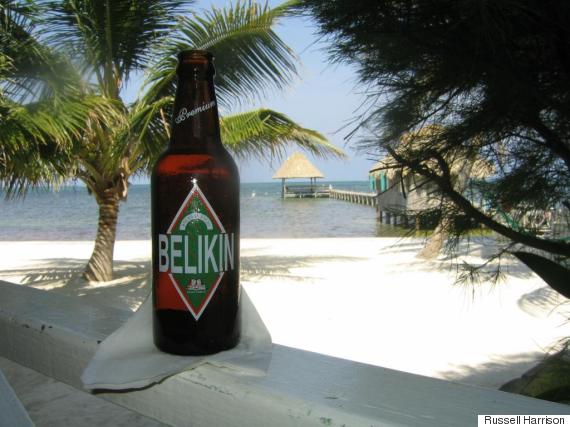 Bottles sat in puddles of their own condensation on our plastic table. Afternoon turned to evening, and onshore breezes at the mouth of the river ebbed the ferocious humidity just a touch. Before sunset, we left Alice's and slalomed through mangrove islets back to Placencia.
Food and Belikin proved to be the panacea for my disquietude about tropical health threats. I happily ate and drank my way through Central America over the next month, traveling with a giant 35mm camera, no cell phone, and no debit card. You could once find Belikin at select stores in the U.S., but the company no longer distributes this far north. Just as well: some things belong to their place and nowhere else.
Popular in the Community