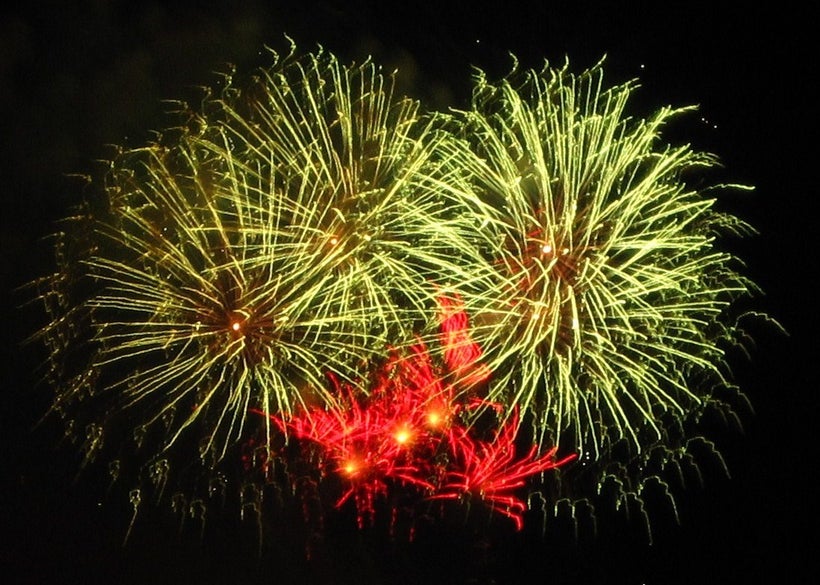 Disclosure: The author is an unashamed (usually) Philadelphian who has long thought we need to move past our days of self deprecating humor about the City of Brotherly Love (and Sisterly Affection). For example:
Did you hear about the contest?

First prize is one week in Philadelphia. Second prize is two weeks in Philadelphia.
Ouch. It's time to move on. Here are 5 reasons to celebrate the Fourth of July holiday in Philadelphia.
1) Philadelphia is Number 1!
Lonely Planet named Philadelphia first on its list of the top ten United States cities to visit in 2016. In November 2015, the World Congress of the Organization of World Heritage Cities named Philadelphia as the first city in the United States to be designated as a World Heritage City.
2) Philadelphia is authentic.
The Fourth of July is a celebration of our nation's high risk birth. Why not celebrate it where it actually happened? On July 4, 1776 the Founding Fathers officially adopted the Declaration of Independence in Philadelphia. Displaying a touch of gallows humor on that occasion, Benjamin Franklin commented, "We must all hang together, or assuredly we shall all hang separately." As it happens, they did hang together (in a good way) and returned to Philadelphia in 1787 to hammer out a draft of the United States Constitution.
In addition to the famous Independence Hall and Liberty Bell, the National Constitution Center is a fine interactive museum located at 6th and Arch Streets, across the street from the Visitors' Center of Independence National Park. Admission is free on Thursday, June 30, 2016 as part of the Wawa Welcome America celebration. (BTW, Wawa has nothing to do with crying. It's the name of the Delaware Valley's version of a Seven Eleven mini mart.) Go to the Constitution Center early and work up an appetite because on the same day, following a salute to the military and first responders, five tons of free Wawa hoagies (subs, heroes or grinders, depending on where you're from) will be distributed on Independence Mall which runs between the National Constitution Center and Independence Hall.
3) Philadelphia is historic.
Philly boasts the most historic square mile in the United States and many of the July 4th celebratory events will take place there, in and around Independence National Historical Park run by the National Park Service. 
4) Philadelphia loves for visitors to sleep over. 
July 4th falls on a Monday this year, so you can make your Fourth of July visit into a long weekend. Actually, Philly is celebrating all week, starting on Monday, June 27th.
 Contrary to (or maybe, in addition to) Philly's reputation as a gritty city with badly behaved sports fans, Philadelphia is a city of beautiful parks, world class museums and foodie worthy dining options from the eclectic Reading Terminal Market to ambitious purveyors of haute cuisine. We also have hotels at all price points from the swank, historic, Grand Dame of Broad Street, the Hyatt at The Bellevue to an Old City hostel and everything in between. 
5) Philadelphia knows how to throw a birthday party.
There are multiple events planned during the week leading up the 4th of July, including free museum days, free concerts, free movies, free fireworks, parades and block parties. You can even watch Rocky for free on Wednesday, June 29th, from the Art Museum steps that Rocky himself made world famous. 
On Sunday, July 3rd, join the block party on the streets around Independence Hall from 1:00 p.m. to 8:00 p.m. Philadelphia music groups will be performing all day at Peoples Plaza, 5th and Market Streets. At 8:00 p.m. the Philadelphia Pops Orchestra will perform on the steps of Independence Hall.
On July 4th itself, the celebration will start at 10:00 a.m. at Independence Hall with the Celebration of Freedom Ceremony. Then, stick around as 6,000 participants parade through the historic district. Starting at noon, everyone is invited to join a block party (actually more like a 5 blocks party) on the Benjamin Franklin Parkway, in front of the Philadelphia Museum of Art steps---the Rocky Steps. Pace yourself, because from 5:00 to 10:00 p.m., there will be the Wawa Welcome America concert on the Benjamin Franklin Parkway, followed by a suitably exuberant fireworks display. And, it's all free! You can find more details about all the events, some of which require free tickets, at VisitPhilly.com.
I hope you'll come. We'll leave the lights on. :)
(All photos are courtesy of the author's blog, Boomeresque).
Calling all HuffPost superfans!
Sign up for membership to become a founding member and help shape HuffPost's next chapter
This post was published on the now-closed HuffPost Contributor platform. Contributors control their own work and posted freely to our site. If you need to flag this entry as abusive,
send us an email
.