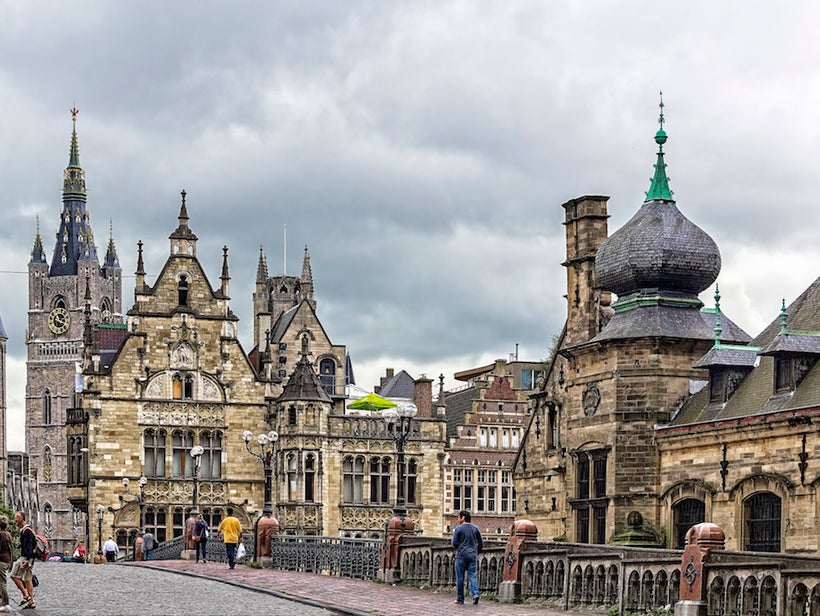 The most famous Belgian cities are Antwerp, Brussels and Bruges, yet people often forget Ghent. We're not sure why, as Ghent has the same old architecture as Bruges does, was also mostly left untouched by the World Wars, and thanks to its big University (students make up 25% of the population!) it has a great nightlife! We could stop right there and leave you to book the next flight or train, but we'll give you some more reasons as to why you should visit Ghent.
1. The astounding medieval architecture
The city of Ghent is an architectural feast for the eyes in general. A lot of the buildings date back to the 12th century, or earlier, and have been preserved amazingly well. For instance, the Patershol neighborhood, it is located in the shadows of the Gravensteen Castle (Castle of the Counts), and the streets still mostly look like they did ages ago. It's not often that you can encounter such a well-restored 10th century castle in the middle of a modernized city.
The Belfry tower is another highlight portraying the rich history of this city, referencing back to a time when Ghent was the second largest city in Europe and one of the richest and most powerful cities. This tower is part of the "Three towers of Ghent", teaming up with St. Bavo's Cathedral and St. Nicholas' Church. If you want an iconic snapshot of these three giants, the St. Michael's bridge is your best vantage point. St. Bavo's Cathedral is also home to the famous Ghent Altarpiece "The Adoration of the Mystic Lamb". This renowned piece of history is currently being restored by the MSK museum, but two thirds or the original are back in their rightful place at St. Bavo's Cathedral.
Luckily the city center isn't very big so you can easily see all of Ghent's beautiful churches in a single day. Saint Michael's Church, completed in the 17th century, is particularly well known for its rich neo-Gothic interior, including an altar and pulpit, Rococo and neoclassic statues and Baroque paintings, including "Christ Dying on the Cross" by Anthony Van Dyck. As a side note: Van Dyck was not just a very famous Baroque artist in the 17th century, he also has a type of beard named after him...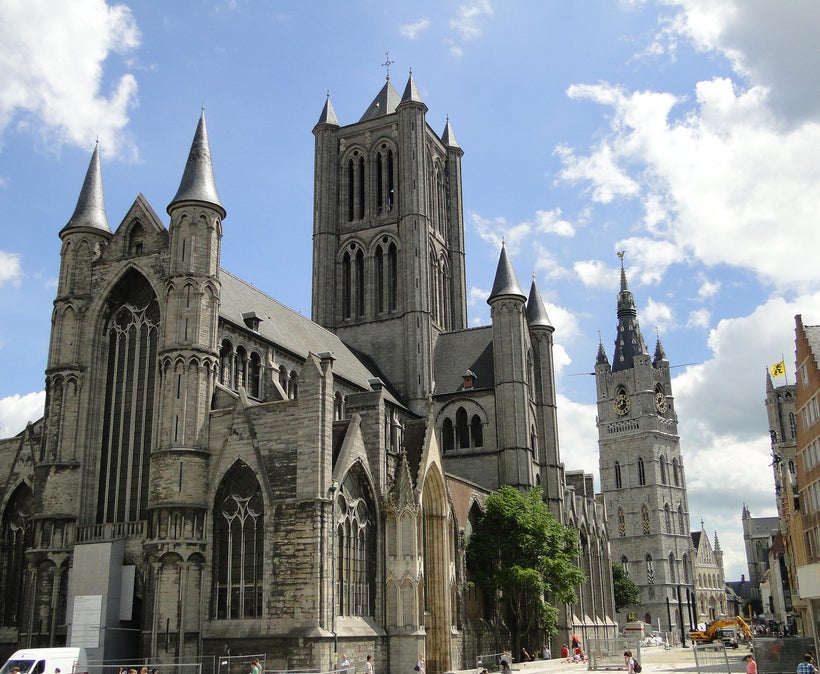 2. Ghent's Canals
The city center is a pedestrianized area, the largest in Belgium actually, which is great feature for visiting tourists with no time to learn how to ride a bike, or those with only a few days to spend here! But, the center is made especially beautiful by its previously mentioned architecture and the intersecting canals. The Leie river runs through several pretty canals, the Ajuinlei, the famous Graslei, Korenlei and Kraanlei. They're all easy to walk around, but you can also hop on your own rented boat or book a tour.
3. Belgian food & beers
No post about a city in Belgium can leave out the Belgian kitchen and drinks. Some Belgian dishes are famous the world over and should definitely be tried in its home country. There's still an ongoing dispute about the origins of fries, but that discussion is really kind of irrelevant here. Suffice it to say, whether they're called French fries or Belgian fries, they're damn tasty.
Order the local stoverij, a stew of beef and beer, served with Belgian fries at Eetkaffee Multatuli. Try the traditional meatballs at Balls & Glory and the famous moules et frites at the Pakhuis or Belga Queen. Visit Gent, the city's tourist board has quite a list for you to try when it comes to Belgian fries. De Frietketel at Papegaaistraat, Frituur Danny at Brugsesteenweg, De Dulle Friet at the Vlasmarkt and more!
Stop by Confiserie Temmerman to try the local sweet 'Cuberdon'. You won't often find these sweets outside of Belgium as their shelf-life is only 3 weeks, after which they begin to crystallise. Oh, and the facade of this confectionery is very much worth a look on its own.
Visit the Damberd for a typical Belgian brown bar experience, with the Belgian beers to match, Vooruit or Het Geuzenhuis, which is a popular place among the city's students. Another popular place is Het Gouden Hoofd, which has this amazing atmosphere. The entire set-up makes you feel like you're being served in the house of a true Belgian grandma, from the traditional food and beer to the decoration!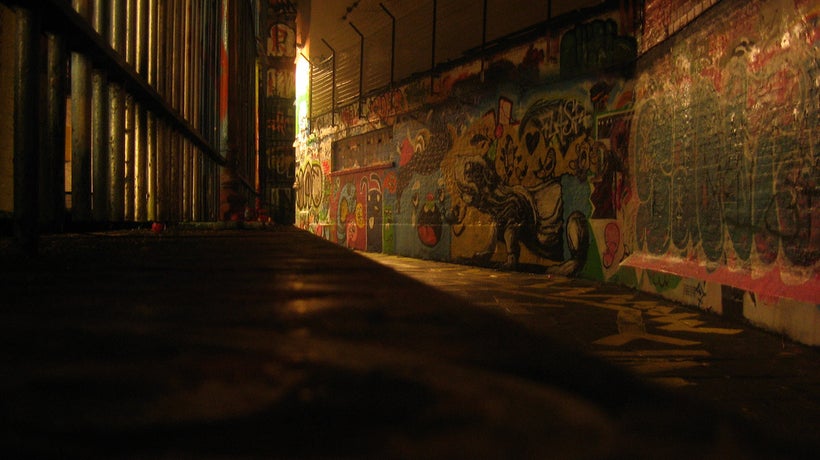 4. Street art
Pictured above is the Werregarenstraatje, perhaps a slightly little dingy-looking alley, the graffiti on the walls however is amazing and constantly changes. It's no. 40 on the Concrete Canvas tour, though, because the alley is currently under construction you should keep it in mind for the future. In the meantime you can satisfy your hunger for graffiti with the other spots on the map.
Also, check out the Grindbakken, which is another one of the 'legal' spots in the city where artists can be creative with paint. Another helpful website pointing out the colorful walls of Ghent is Ghentizm, which also features a street art map.
5. Museums & cultural venues
STAM is a former city hospital, still a relatively new museum. It takes you on a discovery tour of the many layers of Ghent, a contemporary city with a vast and rich history. The exhibitions show what makes a city a city, and portrays everything that makes Ghent the city it is today.
MSK always has great exhibitions going on, but it's especially popular right now because they are restoring some of the famous Ghent Altarpiece panels and you can see the restorers in action here!
Visit Ghent has written a lovely introduction on their website about House Alijn, "In the only remaining almshouse in Ghent you can travel back in time. The beautifully decorated museum rooms show you how normal men (and women!) lived their everyday life in the 20th century. A collection of old private videos recorded by the inhabitants of Ghent illustrate their stories and give you a surprising and intimate glimpse into a time and a city that once were. Discover this grand timeless (hi)story".
Finally, S.M.A.K, this is contemporary art at its finest in Ghent. This museum has the exceptional ability to combine some of the most top national and international works, presented in continuous interaction with original, and often daring exhibitions. Well worth your time!
Calling all HuffPost superfans!
Sign up for membership to become a founding member and help shape HuffPost's next chapter
This post was published on the now-closed HuffPost Contributor platform. Contributors control their own work and posted freely to our site. If you need to flag this entry as abusive,
send us an email
.