On International Women's Day, Alex Almonte took her 5-year-old daughter, Abrianna Tomar Almonte, to see Wall Street's new statue of "The Fearless Girl." What she thought would be a typical day out turned into something symbolic.
Abrianna didn't have school on Wednesday. That morning, she and her mom ate breakfast and saw on the news that a statue of a girl had been placed to face Wall Street's famous charging bull statue. It's called "The Fearless Girl" and was put up by asset management group State Street Global Advisors. Alex took her daughter to see the statue, and Abrianna brought it to life with her excellent outfit choice.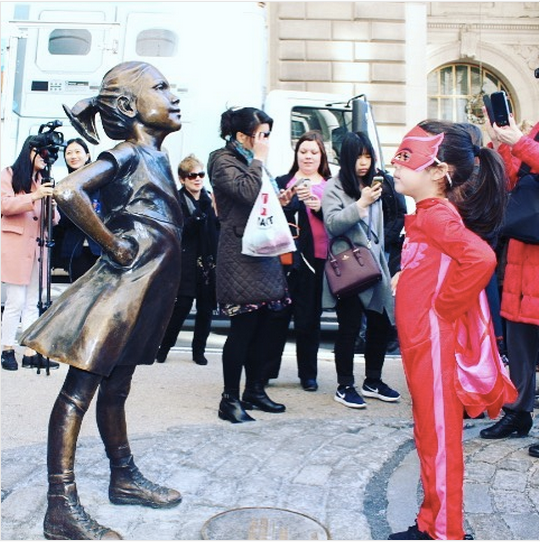 Alex asked Abrianna that morning if she wanted to take the train from Harlem to see the statue, and Abrianna decided she'd wear her Owlette costume to look like the superhero from the show "PJ Masks." Abrianna likes to wear costumes often and has found a way to bond with her brother who has autism through them.
"It's her way of catching his attention a little bit so he can play with her and bond," Alex told The Huffington Post.
When Alex and Abrianna finally arrived downtown at the statue, Abrianna asked if she could take her jacket off momentarily to take a photo with "The Fearless Girl" while wearing her superhero costume. Alex gave the OK, but by the time she got her camera out of her bag everyone else checking out the statue was taking photos of Abrianna.
"She was already standing next to the statue, and people were taking pictures of her and telling her, 'Oh, can you put your arm up?'" she said.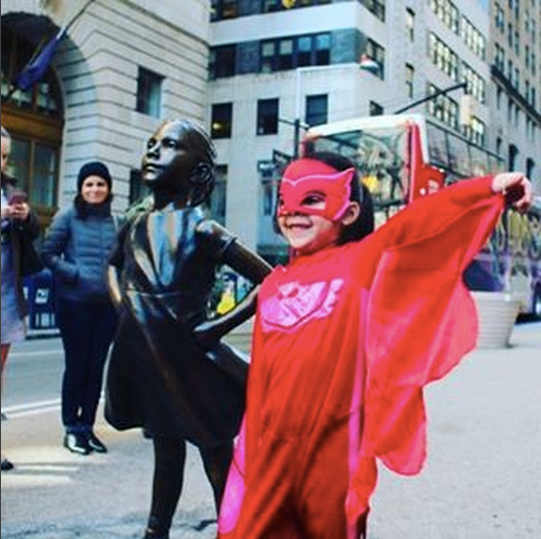 Photos of Abrianna mimicking the statue are now all over social media. The next day, she showed her teacher the photos and learned that people at school had seen the pics, but had no idea it was her behind the superhero costume. Alex finally got her own photos of her daughter with the statue before they left.
On their way home, Alex talked to her daughter about what happened that day. She said that "The Fearless Girl" was a superhero, prompting her daughter to ask what her "superpower" was.
"She kind of represents all of us, all women," Alex told her daughter. "She's trying to empower us and show us to be great."
The HuffPost Parents newsletter offers a daily dose of personal stories, helpful advice and comedic takes on what it's like to raise kids today. Sign up here.
Related
Before You Go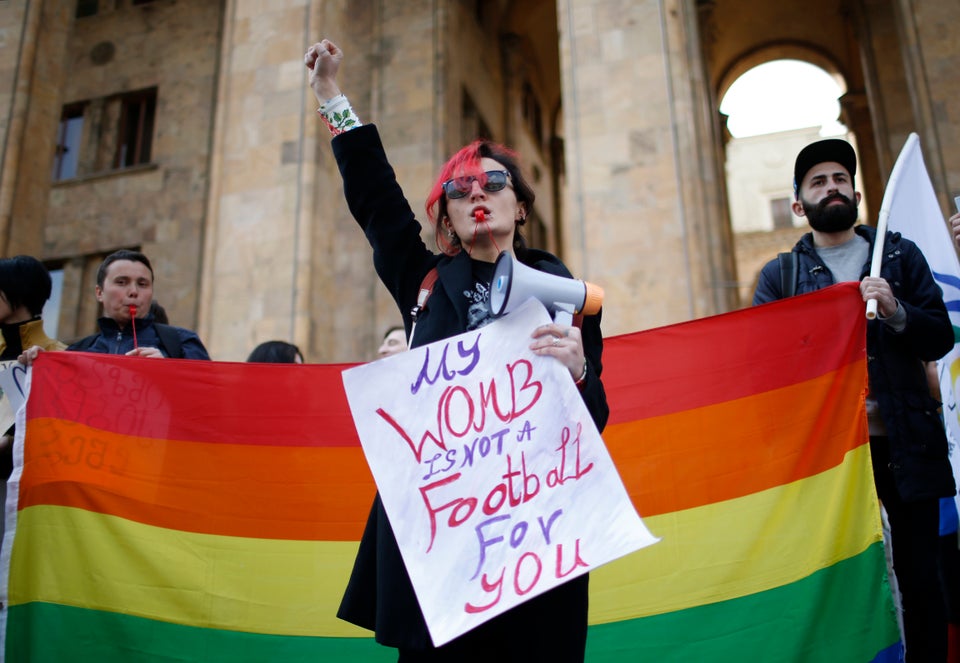 2017 International Women's Day Around The World