Create the ultimate livable space with these stylish decorating tricks.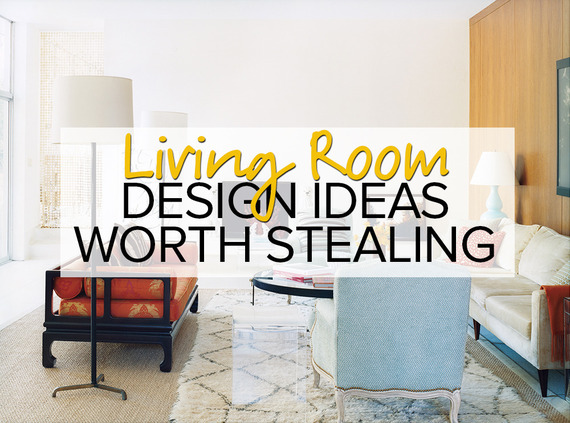 How to make the centerpiece of the home look good and be livable? Create a room that has a sense of balance, reflects your personal taste, and is completely inviting. Prepare to be inspired.
One would think having a large living room would be a homeowner's decorating dream. Then reality sets in. (Whoa, that's a lot of space.) Start by figuring out the setup that works for you and your lifestyle. Plenty of seating creates a comfy, come-and-hang-with-us vibe. The soothing green and yellow palette is fresh without feeling stuffy.
How can one not be inspired by Ali Cayne's downtown decorating style? She went with a warm neutral-and-gold palette that brightens the typically formal space. The sink-right-in sofas are just waiting for friends to come over.
Dare to make a bold move? Take Mary McDonald's decorating lead with these attention-grabbing glossy stripes. Keep color from overwhelming the space by weaving white into the room on the larger items, such as the sofa, club chairs, tufted stools, and coffee table. See more of Mary McDonald's design ideas. Get even more tips for decorating with color.
This living room palette (creamy neutrals, soothing blues, rich corals) has our decorating hearts feeling right at home. The setup feels ideal for weeknight lounging and weekend hosting. The pieces, although not too matchy-matchy, belong together. Our favorite trick is the layering of the rugs, which adds texture to the floor. Shopping for rugs? Find a stylish assortment here.
Stuck in a small space? Don't let it cramp your style. Start by choosing furniture that fits (aka doesn't take over) the area. Let it speak to the statement you're looking to make. Going for casual and lived in? Choose a comfy silk-velvet sofa to position in front of a bookshelf. Ready to start shopping for a sofa? Browse some popular styles here.
Even if you don't have a ton of space, landing a home with a fireplace is reason enough to be happy. This mantel, which was painted white to match the walls, is the room's focal point. Decorate it with pieces that make you feel at home, such as a piece of artwork and an assortment of vases. Shop some of our favorite artwork here.