If you're looking to brighten up a room that feels more like a cave (or even just a little on the dim side), try this mix of beginner tips and advanced ideas for bringing in more light and maximizing what you already have.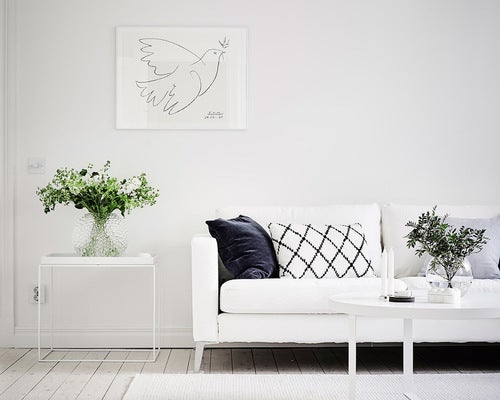 1. Start with white. When trying to brighten a dark space, many people look to mirrors to reflect light around a room. But that's actually a bit of a design myth. The best way to scatter light is by using lots of white, because the non-hue doesn't absorb any color. Instead, white sends as much light as possible bouncing indirectly back to other surfaces. So if it's brightness you seek, the first thing you should do is paint your walls and ceiling white.
And if you really want to be aggressive, don't stop with just the walls. Consider bringing in other white elements such as white art or frames, and white furniture, curtains and bedding.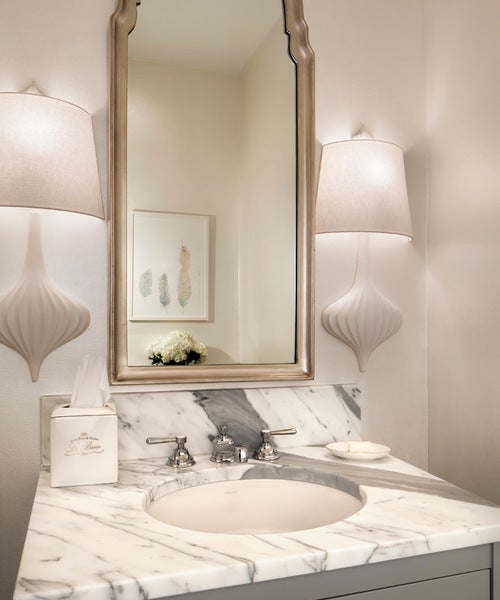 2. Light the walls. Washing walls with light helps keep the edges bright, so even if you have lots of pot lights or ceiling lights, consider adding sconces with shades that aim light upward and downward. This powder room feels bright despite its lack of windows, thanks to the warm glow of a pair of sconces.
If you are adding lights (especially pot lights) to a ceiling, consider adding a few closer to the walls to cast light down onto the walls. This can highlight beautiful details such as traditional cabinetry or brick.
Undercabinet lighting creates a similar effect, adding a glow that comes from the edges and balances out the shadowing effect of bulky cabinetry. This can always be added after construction with LED strips or even battery-operated tap lights.
To brighten up a ceiling in a dim room such as a laundry room or den, try replacing a flush-mount ceiling light or a pendant with a semi-flush light that hangs just a little below the ceiling. This will diffuse the light across the ceiling to almost simulate the glowing effect of a skylight.
For an especially sophisticated approach, try using a picture light to brighten up a wall and make a focal point of a favorite art piece.
Table lamps work well on furniture to spread light across a wall, especially in classic drum shades with openings at the top and bottom.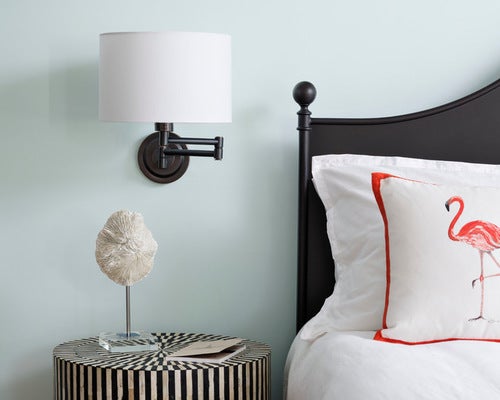 3. Cool with blue. Natural light is cool compared with yellow-toned incandescent bulbs, so adding blue gives a pleasing crispness that reminds us of the sky. Plus, cool blue is neutral enough to work with nearly any accent color you want to toss in.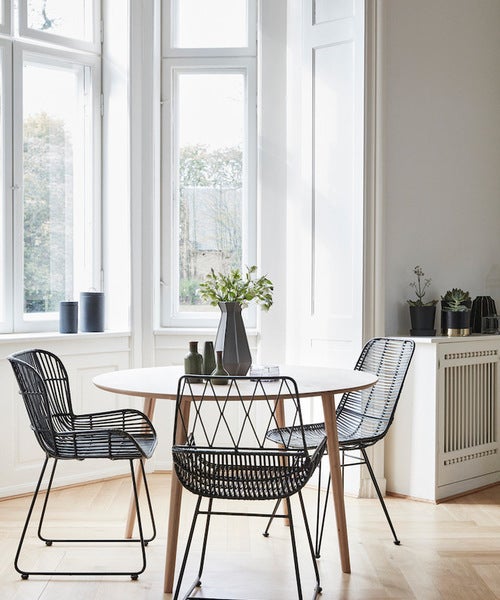 4. Counteract with black. It seems counterintuitive, but introducing some hits of stark black or charcoal adds touches of contrast that make the light areas surrounding them pop even more. Look especially to thin, linear elements, such as these chairs, or long floor lamps, sharp picture frames or patterned fabrics for the right dose of darkness.
Better yet, add punches of blue and black (or navy) to a room to create a beachy vibe that recalls luxe seaside getaways with plenty of summer sun.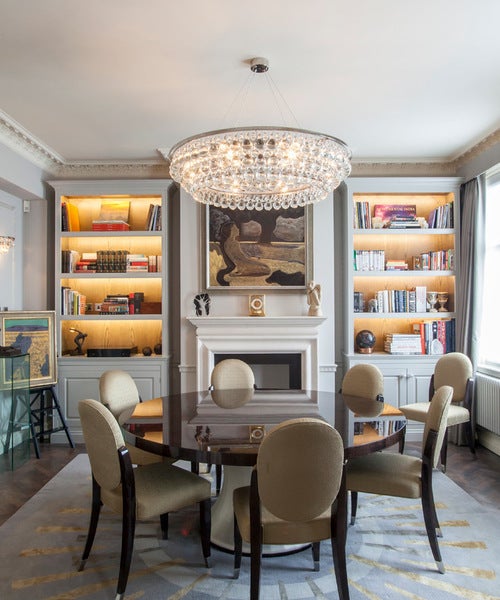 5. Update lightbulbs. Besides adding actual blue, you can also choose to update your lightbulbs to a brighter output and a cooler "daylight" color tone. Warmer, yellow lights, such as the ones seen here, create a beautifully warm, intimate atmosphere, but if you'd prefer a brighter and fresher look, try a "true white" bulb.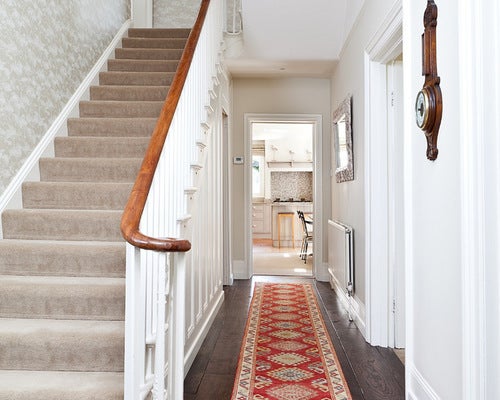 6. Add area rugs. Dark hardwood or laminate floors are a beautiful and popular staple for contemporary homes, but they can drain a lot of light from some spaces, especially corridors without windows. Runner rugs in a lighter tone will break up this sort of flooring to give you the best mix of richness and airiness. A traditional patterned rug like this one incorporates off-whites for lightness without showing every speck of dirt.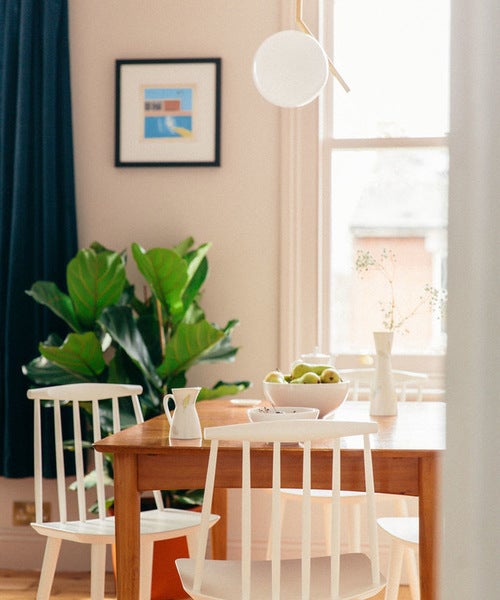 7. Embrace blond woods. Including some elements of pale woods can really lighten up (and liven up) a space. Throw in a plant and the room will feel more naturally sunny even without any new light sources.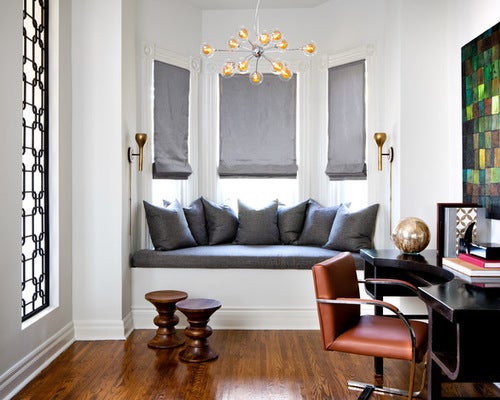 8. Provide balance. Ultimately, it's important for a room to have some natural interplay between light and shadow, as the highlights and lowlights are appealing to the eye. Nobody likes the look of a super-bright big-box store with perfectly even lighting in harsh fluorescents. Add lights to brighten up dark corners, but don't go overboard. A few shadows just mean your space has depth, and a sense of life, that makes it feel like a home.
Related