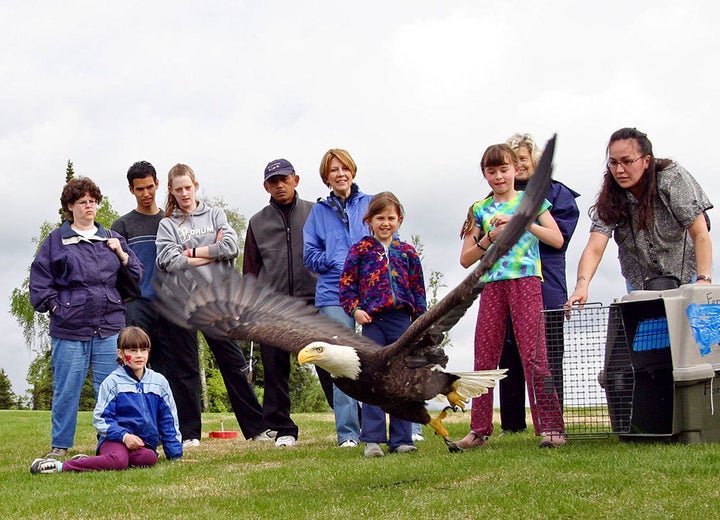 The bald eagle is more than just a bird to Americans, so its return from all-time population lows in the 1960s holds particular significance for us. This recovery stands as perhaps the greatest achievement of the Endangered Species Act - and the many conservation heroes who worked for decades to make it happen. The U.S. Fish and Wildlife Service cannot and will not jeopardize that success. Neither can we ignore the challenges now facing eagles across our changing landscape. The task we face today is in managing the myriad, complex risks to this beloved bird in the context of so many other 21st century challenges.
As long as eagles and people share the landscape, human activities will inevitably result in the unintentional disturbance, injury and even loss of eagles. But we can now reduce threats and mitigate those risks far more effectively, sustaining healthy bald and golden eagle populations for the foreseeable future.
That's why we're strengthening and improving management of bald and golden eagles to reflect the latest scientific understanding, as well as valuable input from conservation organizations, business groups, scientists and other experts.
But a few persistent misconceptions need to be dispelled about how the Service is helping conserve eagles.
Public attention on eagle loss in recent years has focused almost exclusively on wind energy. In truth, wind turbine collisions comprise a fraction of human-caused eagle losses. Most result from intentional and accidental poisoning and purposeful shooting. The majority of non-intentional loss occurs when eagles collide with cars or ingest lead shot or bullet fragments in remains and gut piles left by hunters. Others collide with or are electrocuted on power lines.
Disproportionately and solely focusing on wind energy distorts public perceptions at a time when we desperately need to reduce greenhouse gas emissions.
We have a long history of working cooperatively with multiple industry sectors, such as oil and gas and electric power, to reduce impacts to eagles and other federally protected birds. More recently, with an explosion in renewable energy, we've worked with wind power developers to implement voluntary practices to site, design and operate wind facilities in ways that reduce impacts to eagles and other birds.
We can't require any industry to implement avoidance or mitigation measures, but we can prosecute those who repeatedly refuse to take reasonable steps to reduce loss. We've done so across multiple sectors, including wind energy.
The key to gaining industry cooperation is a permitting system that drives implementation of protection measures for eagles and in return, authorizes limited remaining (unavoidable) eagle loss.
Some have mischaracterized the ceiling of about 4,000 bald eagles cited in our documents as the actual number of bald eagle deaths we intend to permit. In truth, this number represents the maximum number of bald eagles in the lower 48 states (with an equivalent number in Alaska) that our best scientific estimates indicate could be lost annually over and above current mortality rates by any means – both natural and human-caused – without resulting in population declines. The reality is we expect to issue just a few dozen permits annually, most for nest disturbance, some for loss from wind power projects and other sources, such as power lines. We expect that a significant portion of the permits we issue will be to existing operations already taking eagles without authorization, providing an opportunity to reduce the ongoing toll. The total number of eagle losses we will authorize annually from new sources will be in the hundreds, not thousands, and we believe actual eagle loss will be significantly lower.
We have extended the maximum term for a permit to 30 years to provide greater predictability for developers seeking financing for their projects. However, permit applicants must first commit to implementing all practicable measures to avoid and reduce harm to eagles – and in the case of golden eagles, more than compensate for any unavoidable impacts. We also require permit holders to document and report eagle mortality. To increase transparency, we'll now require holders of longer-term permits to collect this information using independent contractors who report to the Service. We will make the data publicly available.
Every five years, we'll review these permits, assess documented eagle loss and evaluate avoidance and mitigation efforts to make sure that they're contributing to stable or increasing eagle populations.
Let me be clear: incidental loss of eagles is not new, and whether or not we issue permits, it will continue to occur. But our permit system enables us to reduce those losses and to secure action that compensates for unavoidable losses when needed. We can't eliminate human-caused eagle loss any more than we can eliminate risk from any other facet of modern life. But these changes will enable us to effectively manage risks to bald and golden eagles and ensure the symbol of America maintains healthy populations for generations to come.
Related
Popular in the Community