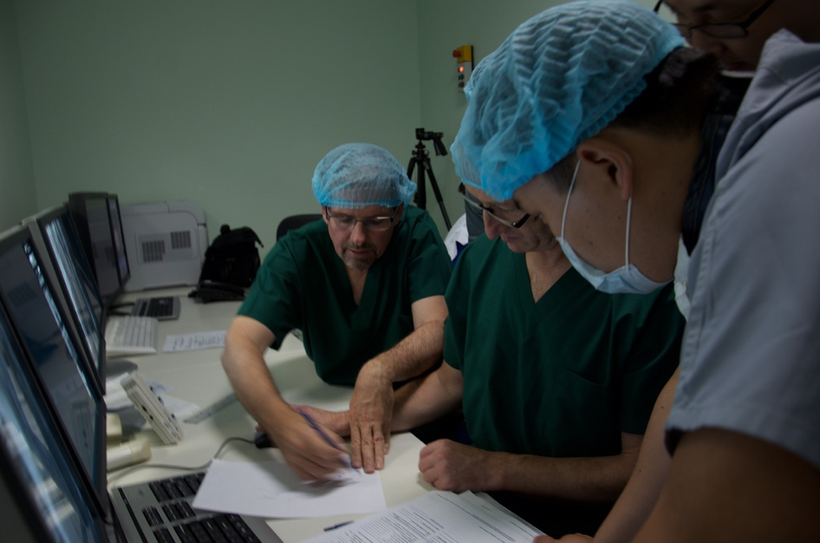 When someone's approach to scientific challenges reaches beyond institutional paradigms, it's worth an examination of that person and their achievements. Anthony Nobles—inventor, innovator, entrepreneur, philanthropist, educator, Formula One race car driver, and devoted husband and father of six—is such a person. His biggest successes mainly have been in the medical device field, most recently in technologies that have had an impact on interventional cardiology and cardiac surgery, his ideas often materializing in the middle of the night after an average of three hours of sleep.
To examine the extraordinary life of Anthony "Tony" Nobles, one would have to sift through thousands of documents including his multiple patents issued around the world [patent link], his many FDA and international regulatory approvals [FDA/IR link], and his multiple publications in the medical field reaching all the way back to 1988 at the American College of Surgeons. [ACS link] However, its easy to get lost in that mountain of scientific data, so I decided to visit Tony Nobles to examine how it is possible for him to have achieved so much while continuing to expand his reach. [achievements link]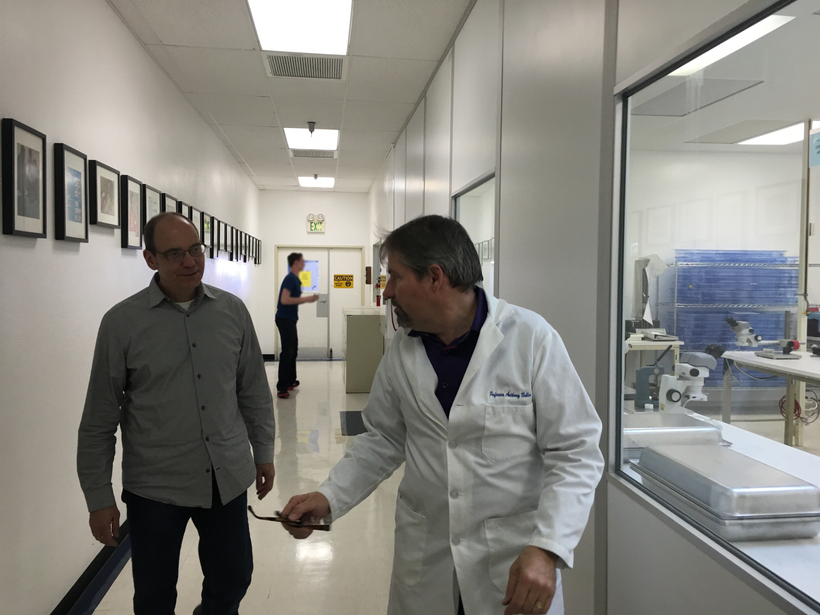 I started the adventure at Nobles' Fountain Valley, California, headquarters where several of his medical and investment companies are based. From the outside, they are housed within an unassuming industrial building; from the inside, it's a state of the art complex that includes a large medical cleanroom, sophisticated machine shop, modern innovation lab, operating room, and 3D printer lab—a roomful of them, in fact—which run non-stop.

That morning, it was like following the Energizer Bunny on steroids. Nobles already was racing department to department throughout the facility, working on everything from manufacturing to regulatory to research and development. After a detailed tour, he jumped into corporate mode for a while and mid-conversation, he paused and said, "I have an idea!" I then watched him literally invent a completely new medical device before my eyes, one that apparently would allow better access into a beating heart. He smoothly executed his vision, engaging his engineers, technicians, and assemblers, bringing the new idea to reality.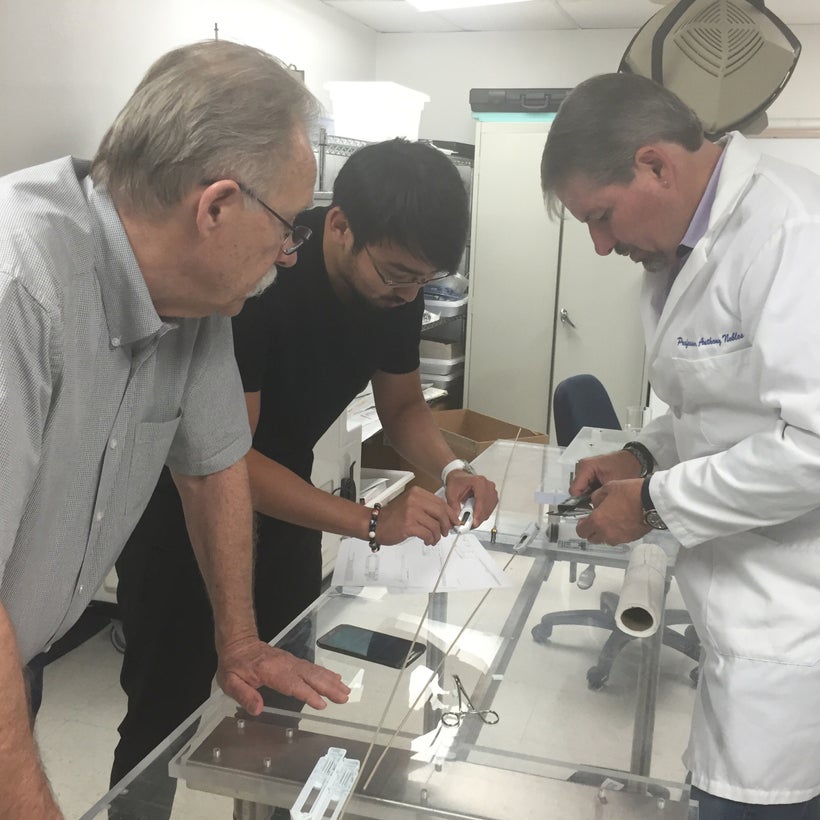 He then took off his engineering hat and brought in his president, regulatory director, and quality staff to describe the pathway to approval of the new device, exhibiting an expertise on the FDA―a course on which he teaches in Zwickau, Germany's West Saxon University. 
What happened next took me by surprise. He had me perform a procedure on an "explanted" heart, the same technique I would be watching him train top cardiologists for in Sweden and Kazakhstan during our upcoming, weeklong expedition. This was something that totally surprised me, my being "proctored" in the same way he trains physicians to use his technology in patients. So by the end of the day, I not only watched Tony Stark―I mean Nobles―create new medical devices, structure a hundred million dollar business deal, and run his worldwide enterprises via Skype, but I also became a participant in the process.
Actually, that's possibly one of Nobles' great talents—drawing on everything and everyone as he asks questions and dissects answers, stimulating the novice to become part of the inventive process without realizing it. And though he has a building full of experts, he just as easily jumps on Solid Works (3D design software) or steps into the machine shop to mill a prototype of his next medical device as lecture a roomful of engineers. A quick, related sidebar would be while watching a 3D printer create an apparatus, the process prompted Tony to design a new catheter for his latest heart device. He handed it off to the team, requested fifty, later placed one in a ventricle, and voila, a new HeartStitch device was born.
A few weeks later, I began part two of my adventure, this time through Europe and Central Asia, first leaving for Linköping, Sweden, though Tony was already five days ahead of me. We met in Germany's Frankfurt Main Airport, flew through Amsterdam, arriving in Sweden in the middle of the night. Predictably, I was exhausted from traveling halfway around the world, but not Tony. This was like driving to work for him. The very next morning at 6:30 am, we met for my briefing on how to interact in the cath lab, and how Tony would train the doctors and staff on his latest heart procedure for PFO closure (suturing a hole in the heart).
By 7:30 am, I was dressed in scrubs watching over Tony's shoulder as he consulted with the Chief of Cardiology at the University Heart Center, Dr. Niels Erik-Nielsen. I had not expected how hands-on Tony was with the physicians; it was like being back in his shop. He and Dr. Nielsen instructed me on how to read ultrasound images, and what was possible with the NobleStitch EL device in each of the patients to be treated that day. After scrubbing-in, he assisted the doctor in the procedure, guiding him every step of the way, and collaborating on the methods and placement of his suture in the patient's heart. [Note: Due to his knowledge and participation demonstrated during the procedure, people often think Nobles is a physician, which he quickly corrects with humor after the inference.]
This was the first of five procedures. In between cases, he and Dr. Nielsen prepared a lecture on NobleStitch EL to a Swedish congress. Before the last case was announced, Nobles video-conferenced an animated, informative lecture to his German Biomedical Engineering class, which he teaches weekly from wherever he is in the world. He did this from Dr. Nielsen's office before running back to the cath lab for the fifth and final procedure of the day, where they worked together on the first ever human ASD closure (another type of hole in the heart) using only his suture technology.
Then it was off to Paris, this segment of the trip more ground-breaking than the past twenty-four hours. World-renowned doctors from Germany, France, Kazakhstan, Sweden, and London, assembled for this first major international collaboration to perform a clinical use of the HeartStitch TA, which included the same device I watched Nobles invent. The team scrubbed-in and case after case, he instructed them on his new technique regarding the use of his transapical access and closure device, revisiting the process I witnessed in his California lab. There was an interactive exchange on the device and procedure throughout the day between Nobles and these top minds in cardiology and cardiac surgery, discussing potential adjustments based on the group's feedback. These medical experts clearly respected his opinion, even Germany's Prof. Horst Sievert, who having seen the development of the HeartStitch TA over several years, admitted that he initially wasn't sure that it would work. But after this day's procedures, he clearly was convinced.
The last leg of the excursion included Kazakhstan—home of the world's first and largest space launch facility—where we mainly spent two days shuttling between Astana's Nazarbayev University and the National Cardiac Research Center. The day began with Dr. Saule Kadirova and Dr. Abdurashid (both previously having attended a Master Class by Nobles on PFO closure) plus Chief of Cardiac Surgery and the hospital's CEO, Dr. Yuri Pya, being proctored by Nobles on the use of his NobleStitch EL. As was the case in Linköping and Paris, all the procedures were successful. Then it was off to Nazarbayev University's Medical School where "Prof. Nobles" (an honorary title bestowed on the inventor by Germany's West Saxon University) taught Neuroanatomy and Neurosurgical Techniques to a roomful of attentive and enthusiastic medical students. [teaching link] Tony's timing, energy, and delivery of information sprinkled with charming dad humor kept the young adults engaged, and as he peppered the attendees with questions, his students appeared to thoroughly digest the complex content.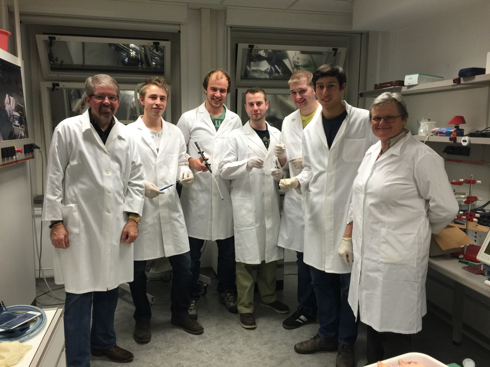 I later discovered the students had been so enthusiastic about Tony's lectures on Neuroanatomy and Neurosurgery, they petitioned his return for Fall semester classes to Department Chair of Neuroscience, Dieter Riethmacher, shortly after the dean of the medical school, Dr. Massimo Pignatelli, asked Nobles to teach the section on Cardiac Anatomy and Cardiac Surgical Technique. Switching tracks, the next day, he instructed a class of the Executive MBA Program on Business, which he started the year before at NU, that session squeezed between inventing several new instruments with his engineers at his Astana facility (a new one being built at the time of this writing) including a first ever, patentable medical device developed with a Kazakh engineer. It's worth mentioning that a few weeks later, this new HeartStitch technology was employed by Dr. Pya for a "first-in-man" procedure, Tony presenting the results in front of 900 heart doctors at the annual Congenital Structure Interventions meeting in Frankfurt, Germany.
All good things come to an end as did this memorable, life-changing trek. It was my first encounter with information overload of this magnitude and it took a few days to digest what I learned. With the exception of those events I present as historical addendum, I witnessed everything I described, journaling what I observed and my reactions to those often surreal scenarios. Thank God I took detailed notes. 
Personally, I found that Anthony Nobles is someone who does his best to do the most at all times. In my opinion, his inventions and innovations—including those created by surrogates, employees, and apprentices—seem to be contributing to the field of Interventional Cardiology in an important way. And aside from all the clever inventions, I witnessed real people's lives being affected positively, even saved, by the devices, their applications, and Tony's guidance. In the future, I hope to interview those who have undergone procedures involving his tech and perhaps create a follow up piece on what the experience itself was like from their perspective as well as how their lives have improved or changed in various ways.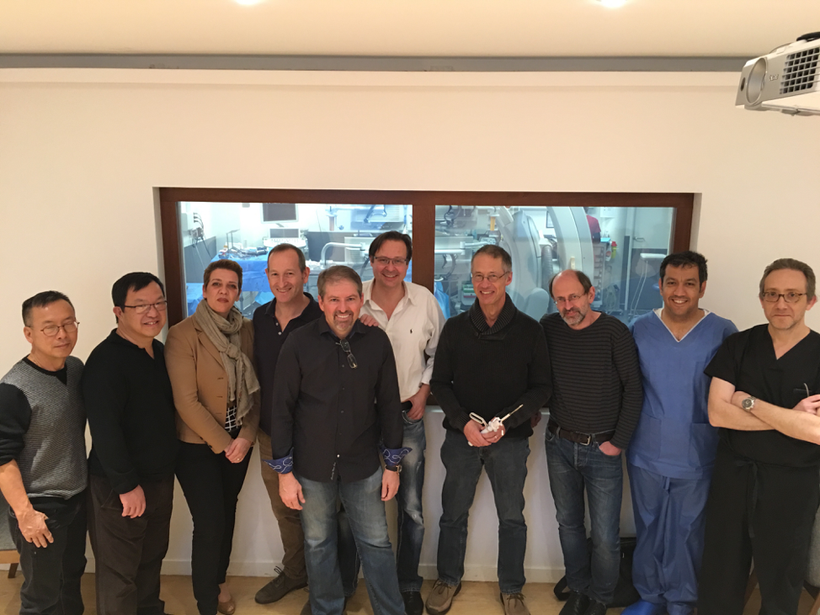 REAL LIFE. REAL NEWS. REAL VOICES.
Help us tell more of the stories that matter from voices that too often remain unheard.
This post was published on the now-closed HuffPost Contributor platform. Contributors control their own work and posted freely to our site. If you need to flag this entry as abusive,
send us an email
.