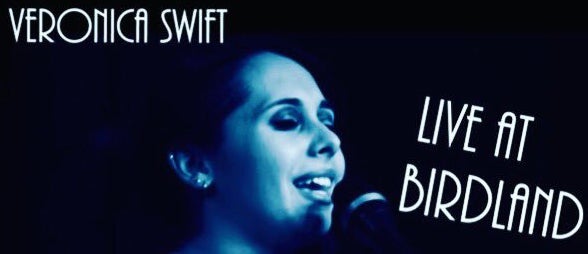 SHE BOUNCES, almost tumbles onto the stage, All-American. But with the look of a French écolière as well. The high-necked, long-sleeved gray smock-dress, red beret and a single tightly-braided pigtail provide the Gallic touches.
I was minded of how Paris enthusiastically took America's invention of jazz to its sophisticated bosom during the last century's inter-war years, and thus began the musical medium's international journey of conquest.
The young woman (23 years old) playing her contemporary part in refreshing jazz's traditions is Veronica Swift (and no, she's no relation to the pop diva Taylor of that ilk). I was introduced to this Ms Swift during the turn-of-the-year holiday, appropriately enough at our iconic New York City venue, Birdland, fabled for its own seven-decade history of tentpole performances beginning with its eponymous sax-playing legend Charlie 'Yardbird' Parker.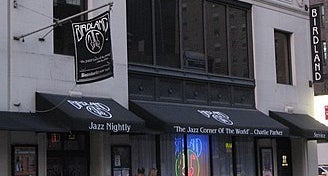 (And for what it's worth that native Kansan himself, later of course an adoptive New Yorker, labeled the club "The Jazz Corner of the World" – which still applies for many enthusiasts.)
In Birdland's crowded but still cosy setting Swift gave us Cole Porter standards including Just One of Those Things … through to … I get a Kick Out of You (performed as an encore piece) — with an added scat delivery of winsome verve. She possesses a voice of natural delicacy, and with it a broad versatility that's clearly been developed through long and intense training. Genes probably help too – she's the daughter of a singer and of a be-bop pianist, parents who had her make her first professional record at the age of nine. (The evening I saw her, Swift was joined, and replaced for one number, by her mother, Stephanie Nakasian. During her inter-song patter, Nakasian divulged one not-too-surprising fact of a jazz family's life on the road: young Veronica would sleep in a bass-case.)
Maybe her childhood's impromptu bassinets accustomed her to receiving helpful support from bassists themselves. In Just One of Those Things she was strikingly accompanied by only the bass, in the prehensile, melodic hands of Alex Claffy. The resulting duet contrived to be charming, arch, and poignant all at the same time. Here and throughout the evening, Swift's interpretive sallies felt deeper than might be expected from such a young soul … and we can probably expect greater depth as her life-experience broadens.
ANOTHER EVEN BIGGER DEMAND to place on a bassist came toward the end of Swift's set. Claffy performed well beyond the normal call of a regular duties, when he and his upright worked hard in mimicry of Chinese instrumentation (and persuasive mimicry, too, at least to my Western ears).
A word of explanation is warranted here. Swift, along with her accompanists, had performed in Shanghai last year at the recently-opened Jazz at Lincoln Center franchise in that city's Bund district. In an open-hearted and open-minded gesture, the musicians wanted to honor their hosts' hospitality. Swift learned enough Mandarin to sing the much-loved traditional Chinese folk-song "Mo Li Hua" (Jasmine Flower) – and she scored a mellow arrangement for it, including a bass part that evoked the lower strings of a zhonghu. But then she also kicked it (to the delight of hard-core hep cats more than of Sinophiles, I'd guess) into a classic Swing rendition full of all her own signature vocal licks.
Collegiality is, we know, the very essence of the improvisational medium that is jazz – and Swift's gig was aptly festive and convivial. Besides her mother, she was also visited by Benny Benack III, a young trumpeter and vocalist combined. Together Benack and Swift paid an agile and effervescent homage to Dizzy Gillespie by wildly scatting his much-loved "Oo-Pop-A-Da" ( – with Bennack also blaring joyfully through some verses on his horn).
Props go to the other band-members as well as Claffy: they were Antonio Madruga (piano), Evan Sherman (drums) – plus Julian Lee, who added his vaulting saxophone to several numbers.
It's good to report that Birdland will go on in 2018 to bring us veteran star performers, as well as its well-picked newcomers who make themselves indispensable. We can look forward soon to talents ranging from the Jamaican giant Monty Alexander through the silky Ann Hampton Callaway, together with Kurt Elling, to the Julien Hucq Quartet in the spring – and many more later in the year.
Read more of David Tereshchuk's media industry insights at his online column, "The Media Beat", with accompanying video and audio. Listen also to "The Media Beat" Podcasts on demand from Connecticut's NPR station WHDD - and at iTunes.
Calling all HuffPost superfans!
Sign up for membership to become a founding member and help shape HuffPost's next chapter
This post was published on the now-closed HuffPost Contributor platform. Contributors control their own work and posted freely to our site. If you need to flag this entry as abusive,
send us an email
.