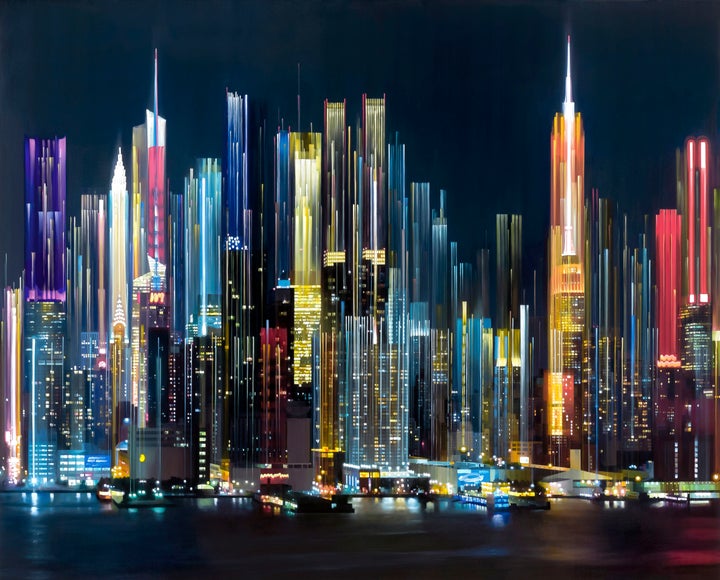 Alexandra Pacula's Vertical City constructs an eye-popping portrayal of an elongated, shimmering Manhattan skyline, which explores a futuristic "visual intoxication and wondrous disorientation" of soaring buildings in a restless metropolis accented by pulsating brilliant color. Gallery Henoch, New York. Gallery Henoch CONTEXT New York
The month of May in New York arguably is the most enjoyable time of the year for both residents and out-of-town visitors, as officially it signifies the end of a challenging winter and the literal warm-up for the beginning of the most important period in the city for art collectors and international audiences, as well as perfectly delightful weather. The tulips on Park Avenue, a tribute to the original Dutch settlers of 1609, start to spring up in the median at the same time as Art New York and CONTEXT New York open their doors and launch New York Art Week.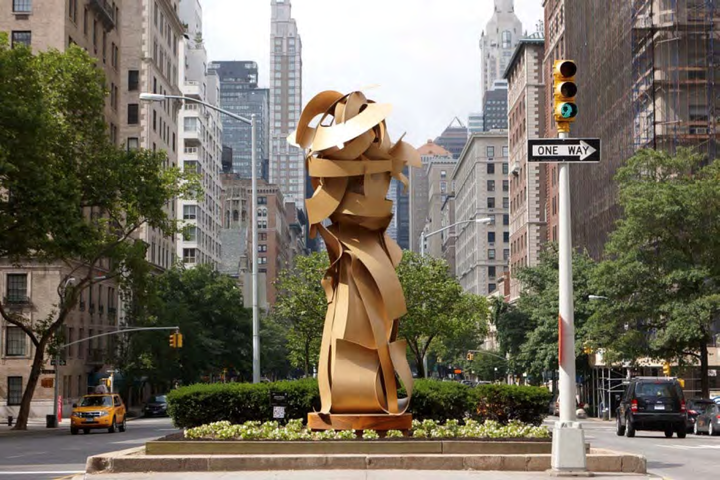 One of the most anticipated sculptures in the fair is Paley's steel Envious Composure (pictured here on Park Avenue in 2013), which will be installed in front of CONTEXT and is built with masterful poetic shapes that combine to provide an ingenious, towering structure that soars more than eighteen feet in height and weighs almost 6,400 pounds. Joerg Heitsch Gallery, Munich. Heitsch Gallery CONTEXT New York
Snippets of Manhattan's past still can be discovered along the waterfront in lower New York City, including the cobblestoned Gansevoort Street adjacent to the new Whitney, which currently is highlighting their often controversial Biennial exhibition. One of the most noteworthy early aspects of "New Amsterdam" was the water access that surrounded the Manhattan island, which provided a perfect, protected docking area for ships from around the world. It didn't take long for the realization that there was a necessity to build flat permanent structures erected on posts that extended out from the shore to the mighty Hudson River, for which a distinguished school of painting is named, and delivered secure and practical piers for hundreds of years. Many of these vintage wharves have been abandoned, but quite a few were adaptively refitted and refurbished to accommodate secure, functional, expansive indoor spaces that could host ambitious large-scale events, particularly appropriate as a setting for a sophisticated art fair.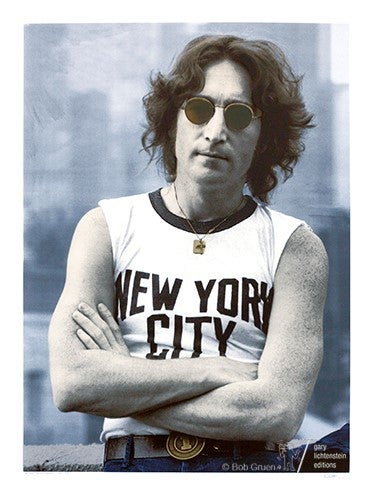 In 1971, at the age of thirty-four, John Lennon moved to Manhattan to escape a hectic life and the glare of constant publicity. Taken by Bob Gruen on the afternoon of August 29, 1974, this image of Lennon, wearing a "New York City" sleeveless shirt outside his downtown penthouse, arguably has become one of Gruen's most iconic photos and remains a touching and memorable tribute to the late Beatles singer/songwriter. Presented by Gary Lichtenstein Editions. CONTEXT New York
This year, Art New York and CONTEXT New York take full advantage of this strategic location, as both fairs begin side-by-side with a VIP Preview on the afternoon of May 3, opening to the public immediately after and continuing through Sunday, May 7. "This has become the most significant week in New York City for art collectors, attracting international audiences and presenting the best the market has to offer," said Nick Korniloff, founder of Art Miami. "There will be over 120 international galleries from 50 countries showcasing a handsome spectrum of artworks from the 20th and 21st centuries, handpicked by Katelijne De Backer, Director of Art New York, which will include investment-level modern and contemporary works by artists such as David Hockney, Keith Haring, Pablo Picasso, Jean-Michel Basquiat, Yayoi Kusama, Andy Warhol, Franḉois-Xavier Lalanne, Damien Hirst, Alberto Giacometti, Roy Lichtenstein, Frank Stella, Alexander Calder, Sam Francis and Willem de Kooning, among others."
CONTEXT New York, led by Director Julian Navarro, focuses on the development and reinforcement of emerging and mid-career artists, with noteworthy works by Shepard Fairey, Gina Adams, Nancy Cohen, David Walker, Nicole Gordon, Peter Burns, Anne Samat, Hasanul Isyraf Idris and Yeoh Choo Kuan, as well as Rafa Macarrón, who is considered one of Spain's most remarkable up and coming artists, and Mabel Poblet, who will represent Cuba at the Venice Biennale.
Both fairs generate a great deal of visual electricity by combining their professional strengths and geographical diversity with over 1,200 artists from around the world, along with lively special projects in public areas around the fair, including Inside/Out, an exhibit of works depicting interiors and exteriors by alumni of the New York Academy of Art, and an impressive list of symposiums by One Art Nation. While space does not allow a comprehensive appraisal of each participating gallery, the following is a selection of specific pieces that caught my attention: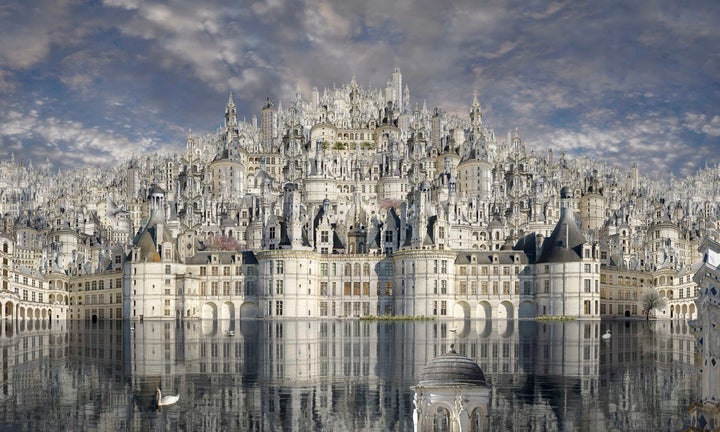 This internationally acclaimed photographer strives to capture the "panorama and the macro view all at once, to stop time and to have the possibility of viewing all the details of a static image." In Rauzier's recent works, the observer is confronted with a mystifying but beautiful impossibility of density, architectural juxtaposition/manipulation and complicated perspectives that include amazing interior and exterior photographs of magnificent, regal libraries, churches and recognizable landmarks, including the Colosseum in Rome and Venice lookingan awfully lot like Rio. Waterhouse & Dodd, New York and London. Waterhouse & Dodd Art New York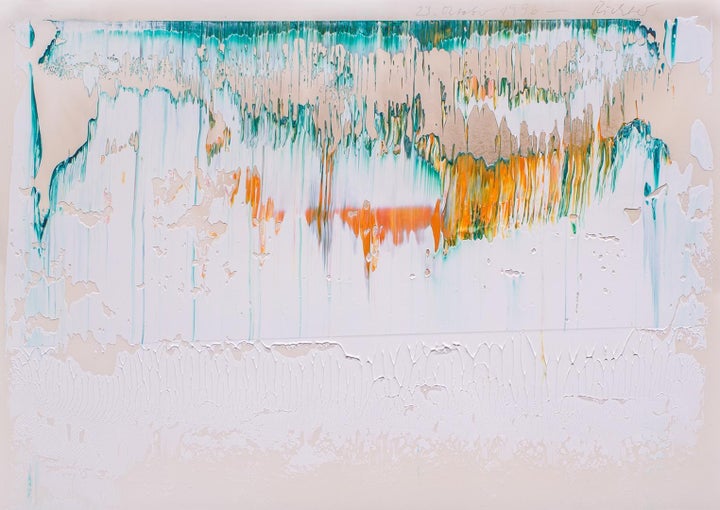 Gerhard Richter's Paper Fuji is an instantly recognizable work by this leading German artist, who discovered a compelling and inventive method of utilizing a squeegee device to pull paint across a surface that creates stunning compositional surprises. Richter often is associated with the New European Painters, a school that merges American abstraction and figuration. His work currently is the second most expensive in the world for a living artist ($46.3 million at auction in 2015); only a Jeff Koons has sold for more. Casterline|Goodman Gallery, Aspen/East Hampton. Casterline Goodman Gallery Art New York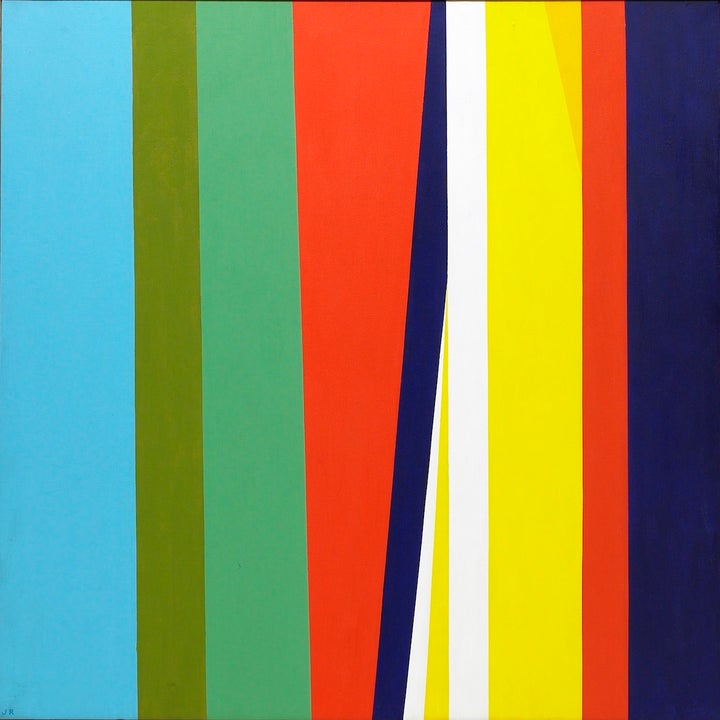 Jay Rosenblum's Untitled is an important part of "Hard & Edgy," a special exhibit presented by Vallarino Fine Art, which celebrates a distinctive perspective from the 1960s and 1970s in relation to geometric abstraction and color field painting. Also featured are works by Ilya Bolotowsky, Charles Green Shaw, Helen Lundeberg, Frederick Hammersley, Larry Zox, John Stephan and Leon Berkowitz. Vallarino Fine Art, New York. Vallarino Fine Art Art New York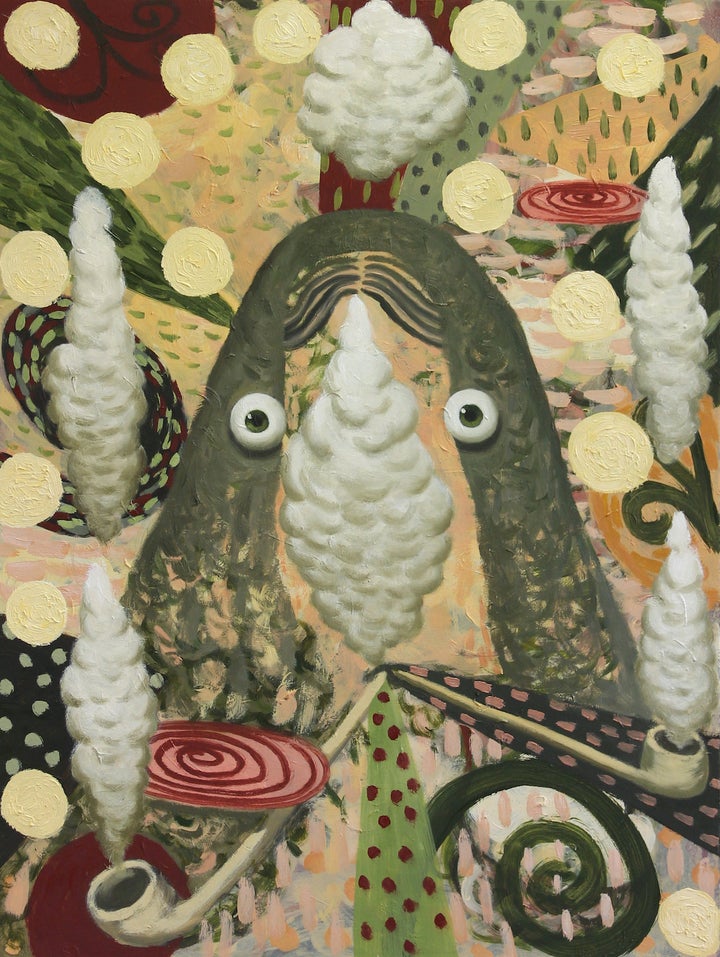 Kevin Mooney's Storyteller is a multi-faceted oddball piece that conjures up the essences of surrealism, cubism and dada, with a subtle spirit of Rene Magritte's Ceci n'est pas une pipe (1929) thrown in for good measure. The collection of painterly shapes on display are interwoven with references to emigration, folklore and the supernatural, coupled with distorted and mutated heads staring back through puffs of smoke forming repetitive clouds and hypnotizing eyeballs. Gibbons & Nicholas, Dublin, Ireland. Gibbons & Nicholas CONTEXT New York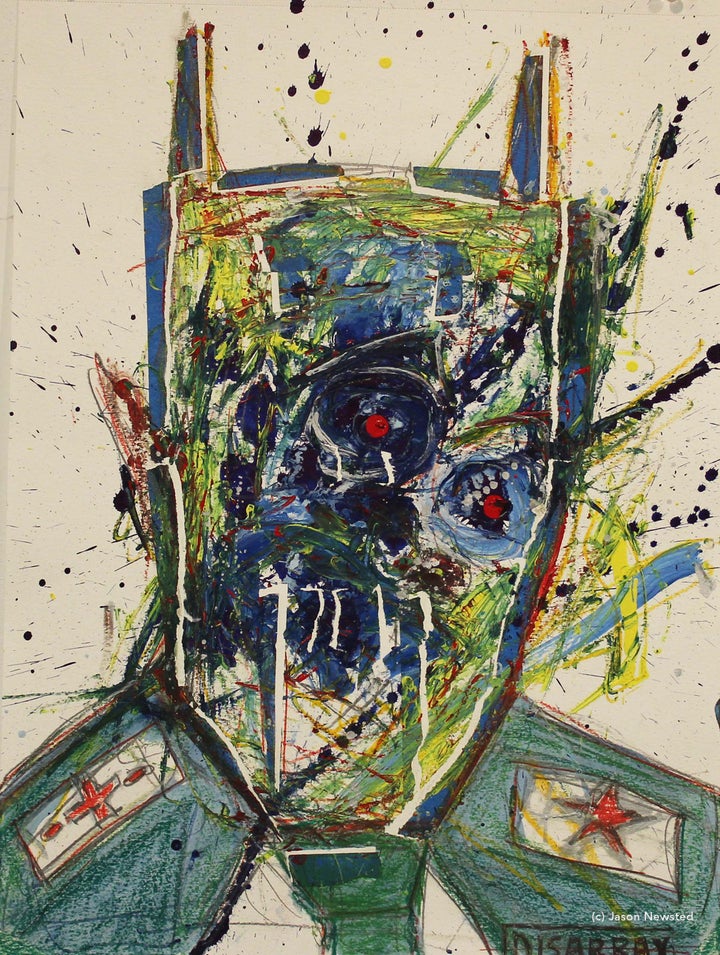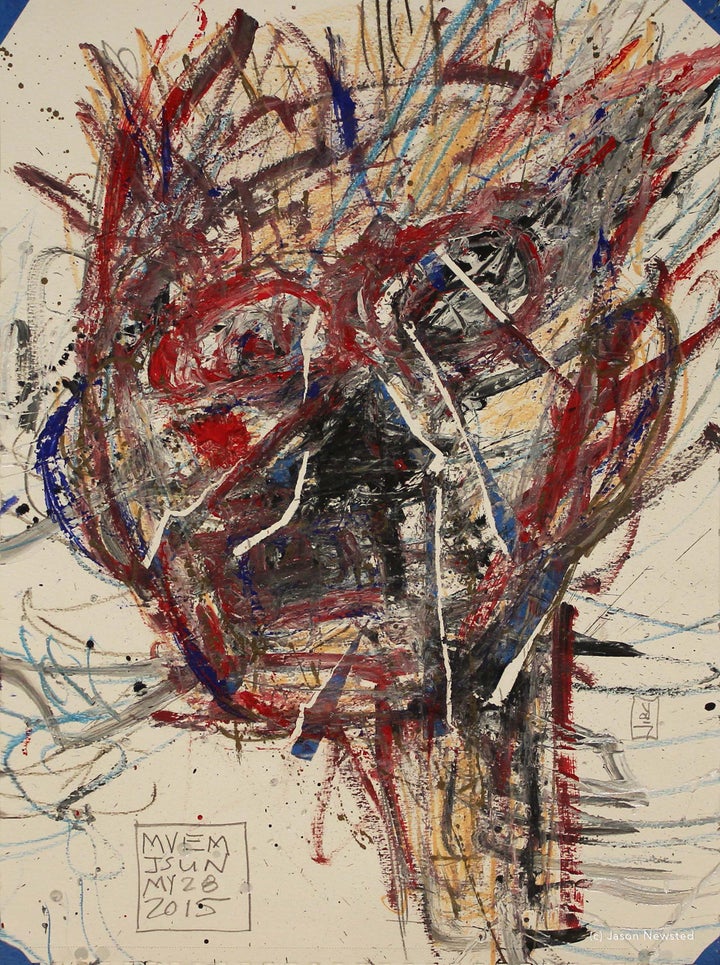 Jason Newsted, former Metallica bassist, will debut his first major international exhibition of artworks that combine the bravado of Basquiat and Dubuffet with a splash of Picasso-like abstraction. In some of the scratchy portraits, there is a jazzy flavor of improvisation with bold notes of harmony and inventiveness. It's always amazing to me that so many successful musicians also have been serious artists, from David Byrne and Ronnie Wood to Joni Mitchell and Martin Mull, where the rhythmic and narrative components of modern rock seem to drift into making works of art. In "Rockers Rawk," Gary Lichtenstein Editions will show Newsted's work, as well as images by famed photographer Bob Gruen, which feature legendary musicians from John Lennon (see above) to the Rolling Stones. Fifty percent of the proceeds from this exhibit will be donated to the Perry J. Cohen Foundation. Gary Lichtenstein Editions, Jersey City, NJ. Gary Lichtenstein Editions CONTEXT New York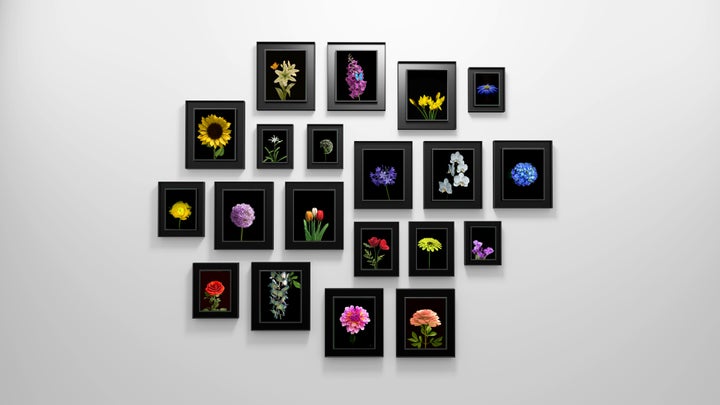 Dominic Harris employs technology to construct personal interpretations of our natural environment, using a highly skilled and innovative format of images that at first may seem like permanent still-lifes, until you get close up and personal. In this salon style installation of various flower bouquets handsomely framed in blackened aluminum, assisted by custom electronics that make the plants gently move, and software that utilize industrial LCD screens as a substitute for canvas, the artist presents an intriguing slant on a traditional still-life subject matter. Priveekollektie Contemporary Art | Design, Heusden, The Netherlands and London. Priveekollektie Contemporary Art New York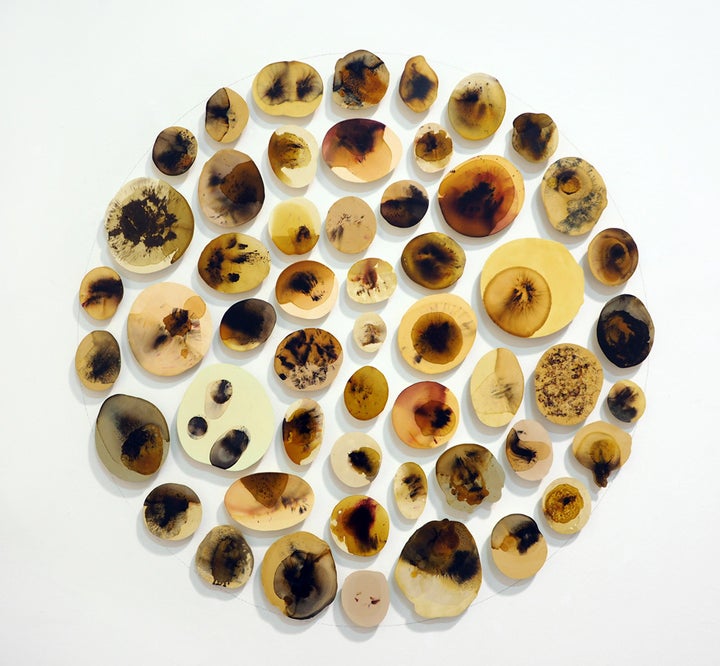 Stefano Bonacci's Forms of Time, constructed from shellac and pigment on plaster, at first glance might seem like a maquette for an outdoor conceptual work by Carl Andre, but on further inspection this charismatic and singularly idiosyncratic sculptural composition is far from a minimalist base. This is a beautiful structure filled with delicate dashes of earth-colored pigment, highly personalized into a common thread of round shell-like shapes that possess an illusion of being ambulatory, mysterious terrestrial objects that may have dropped into our atmosphere from outer space. Lucía Mendoza Galería de Arte, Madrid, Spain. Lucia Mendoza CONTEXT New York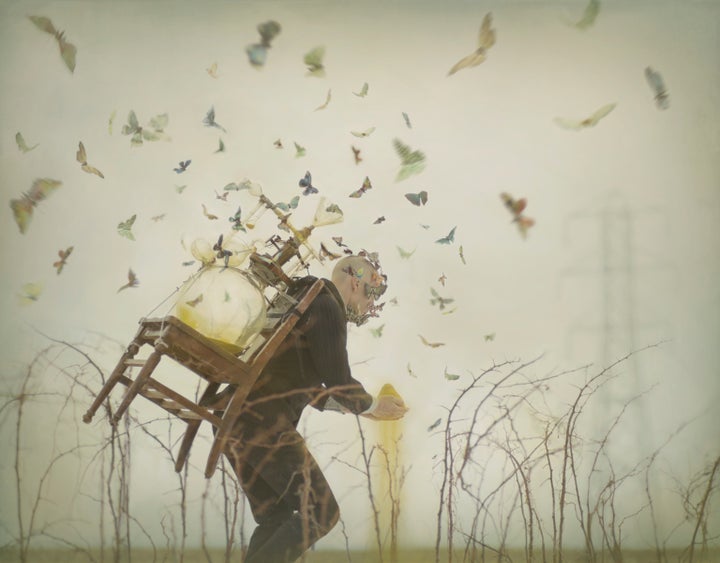 Robert and Shana ParkeHarrison's photograph titled Logic of Spring is a carefully choreographed creation by a multi-talented pair of artists, who have collaborated on works that present scenarios about man's effect on our planet. Mark Tansey's monochromatic artworks come to mind as the painterly equivalent to this handsome narrative presentation that's full of magic and theatrical components. Catherine Edelman Gallery, Chicago. Catherine Edelman Gallery Art New York
Art New York and CONTEXT New York are located at Pier 94, 55th Street and West Side Highway.
Related
Popular in the Community