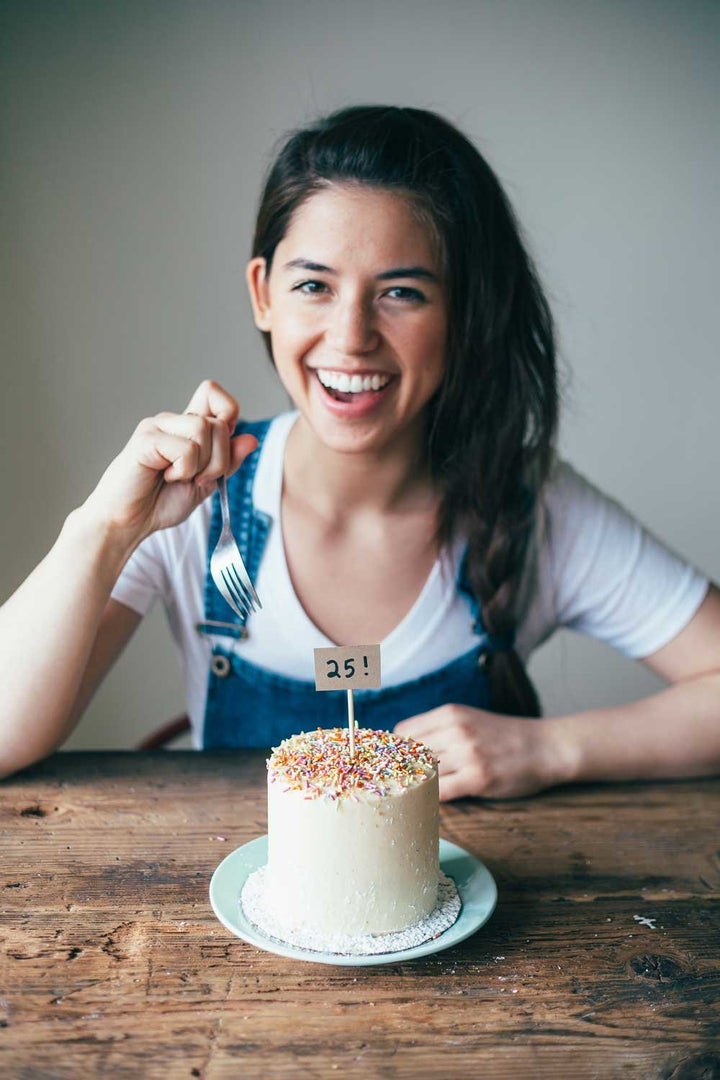 Not only is food blogging a popular past time for those who love food, but it has become a legitimate career -- one with highs, lows, and lots of cake. We were curious about what it takes to make a living writing a food blog, and Molly Yeh of the award-winning food blog My Name Is Yeh was kind enough to enlighten us. She shared with us just what this kind of career entails over the span of a week at her North Dakota farm. Warning: you might want to change your career.
7-7:30 a.m.: I was accidentally wide awake until 4 a.m. last night reading blogs and Jessica Fechtor's book, Stir, and generally stressing out about the state of *things* so this morning is a tragic war between social media, my snooze button, emails from people who are on Eastern Time, and actual sleep. It's all too dramatic until my husband, Nick, tiptoes in with a cup of coffee, which I chug before I've even sit upright.
7:35 a.m.: Ohmygod that's right, we have chickens! They were hatched three days ago and until we can tell them apart, all of their names are Macaroni. I go into the other bedroom and scoop them up while they chirp chirp chirp. Oh heavens, they are so fluffy and cute.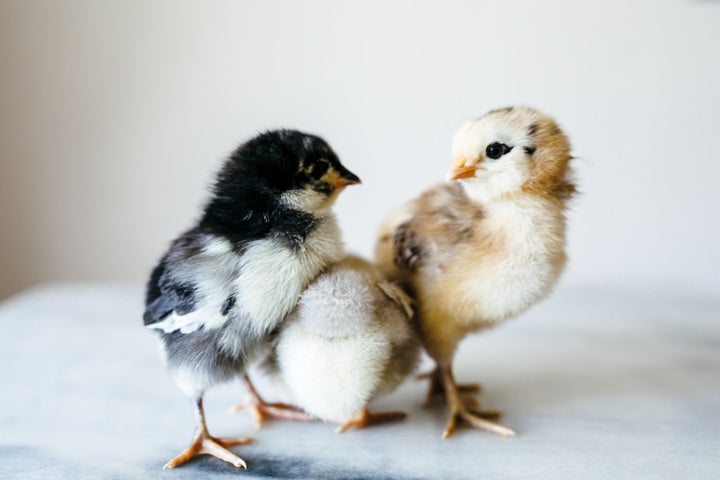 7:45 a.m.: I force myself on the treadmill because health, but also because I just started writing a cookbook and if my Freshman 15 experience was any indication of what my first cookbook is going to do to me, I'm fucked.
8:40 a.m.: I make enough Israeli salad to last for the next few days and then plate some for breakfast with plain yogurt, olive oil, avocado, za'atar and a slice of toasted seedy challah bread that I made last week. It's a miracle that given my sleep deprivation I do not chop off all of my fingers.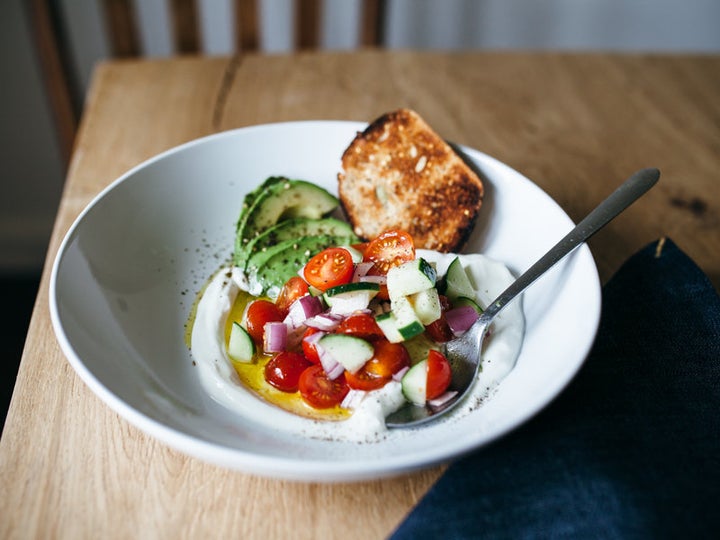 10:35 a.m.-12:15 p.m.: I answer about 20 emails. Subjects include: discussing projects with potential clients, clearing up edits with a sponsor for one of this week's blog posts, scheduling a radio appearance for tomorrow, grappling with and then eventually turning down the highest offer I have ever received for a sponsored blog post because it required an ingredient that I just wasn't comfortable with promoting, answering questions from bloggers seeking blog advice, answering questions from readers about recipes and such.
12:20 p.m.: I make and photograph a recipe for an Israeli couscous salad that I'm developing for the Forward and listen to Food52's Burnt Toast podcast while I do.
1:45 p.m.: We check on Macaroni and one of them has died suddenly. She is just lying there and all of her friends are around her. Nick buries her. We frantically try to figure out what happened and what we're doing wrong. All of the other chicks seem fine. A friend tells us that sometimes this just happens to chickens when they're young.
2 p.m.: I spend some time planning my upcoming food photography class, which is happening in New Orleans with Graham from Glazed and Confused, and then I read a sample from Adrianna's (A Cozy Kitchen) forthcoming book so that I can write a little blurb for the back. Writing blurbs is hard.
3:53 p.m.: Poor Macaroni is stressing me out and I decide I need to bake something. First I should Instagram, though, because it's been a day or so since I've done that. I Instagram my breakfast from this morning and then put together the starting point for a chocolate cake that I am testing for my book.
4:40 p.m.: I go out to the yard and harvest what could be the last of the season's rhubarb and then make chocolate cake while listening to Eater's Upsell podcast. It's about New Orleans food, so I get even more excited to go to New Orleans at the end of this week!
6 p.m.: Style the dinner table, using items from Food52's new Dinner Brigade campaign, chop up rhubarb to freeze it, visit chickens, nearly ruin my dinner with chocolate cake scraps.
7 p.m.: I make a new and improved version of something that was on my blog five years ago, called the ghetto corn dog. It's basically polenta served with a sausage on top.
9:15 p.m.: Work on the intro to my book.
10:20 p.m.: I fall asleep on the couch with my laptop on my belly and zero lines of my book intro written.
7 a.m.: Wake up, check social media, check chickens (they're all alive!), do one more test run of the mayo for the egg salad recipe that I'm posting today, post egg salad post, get a little self conscious because it doesn't do well on Twitter at first. Then my mom retweets it. Thanks, mom!
9:45 a.m.: Shower, make breakfast: yogurt, Israeli salad, put some eggs on to boil for egg salad. Answer emails.
11 a.m.: Head to town to record a radio show! It is based out of Fargo, so I sit in a room alone and talk with the hosts who are in Fargo. Towards the end my mind wanders because holy shit I am starving.
12:30 p.m.: I make smorrebrod for lunch! A few different types: egg salad, Israeli salad, sausage, all on the last few pieces of my seedy challah. Nick and I split a nice pretty board. I try to take a picture but the lighting is being tricky.
1:15 p.m.: Emails, and then snail mail time! A massive shipment of Freschetta's new gluten-free line and the entire line of Le Creuset's metal bakewear arrive for upcoming projects. It's like Chrismukkah!
1:25 p.m.: Emails, deposit checks, do some bookkeeping, look over a few contracts, Instagram today's blog post, brainstorm ideas for a mac and cheese post for National Macaroni and Cheese Day with Wisconsin Cheese, brainstorm ideas for Le Creuset recipes, more emails, unpack Le Creuset packages.
4-4:45 p.m.: I have my weekly meeting with my editorial assistant, Lizz. Most of her work is done remotely, but we meet once a week to go over stuff. She updates me on last week's work, we talk about options for designers for a potential site redesign, we pack up a few prop shipments for her to take to the post office.
5:15 p.m.: Suddenly, I am ravenously starving! I pop in one of the little frozen Freschetta pizzas that arrived today. I'm nervous because I've had a lot of terrible gluten-free pizzas before and if this one is terrible, I'll have to rethink the project. I pile on a mountain of chopped raw onions that were still sitting on the counter from this morning, and I eat the entire thing standing over the sink. It is amazing. It is possibly the best-gluten free pizza I've ever had. I email their press rep to tell her that all systems are go and then I begin brainstorming for a recipe that I'll post with the pizza, either a homemade topping or side salad.
5:50 p.m.: I test olive oil loaf cakes for the book. When the cakes come out of the oven, I wrestle with them to try and get them out of their pans. I think I'm done with mini loaf cakes for a while. They always stick.
7 p.m.: I try working on my book intro again. I'm getting nowhere.
8 p.m.: Nick and I go to a restaurant in town for a quick photoshoot for a social media campaign.
8 a.m.: Wake up, check email and social things, check on chicks, put in some laundry, make a huge bowl of oatmeal with peanut butter, chocolate chips, and a splash of almond extract. I eat it while I read blogs and answer emails. And then I look over contracts and project proposals.
10 a.m.: I have a photoshoot with the chickens. One of them poops on the table, but they are still so cute. I put them outside and then edit some of their photos.
10:45 a.m.: I make pink frosting, frost the cake that I made on Monday, photograph it, Instagram it, frost a few of the surviving olive oil cakes, and then edit more photos of the chickens.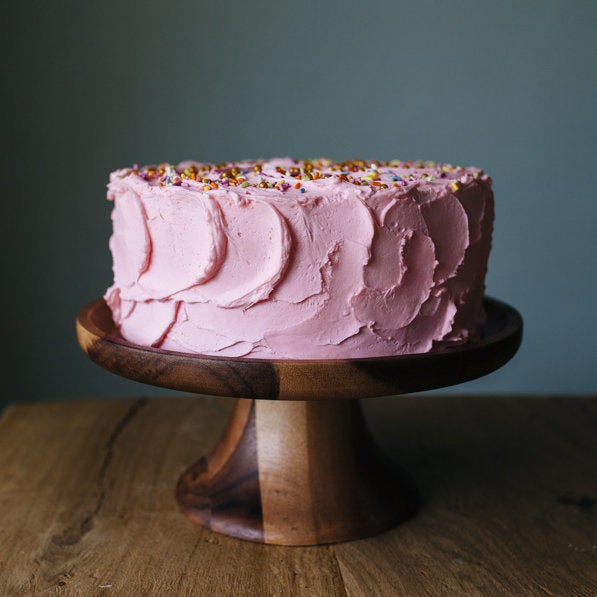 1 p.m.: I wrestle with a new gardening device for a future blog post.
2-2:30 p.m.: I have a phone meeting with King Arthur Flour about a potential blog partnership. It gets me really excited, I love King Arthur.
2:30 p.m.: More emails, including some about the gardening device, a potential project, and a secret new product from Thermos which sounds really cool. And then my email inbox starts vomiting glitter because I have just gotten a request from Vanity Fair for a Fourth of July cake! This is a first for me. I respond yes immediately without really knowing any details and then I rearrange my schedule for the next few days to make it work. I start drafting design ideas.
3:23 p.m.: I get this idea to make an American flag cow out of marzipan and I can't really stop thinking about it. I'm getting off track, but I need to do this.
4 p.m.: The cow turns out so well! I tuck him in for some beauty rest in a Ziplock bag, clean up, and then write tomorrow's blog post about my chickens.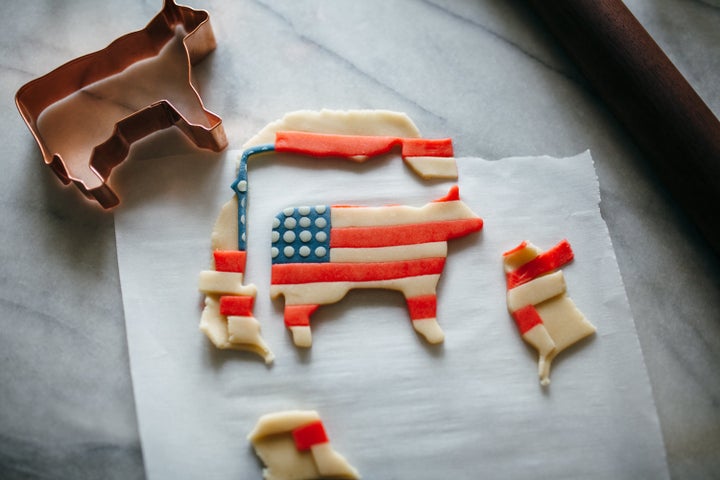 5:55 p.m.: Work on my book intro (still not really getting anywhere), check on the chicks.
6:30 p.m.: I take a first stab at a ramen recipe that I'm developing for a blog post that's inspired by a dish that I ate in Las Vegas a few weeks ago. I add entirely too much curry and the pork is just not flavorful enough, but I shamelessly overcook the ramen noodles because that's how I like them, and, once the dish is finished with some sesame pickles and a squeeze of lime, it's a solid 5.5/10. It'll take a bunch more attempts, but I think I know where I went wrong and I jot it all down.
7:45 p.m.: I bake a chocolate cake for the Vanity Fair piece, work on my New Orleans food photography presentation, and prepare for a meeting with my book editor tomorrow morning.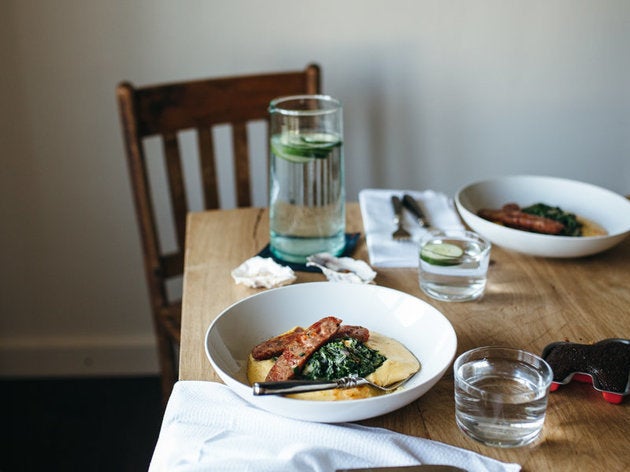 7 a.m.: I wake up and promote my chicken blog post from bed.
9 a.m.: Run to the grocery store, as I am out of many dairy products. I almost buy a ton of yogurt but then I remember that I'm expecting a Siggi's shipment!
10 a.m.: I talk with my book editor. It is great. I tell her my frustrations with my intro and she tells me to get a little drunk and then write my intro. That is brilliant, why have I not had one drink this week so far?
11:30 a.m.: Put away groceries, make some food, and then I realize how hungry I am, so I make a grilled ricotta and parmesan sandwich, salt it ferociously, and eat it with my left hand while I squirt ketchup on it with my right. It's so good.
12 p.m.: I work with a client's representative on a few social media posts. It's a bit tricky to find an intersection between my voice and the client's message, so there's a lot of back and forth.
1-6 p.m.: My friend Lena (from Lena's Lunchbox) arrives from out of town! She helps me make the cake for Vanity Fair.
7 p.m.: I test and then photograph a ricotta recipe for Wisconsin Cheese.
8:40 p.m.: I make dinner, which includes a test run of the recipe that I am making for the Freschetta post, and it's great!
9:40 p.m.: I finish up the PowerPoint for New Orleans and send it off to the conference organizer.
11 p.m.: Pack for my trip and then go to sleep.
4 a.m.: Holy balls it is early! I wake up for a 5:20 flight to Minneapolis, which will continue on to New Orleans. During my layover in Minneapolis, I get a manicure because I hate working with my hands in front of other people when I have icky nails. I also eat terrible scrambled eggs and dry toast and check emails.
1 p.m.: I arrive in New Orleans starving and sweaty. I check the Eater 38 for what good restaurants are within walking distance of my hotel and then I track down No. 2, Sylvain, where I enjoy an earth shattering salad (I like eating salads on travel days because of how long I spend sitting) with a smoky avocado buttermilk dressing and vichyssoise that has caviar in it. I feel very fancy. New Orleans is making a good first impression.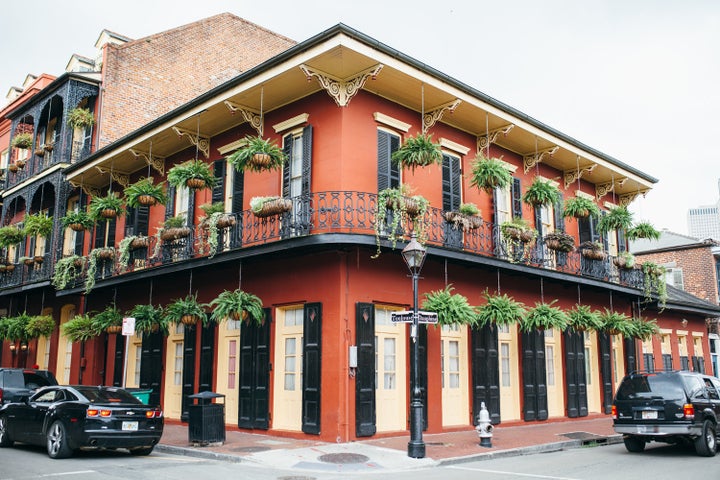 2 p.m.: When I finish my lunch, I feel a very strong urge to get back to the hotel and get some work done, but I'm 0.2 miles away from Cafe Du Monde and I convince myself that the research will be valuable. To make myself feel better about choosing donuts over work, I check emails while I wait on line. There are two: someone who wants to book a TV appearance in Chicago next month and… And! The final draft of my book contract comes in and I just about cry. I email my agent a bunch of emojis. I am so happy. I tweet a beignet joke, and then eat a beignet as I stroll back to the hotel.
4 p.m.: My room is ready, so I go and do my hair and put on a face for the welcome reception of the Sustainable Seafood Blog Conference.
8 p.m.: Go out with friends Beau and Matt (of Probably This) for drinks and desserts at Meaux Bar and then eventually make our way over to our 10 o'clock reservation at Shaya, where we ask the waitress to bring us whatever she wants to bring us. It is blissful and delicious. Over babka and and shakshuka, we celebrate and gossip and catch up, even though this is our first time meeting IRL.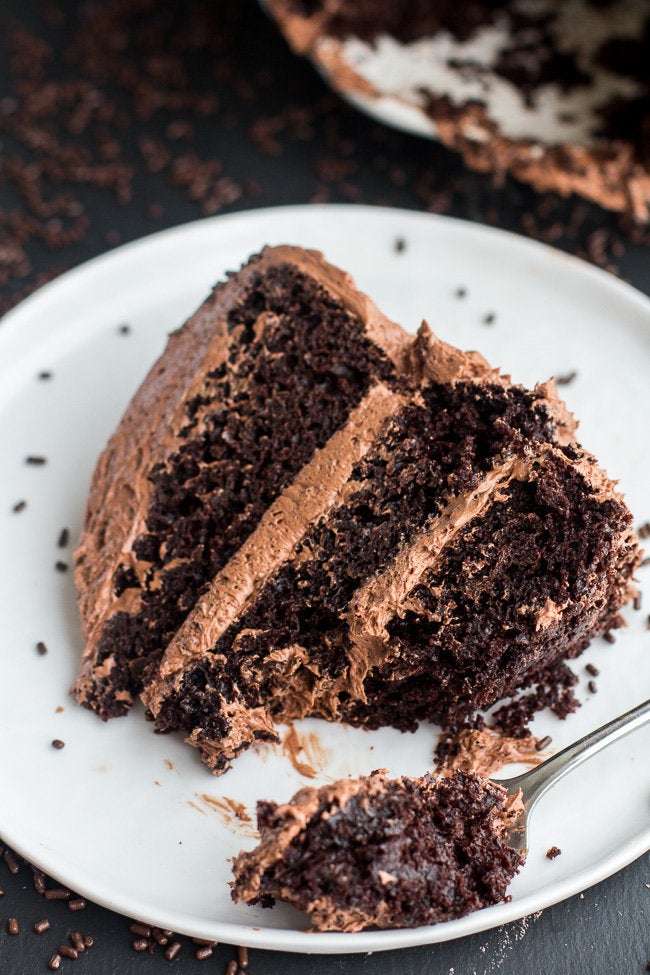 Cake Recipes
Related