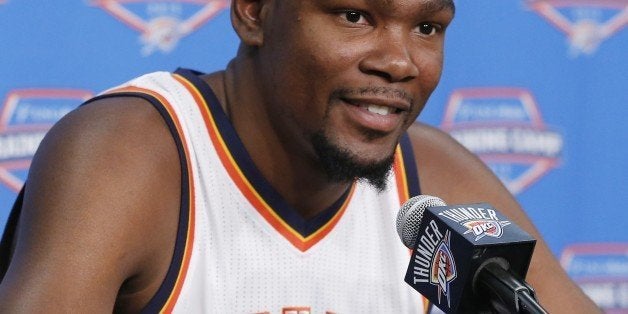 Kevin Durant unleashed a storm of controversy on the Fourth of July when he announced that he was leaving the Oklahoma City Thunder and signing with the Golden State Warriors.
Some have supported his decision, while others have called him a traitor. Whatever your opinion, it's important to remember that judging the rightness of a leader's actions is not easy as you might think. Very often the public passes a verdict, only to change that point of view as time passes.
Durant's critics are furious with him for what they see as nothing less than a betrayal. They claim that money, glory, and the hope of a title have charmed him into leaving a team he spent years of his life strengthening.
Previously the heart and soul the Thunder, Durant is selling out to join a team with a superior offense comprised of established powerhouses Stephen Curry, Klay Thompson, and Draymond Green.
Charles Barkley has accused Durant of trying to "cheat" his way to a championship, and
Gregg Doyel of the IndyStar calls Durant's move one of "sheer spinelessness."

Others are less vitriolic but still full of disappointment, saying that Durant has shown his true colors as the typical superstar pursuing his own gain. What is more, Durant's decision harms league parity and will make the coming NBA season "meaningless."
Of course, the fact that the Thunder so recently lost to the Warriors in the conference finals only rubs salt in the wound. Durant isn't just leaving OKC for a strong team; he is joining the enemy.
Kevin Durant's supporters argue that he is man simply trying to make the best decision for his career, not someone who has just broken up with everyone who thought he should stay with the Thunder forever.
Far from avoiding challenges, in his going-away letter Durant lists challenging himself as a main reason why he decided to join the Warriors. He believes he is joining a "community which offers the greatest potential" for his professional growth.
No doubt a good salary and a better chance at a title are at least part of KD's motivation for leaving, but it would be shortsighted to ignore other contributing factors. One is that joining the Warriors gives Durant a chance to play with Curry and Iguodala, whom he became good friends with during the 2010 FIBA World Championship.
It's also common knowledge that the Warriors' offence is an unprecedented force with which to be reckoned. What player, given the chance, wouldn't jump at the opportunity to play under Steve Kerr among players such as Curry, Thompson, and Green? If you're looking at Durant's decision as being merely a career move, you could argue that it is a very smart one.
Perspective Is a Fickle Thing
It's helpful to keep in mind that anyone who has been in the thick of a difficult situation knows just how gnarly decision-making can be. And the more high-profile a leader is, the more he or she will subjected to scrutiny.
When environmental activist Adam Werbach went to work for Wal-Mart after condemning the company, many accused him of hypocrisy. However, Werbach ended up helping Wal-Mart implement the Personable Sustainability Project, influencing employees to live lifestyles that were more beneficial to the environment.
On the other hand, the mere willingness to take risks and pursue leadership does not mean you won't regret your decisions further down the line. William Howard Taft, America's 27th president, actually disliked politics. After becoming Chief Justice of the Supreme Court following his presidential term, he famously said, "I don't remember that I was ever president."
Durant's decision has repeatedly been compared to Lebron James's move to leave the Cavaliers for the Heat back in 2010. James's decision was also viewed as a betrayal at the time.
But now, the critics comparing Durant to James are cutting James some slack. One reason why is the Heat was only a mid-level team when James joined it. Also, he has not only since returned to the Cavs but he also led them to win the 2016 NBA World Championship. Durant, on the other hand, has only just left his home team.
It would be wise, therefore, to wait to make a judgment (especially a highly emotional one) about the quality of Kevin Durant's leadership. The tide of public opinion shifts notoriously easily, and there's no telling how his decision will be perceived mere years from now.
Calling all HuffPost superfans!
Sign up for membership to become a founding member and help shape HuffPost's next chapter