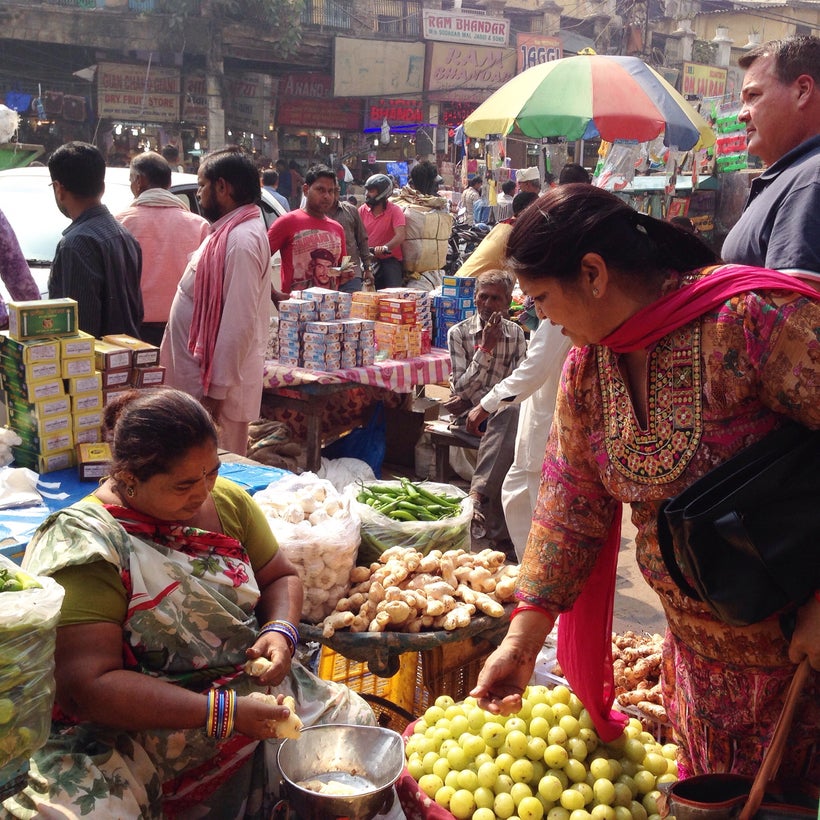 As guests enter your home over the holiday season, greeting them with a refreshing cocktail is a wonderful way to say hello. We are just back from two weeks in India, where our palates were excited by the exotic flavors of Southeast Asia. One of our favorite days was spent in the Khari Baoli in Delhi, which is the largest spice market in Asia. We brought home bags and bags of spices, and are looking forward to using them in all sorts of creative ways. All of our hotels had gorgeous bars that were perfect for relaxing after a day of sightseeing and shopping, and we asked the bartenders there for their best Indian style cocktail recipes. Luxury accommodations in India are over the top when it comes to style, amenities, and service. Your guests will feel like royalty when you hand them one of these spicy concoctions. Add a little spice to your holidays by mixing up some exotic drinks for your family and friends, and add a trip to India to your wish list. And if you don't have an Indian grocery near you, specialty spices and spice mixes can be easily bought online.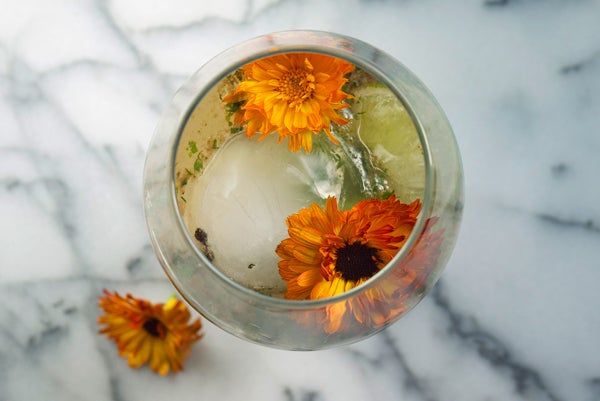 This delicious cocktail was created by Abhas Saxena, Chief Sommelier at Mumbai's Taj Mahal Palace Hotel, which offers the ultimate in pampering. The onsite Harbour Bar, one of the city's premier cocktail lounges, has the distinction of holding the first liquor license in the city, issued in 1933.
1 teaspoon black pepper, freshly ground
2 ounces Bombay Sapphire Gin
1 marigold flower for garnish
Combine cilantro, mint, pepper, salt, sugar, caraway seeds and water in a food processor until you make a fine paste. Add one teaspoon of paste to a brandy snifter and add the gin. Stir until well combined. Fill the glass with ice and top off with ginger ale. Garnish with one marigold flower. Enjoy. Makes one cocktail.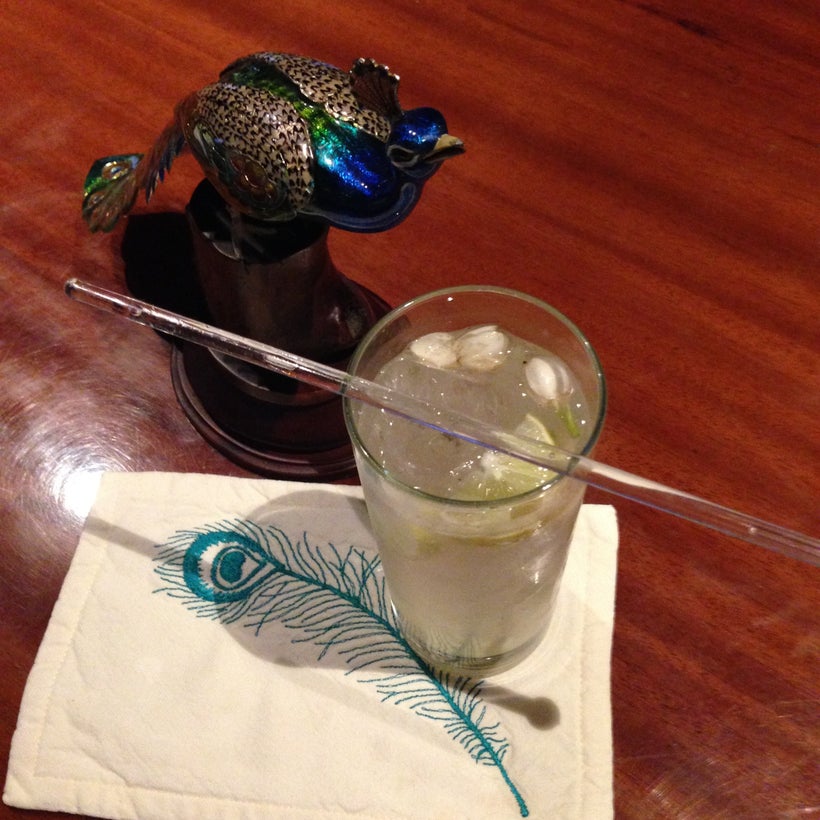 Masala adds a spicy kick to the classic Tom Collins. This drink is served at the elegant Peacock Bar (named for India's national bird) at the ITC Grand Bharat, a sumptuous retreat near Delhi and Gurgaon. A stay here can combine active sports, indulgent spa treatments, and the ultimate luxury—getting away from it all.
1 ounce Bombay Sapphire Gin
1 ounce lemon juice, freshly squeezed
4 or 5 fresh honeysuckle or jasmine flowers
¼ teaspoon masala spice, finely ground
Lime wedge and cucumber slice for garnish
In a tall Collins glass add ice, lemon juice, simple syrup, gin, flowers, and masala spice. Stir well and top with club soda. Garnish with lime and cucumber.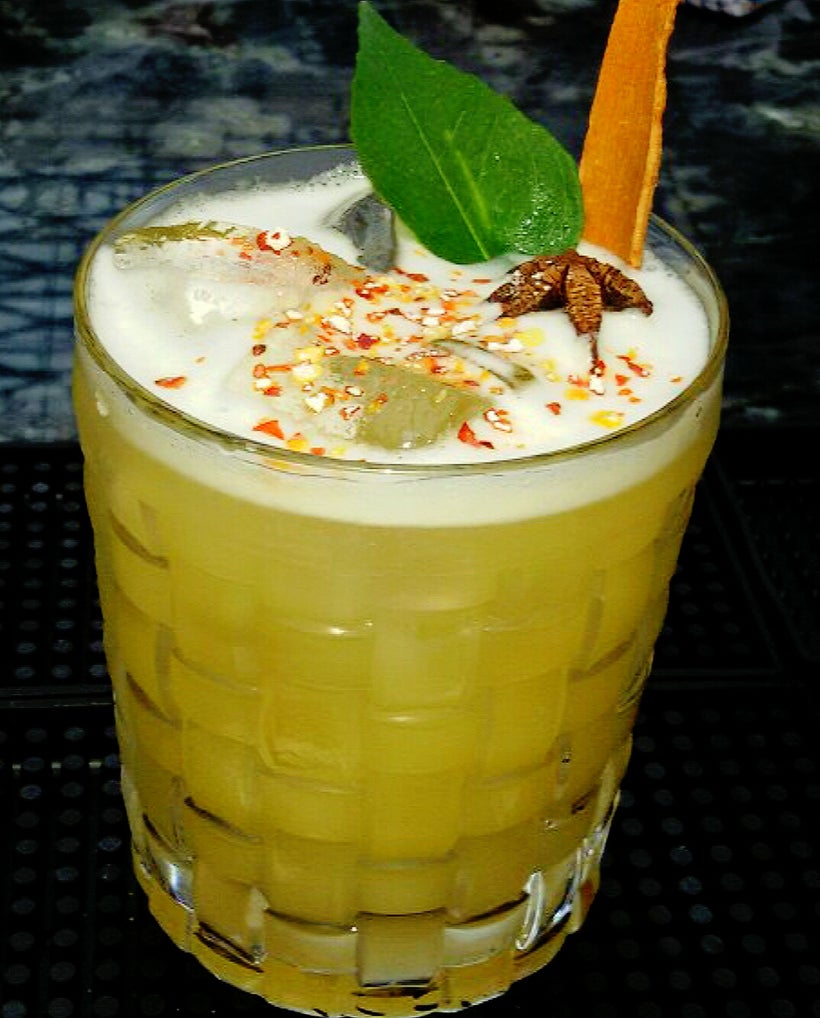 Warming whiskey is given the tropical treatment with the addition of pineapple juice, curry leaf, and garam masala spices. This drink can be enjoyed at the Taj Santacruz Mumbai, an extravagant oasis for business travelers located close to Mumbai's airport and main business hub.
1 ½ ounce Johnny Walker Gold Label
½ ounce single malt scotch
1 ounce lemon juice, freshly squeezed
¼ teaspoon garam masala powder
1 ounce pineapple juice, freshly squeezed
Cinnamon stick for garnish
¼ teaspoon chili flakes for garnish
Combine all ingredients (except for the garnishes) in a cocktail shaker filled with crushed ice. Shake well. Fine strain into an Old Fashioned glass filled with ice cubes. Garnish with cinnamon, chili flakes, and star anise.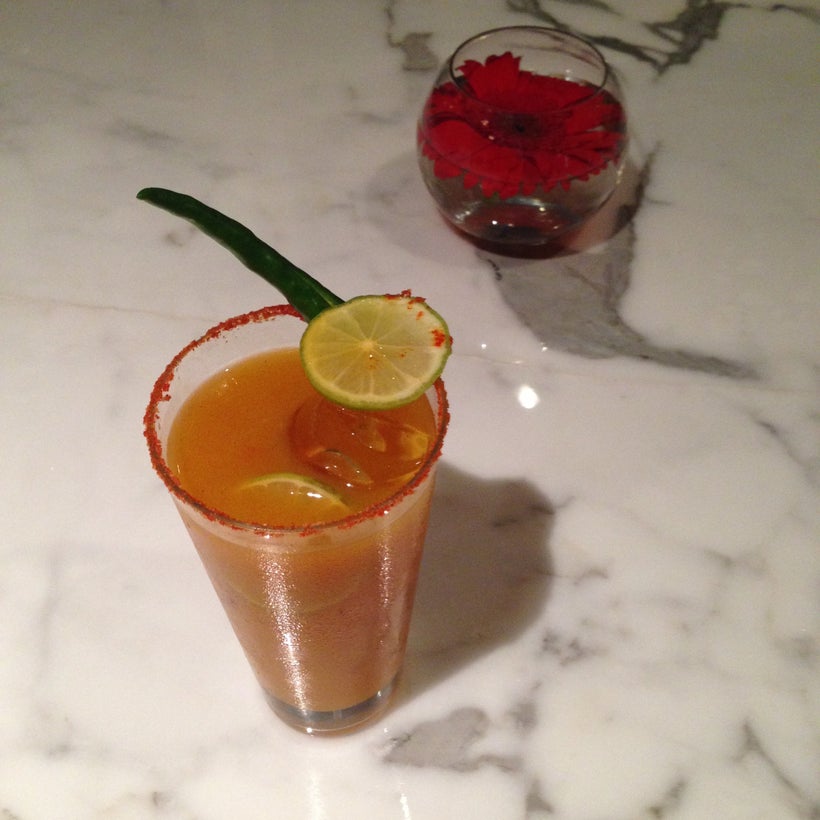 Fiery and sweet, this Indian take on the Bloody Mary replaces tomato juice with mango juice and uses pepper vodka to liven up the palate. The Mango Mary is on the cocktail list at Bombay High, the spacious bar at the ITC Maratha in Mumbai, where you will also find over 70 whiskies, an impressive wine list, and a wide selection of cigars.
½ ounce lemon juice, freshly squeezed
¼ teaspoon ground horseradish
3 ounces fresh mango juice
Rim a highball glass with the combined chili powder and celery salt. Fill the rimmed glass with ice cubes. Combine all of the ingredients (except garnishes) in a cocktail shaker filled with crushed ice. Shake well and fine strain into the highball glass. Garnish with lemon and jalapeño.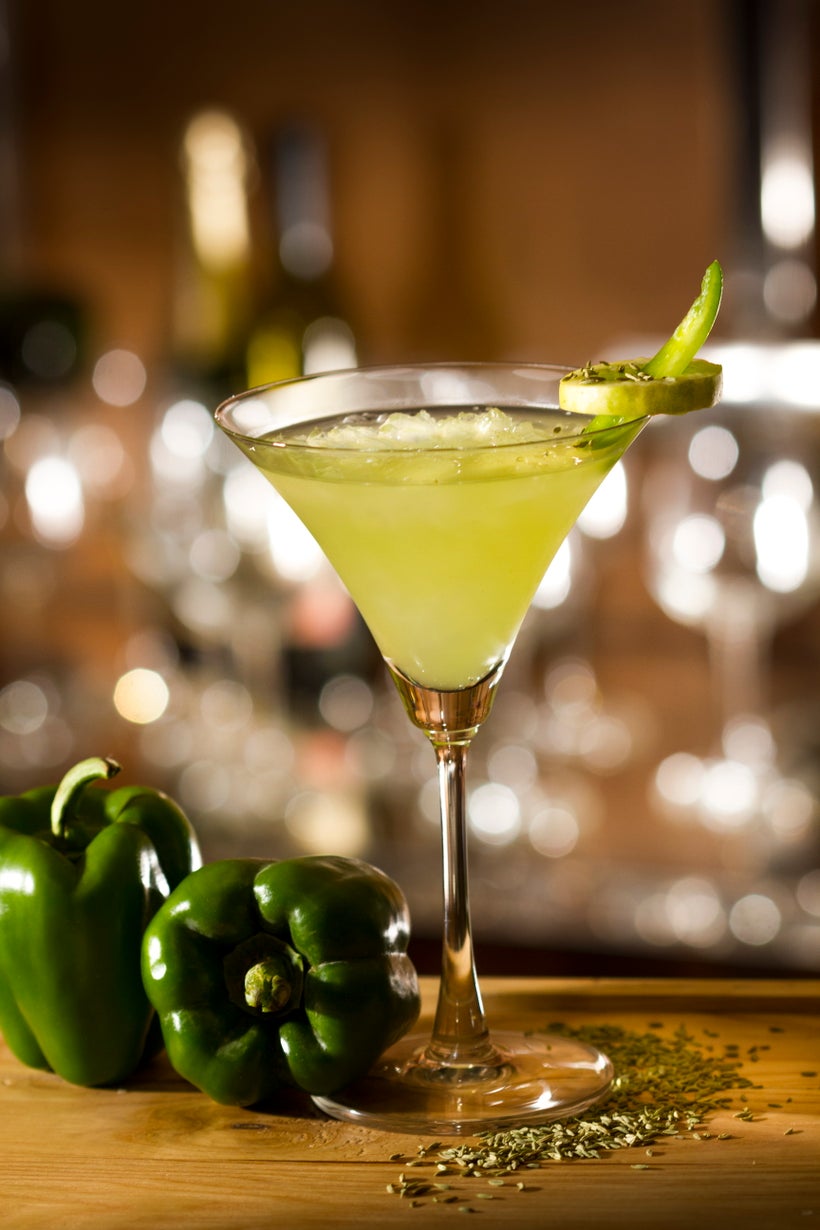 Jalapeño and Aniseed Martini
A refreshing combination of spice and fruit flavors, the Jalapeño and Aniseed Martini is served at Solterra, the comfortable cocktail and wine bar within the Gateway Hotel Ambad Nashik. Located in wine country just a short drive from Mumbai, the Gateway is a great place to base your stay as you visit one of the most exotic wine regions in the world.
½ ounce lime juice, freshly squeezed
1/8 teaspoon Jalapeño, finely diced
Cucumber slice and Jalapeño slice for garnish
Muddle anise seed and chopped Jalapeño in the bottom of a cocktail shaker. Add the lime juice, simple syrup, and 3-4 ice cubes. Add the vodka and shake well. Strain into a martini glass and garnish with cucumber and Jalapeño slices.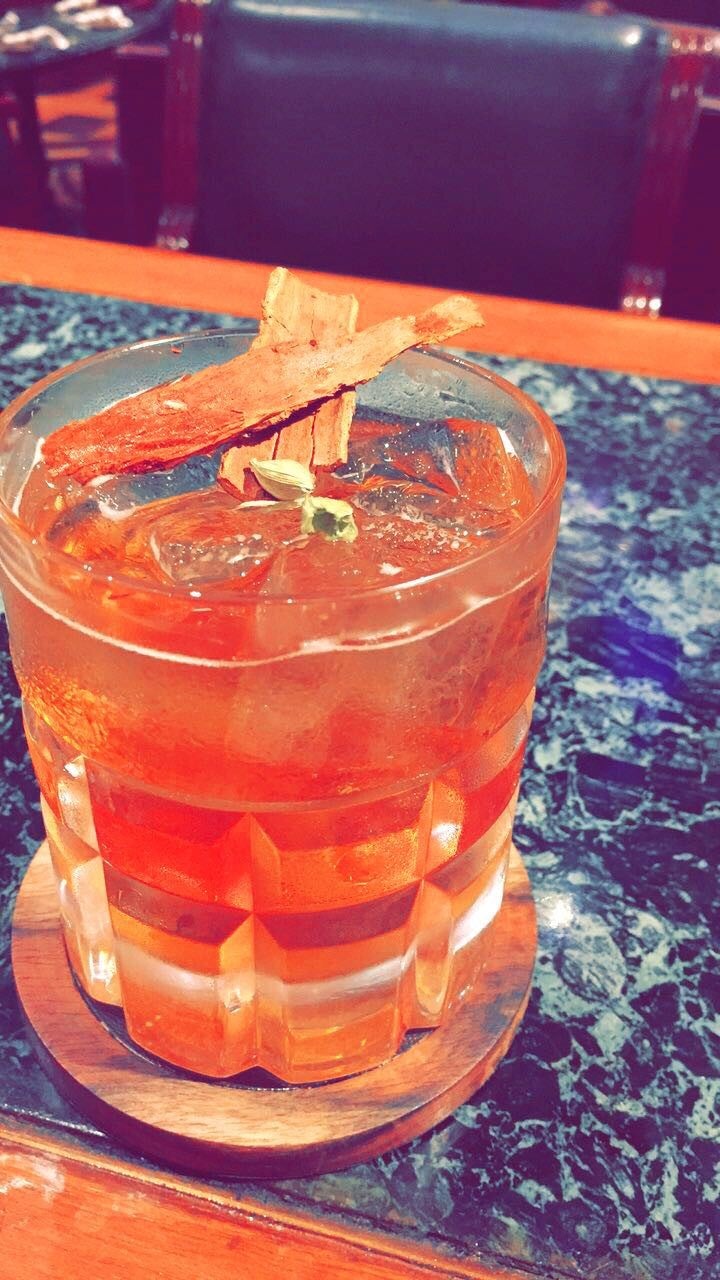 Evocative of the mastery and soul of India's illustrious Mauryan Dynasty, the Mauryan Connection combines traditional spices with liqueur, brandy, and rum. This harmonious meeting of the East and West can be enjoyed at ITC Maurya, an opulent hotel in Delhi, at either the open-air Waterside Bar or while ensconced in a leather club chair in the wood-paneled Golf Bar.
¼ teaspoon finely ground cardamom
¼ teaspoon finely ground star anise
¼ teaspoon finely ground cinnamon
3 cardamom seeds for garnish
1 cinnamon stick for garnish
Add all ingredients (except garnish) into a cocktail shaker filled with crushed ice. Shake well and fine strain into a old fashioned glass filled with ice cubes. Garnish with cardamom, star anise, and cinnamon stick.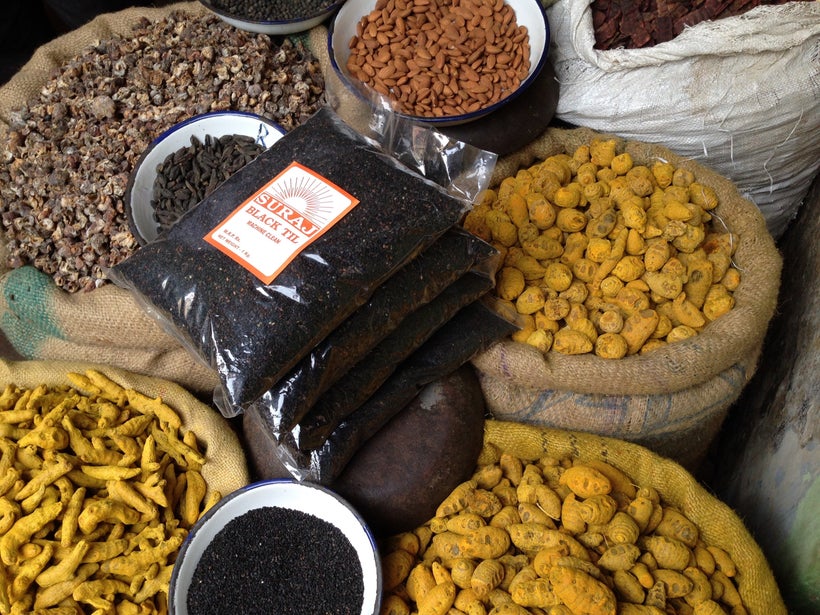 REAL LIFE. REAL NEWS. REAL VOICES.
Help us tell more of the stories that matter from voices that too often remain unheard.
This post was published on the now-closed HuffPost Contributor platform. Contributors control their own work and posted freely to our site. If you need to flag this entry as abusive,
send us an email
.