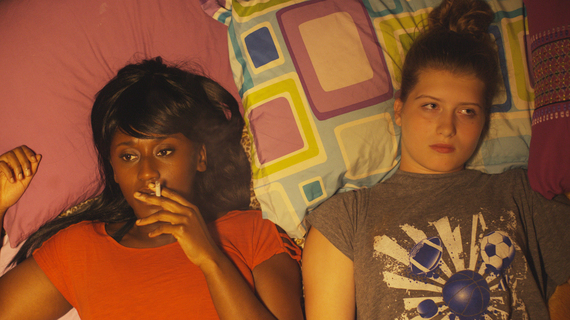 Five 20-something Ghanaian women, draped in jewelry, sit around a table at a dimly lit restaurant in downtown Accra. One laments about the housemaid stealing her bras, another brags about scoring a pair of knock-off designer sunglasses.
This is the premiere episode of An African City, creator Nicole Amarteifio's web series chronicling the lives of five young Ghanaian women. In the comments on YouTube, someone asks, "Why are they acting like white girls?"
Filmmaker, and one of the stars of An African City, Nana Mensah has never known how to answer that question.

"It's reconciling the difference between who you are and who the general public perceives you to be," Mensah explains when we meet for drinks to discuss her upcoming film Queen of Glory. "People tell me I'm not "really black" because I'm too educated. What does that mean? We're supposed to watch Tyler Perry. I went to see Amour. I was the only black person in the theater, but does that mean I'm acting white? I don't think so. I'm a person who's been shaped by the circumstances in which I was raised, like everyone."
It's this type of person that she wants to portray with Sarah, the lead character in Queen of Glory, the story of a PhD candidate whose mother dies, forcing her to move home and take over her family's Christian book store in the Bronx.
"It's an immigrant film that's not about immigrants," Mensah says. "I don't want the movie to be about race, it's about the human experience. I want to show, not tell."
What she wants to show most importantly is that a woman of color is so much more than the roles that Hollywood currently has to offer her. For example, as Mensah puts it, the "Sassy Fat Bank Teller," the "Thieving Ratchet Hospice Nurse," or "Smutty Crack Hoe #4"—all made-up roles unfortunately not too dissimilar from what Mensah's been asked to audition for in the past. Then there are actual roles like "D Girl".
"In Hollywood, there is the 'Jungle Bunny versus Maid' problem," Mensah says. "Black women on screen often lead with their sexuality or their asexuality. It's exhausting, auditioning for the same parts all the time; maid, receptionist, cracked-out hooker."
So she created a new part, the role of Sarah, one she could actually relate to. "I don't understand why there are no weird, quirky black women on TV," she says. "I know so many weird black people! There are tons of us!"
"Mindy Kaling is kind of shepherding the 'weird brown girl movement,'" Mensah says. "Black characters on television are not three-dimensional. We don't get that latitude that white people get. We're expected to be a certain way, and it doesn't apply to everyone."
Of the top 500 box office films of all time, only six feature a protagonist who is a woman of color, and five of those films are animated. "Like most kids, it never occurred to me to wish for things to be different," Mensah says. "I was just at my parents house and I found an old folder with some stories I'd written as a child, and my protagonists? All white. I mean, if that's not the sign of a hegemonic culture, what is?"
Mensah believes this lack of minority representation in film has far graver repercussions than most might think. "When there is a consistent lack of three-dimensional representation, there is a flattening, a dulling of humanity," she says. "Imagine what would happen if we had more people of color in roles that are not explicitly designated for people of color? I think that's the role Hollywood can play. They can do their part in humanizing these black characters, so maybe we won't have as many cases like Michael Brown and Eric Garner."
It's for these reasons that she ignores negative comments on YouTube. They are missing the point. The women in An African City aren't acting white. They are acting like themselves. That's what Mensah wants to show through Queen of Glory: truth.
"It's my sincerest hope that Queen of Glory's Sarah joins the ranks of Micah and Jo (Medicine for Melancholy), or Malcolm and Sophia (Gimme the Loot), or any of Ava DuVernay's characters who are so universal and multi-faceted to the extent that they nearly transcend race," Mensah says. "I'm hopeful. There is a movement happening, with independent book publishers and film distributors and various content providers, so that hopefully my children won't grow up so unseen that they unsee themselves."
REAL LIFE. REAL NEWS. REAL VOICES.
Help us tell more of the stories that matter from voices that too often remain unheard.