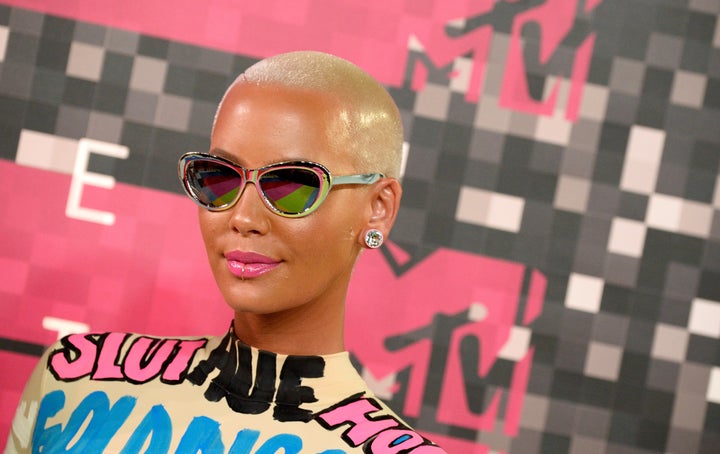 Amber Rose has sparked controversy with some of her latest comments about the power of seduction. 
First, Rose tells the mag it's important to think about specific goals and to find mentors you can look up to for life/career/business inspiration. Then -- and here's where it gets a little iffy -- Rose encourages woman to use their "seductive skills" to get money from their significant others. 
"As women, we're fortunate enough to use our seductive skills in order to be able to get money from our significant others. I also talk about seduction in the book. A lot of women don't know how to seduce a man," she says. 
She continues, "It is extremely easy once you get to that point, and you can get anything you want out of them. And I know it might sound messed up, but once you get to that point, it's not using. It's not using a man, it's literally getting what you want by any means necessary."
The mother of one recently slammed GQ for describing her as Kanye West's ex, proclaiming that she's more than just a man's former girlfriend. That was great. But this advice, on the other hand? Not so much. It seems pretty off-brand, especially according to the feminist ideals she's been promoting as of late. (She's been doing so well!) Instead of encouraging independence, she's basically telling women to use their bodies as objects to get what they want. 
 Naturally, Rose's comments have received some backlash from people on Twitter. 
"How about teaching women to get an (sic) higher education so you dont depend on a man to fatten your pockets," wrote one individual. 
"She's just embarrassing herself. Why not empower girls to finish school so they can be successful and not depend on man," added another.
Rose eventually responded to the haters with the following tweet:  
Will it solve anything? We doubt it. But will Rose care? Probably not. We'll just be over here, shaking our heads. 
Calling all HuffPost superfans!
Sign up for membership to become a founding member and help shape HuffPost's next chapter