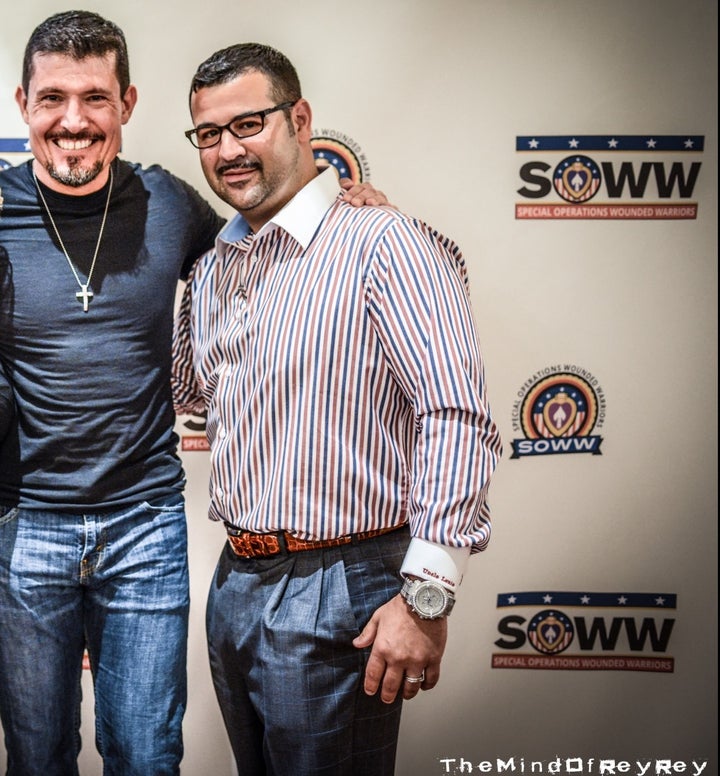 His name is Kris Paronto. Many of us have heard about him; perhaps even read about him. He was portrayed in the book "13 Hours" and in the movie with the same name. His nickname is "Tanto", which is Japanese for sword or blade. Fitting, because he's razor sharp. He's an author, a speaker, a US Army Ranger Veteran and above all else, a selfless Hero who wanted nothing more than to save American lives. He did the life saving with very little body armor and while wearing shorts. The shorts were ideal for the hot weather but also assisted with something far more important...

Yesterday evening, at the invitation of Lex McMahon, the COO of Titan Fighting, I attended a gala in Boca Raton Florida to benefit Special Operations Wounded Warriors (SOWW). The gala, with Navy Seal David Rutherford serving as the emcee, was nothing short of extraordinary and one of the most well put together charity events I have been to in my entire life. I spent the evening with Army Rangers, Delta Force Operators, Navy Seals, Air Force personnel, Marines and other American Heroes the likes of which most only get to read about or see on screen. I learned that SOWW has no ties to the embattled Wounded Warriors Project and that nobody on their staff draws a salary. In fact, each volunteer pays their own expenses and 96 cents of each dollar goes directly to benefit Special Operations Veterans.

#BenghaziLivesMatter is now a T-Shirt and you can show your support by ordering one from Tanto's website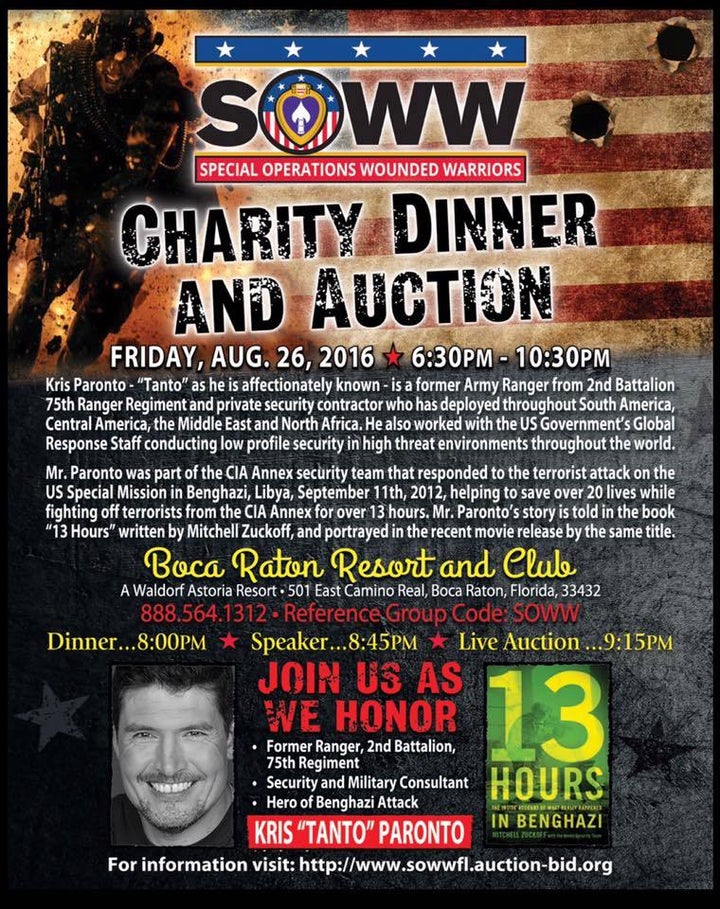 The 13 hours eluded to in the title of the book and its adaptation to the big screen are in reference to the duration of the battles a group of Americans endeavored to preserver through while in Benghazi on September 11, 2012. They culminated when a US Ambassador's compound was over taken and the Ambassador was taken.

Despite the odds being heavily stacked against them, persevere is exactly what three of them did; Tanto was one of those 3 form his group to survive. He fought through tears as he recounted those +/- 780 dreadful hours and touched upon leadership, training and God's Law. He says that there is a point is battle when Man's Law is pushed aside and God's Law takes over. He says that's what happened in Benghazi and that destiny, not chance, brought everything together on that day. He says God is why he is alive today. God and a small lady at an airport who told him she believed him.

He was headed home to kill himself, tired of the spotlight and feeling as though his message was falling short. Until a random little lady in an airport stopped him and said three words that would change his life, "I believe you."

Tanto acknowledges having Post Traumatic Stress but insists that it is not a disorder. In fact, he says he had it for years before Benghazi and wants everybody to know that Post Traumatic Stress is a badge of honor, not a disorder. This statement hit home with me as I suffer from the same.

He described gun battles in a manner one would never expect; this Warrior described tracer rounds as "beautiful" and the snapping of high velocity rounds whizzing by his head as "awesome".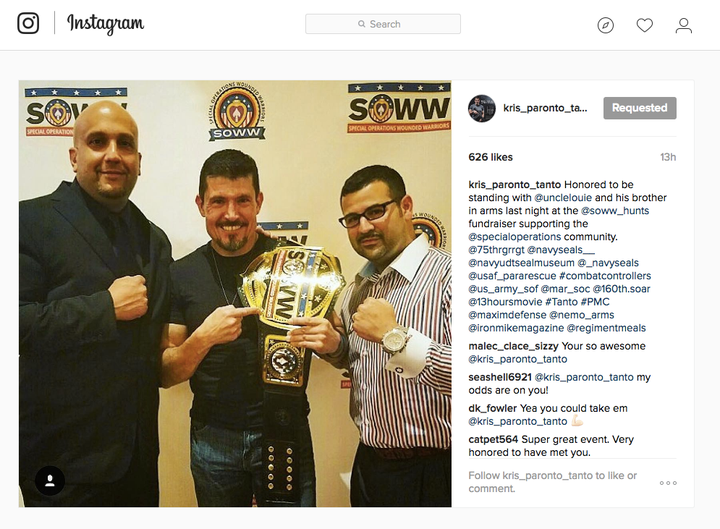 "It is awesome sound" he exclaimed, described as the cracking of wood, which he looks forward to hearing because it means he can engage the enemy, something he clearly loved to do. He recommends all of the above be put on your bucket list if you haven't experienced them yet. Plainly stated, Tanto says if you haven't been in a fire fight, you need to have that experience. Many in the room agreed with him audibly.

I found myself on the edge of my chair, hanging on each word he said, and believing every bit of it. Although it didn't necessarily inspire me to get shot at or be on the receiving end of mortar rounds like he recommended, it did inspire my pride. I felt proud to be American, resolute in the fact that we have the world's best military. I felt indebted to him for his sacrifice and to those who have died protecting democracy and America. I felt the urge to help those who were hurt or needed help as a result of their service to our homeland.
From the second I met him, I saw a man who was humble, despite being massively heroic. He was eager to share his experiences, but not for fame. Rather, for the enrichment of others and their understanding of what transpired in Benghazi, from his perspective. After all, he was the boots on the ground and his perspective is nothing short of patriotism personified and to think he battled for 13 hours with a turtle head…unreal! Reminds me of a story my big brother told me about when he set the military record for the longest flight in the history of the US Military during a rescue mission but I'll save that for another time.

It was equally as important to hear him share what occurred during those 13 hours as it was to hear him share what he believes did not occur.

If you think the book "13 Hours" was riveting or the movie was amazing, believe me when I tell you that both pale in comparison to hearing this day recounted from the mouth of the hero himself. That being said, if the opportunity arises for you to hear Tanto speak, jump on it; do your homework first by reading the book and watching the film because it will put you at a tactical advantage when hearing the story from him; you will know the scenarios he references and the individuals he recounts and in some instances, rebuffs. If you are looking for an inspirational keynote speaker, look no further than this man.
My pride culminated when Rey Rey's World Champion Belts took the stage with Lex McMahon to kick off a live auction of a Championship Belt donated by Lex and Rey. The belt sold for $5,000, 100% went to the cause and the belt was donated back to SOWW to be shared by the Veterans!