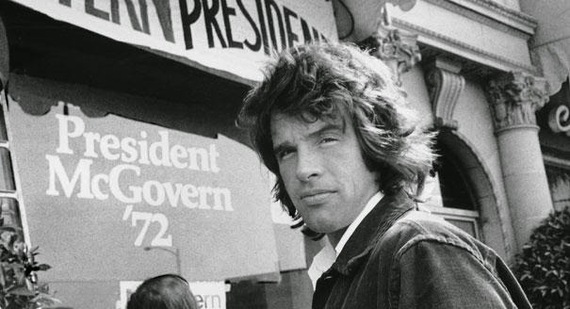 Few Hollywood actors, if any, have made a bigger impact on progressive politics--both cinematically and in real life--than Warren Beatty. Not only did Beatty campaign personally for two of America's most liberal presidential candidates, Bobby Kennedy and George McGovern, but he gifted the world with two of the rarest kinds of Hollywood films: those that portray socialism in a positive light.
Mind you Reds (1981) and Bulworth (1998) premiered during an era of capitalist triumphalism, decades before Thomas Piketty and OWS and Pope Francis (with his searing critiques of capitalism) and a surging, white haired socialist from crunchy Vermont named Bernie Sanders arrived on the scene. Indeed, when Beatty made these films it took tremendous courage and chutzpah to go against the grain of what Erich Fromm called the "conformist herd" and paint an artistic portrait of a utopian better world that might be; a world that's more just, kind, loving and peaceful.

Over the past decade, I've screened Bulworth for my mostly poor, minority students in a writing class I taught at a community college in Newark, NJ. Due to their lack of political consciousness, the result of an increasingly technocratic school system that gives short shrift to the humanities, not only did most of my students--pre-exposure to Bulworth--have little idea what "socialism" and "capitalism" meant, shockingly, many had no idea who Amiri Baraka was: the famous Newark born and bred poet and activist who makes an electric cameo in Bulworth as a wise, truth-telling homeless man.
Thanks to the magic of Beatty's Bulworth, though, I'm happy to report that these educational deficiencies were repaired for my students. They finished the class not only better writers (they all wrote brilliant reflections on the film!), but more knowledgeable about history and politics, and, just as crucially, more hopeful that a better world is possible. The radical transformation of Senator Jay Billington Bulworth, from a suicidal political empty suit to a man on a mission worthy of the photos of Bobby Kennedy and MLK on his office wall, is a great filmic example of Emily Dickinson's belief that "imagination lights the slow fuse of possibility;" and of Herbert Marcuse defining art as the "promise of liberation."
In a strange confluence of art and life, last year my Newark students experienced the election of a real progressive Democrat, Ras Baraka--the son of Amiri Baraka--as mayor of their city; despite the avalanche of corporate money spent by his Chris Christie-backed opponent. Though Barack Obama has so far only talked the talk about "going Bulworth," he's been way too timid to defy his corporate masters. In fact, it was to one of Obama's most vociferous critics from the Left, Cornel West, that Beatty turned to in 1998 (after a private screening in New York) to ask if he thought Bulworth was worth releasing. Brother West gave him a big thumbs up!
Though he never ran for president himself, despite his long time flirtation with the possibility (the closest he came was in 2000 when urged on by, guess who, Arianna Huffington), I believe Beatty could've won easily--as a charismatic, intelligent, left-wing Hollywood antidote to Reaganism--in the 1980s, 90s, and beyond.
What makes this story personal for me, in addition to Bulworth being a staple of my college curriculum, is that my dad, Jack Bredin--an actor turned activist and painter--was in one of the few plays Beatty did before he skyrocketed to fame: a regional theater staging of Compulsion at the North Jersey Playhouse in 1958. That was the play where Beatty, then known as "Shirley McLaine's brother," was discovered by Hollywood director Joshua Logan. Though my dad was not discovered, later as an activist in the 1980s he battled corrupt politicians (and won!) to save the southern tier of the beautiful green Palisades in our hometown of Edgewater, NJ from predatory real estate developers.
Suggesting that important "acting" also takes place in our actual lives, especially on the civic stage of (act)-ivism, my dad's environmental victory proved it is possible to prevail over the big money crowd; as portrayed in Bulworth by Paul Sorvino's unctuous and conniving insurance lobbyist. The rising popularity of Bernie Sanders also points to this hope, that the people have had enough and are ready to reclaim our democracy and save our planet.
At a recent U2 concert in Madison Square Garden, the New York Times reported that in between song sets Bono treated the audience to mini political lectures on poverty and other issues he cares deeply about.
The thought occurred to me: Imagine if Warren Beatty, as Warren Beatty and not a fictional character, gets on the lecture circuit (or You Tube) to share his political wisdom "straight up" with a country starving for political truth. In America's quest for a functioning democracy, this might help us--to paraphrase a U2 song--"find what we're looking for."
REAL LIFE. REAL NEWS. REAL VOICES.
Help us tell more of the stories that matter from voices that too often remain unheard.