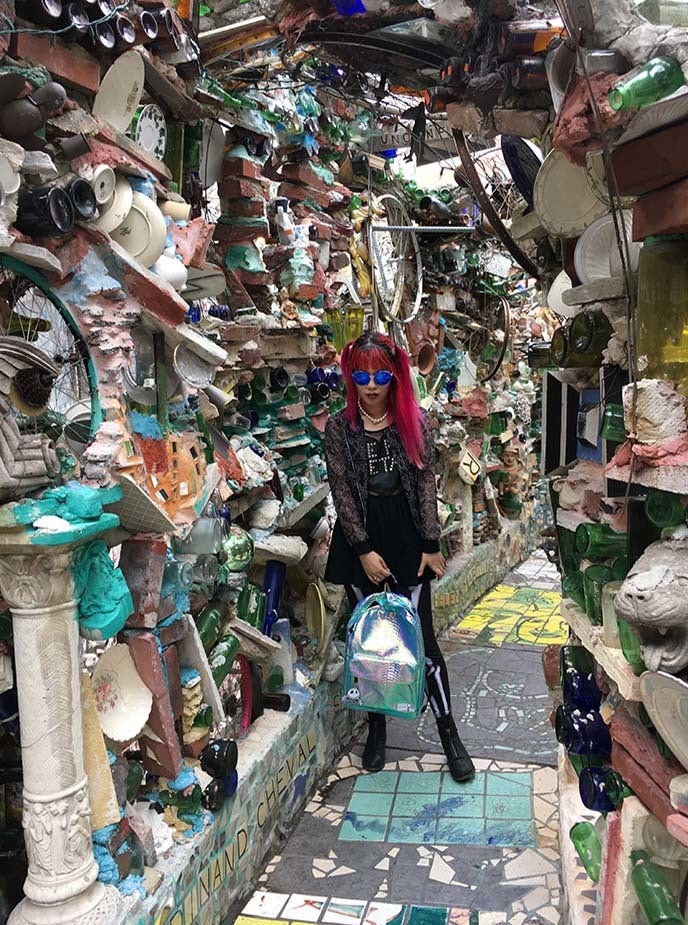 Philadelphia may be known as a historic city, but it also has a whimsical, colorful side — making it a fantastic destination for alternative travelers.
The Magic Gardens above are a prime example of the creative culture that I discovered during my travels in Philly.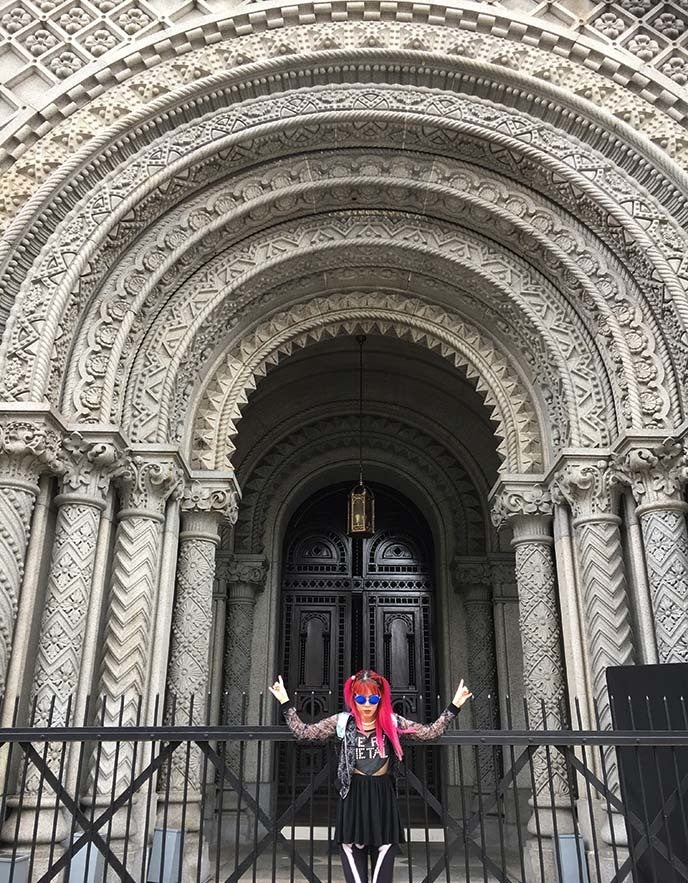 Let's take a walk on the weird side of Philadelphia, Pennsylvania. In this travel guide, Goth blogger La Carmina visits two of the most offbeat attractions: a magical garden of mosaics, and the Mütter Museum filled with morbid curiosities.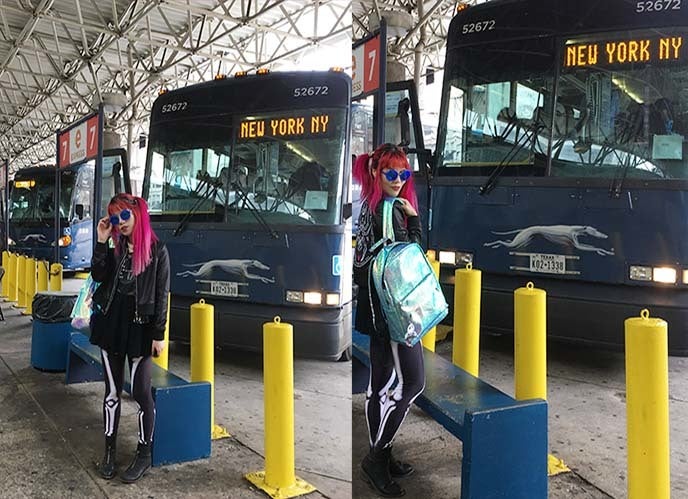 I took a weekend trip to Philadelphia with Busbud, a handy bus booking website that lets you easily find and compare tickets. With only one search, I could see dozens of options between NYC and Philly for my travel dates.
The bus ride bus turned out to be enjoyable: I boarded on time, settled into a comfortable seat, and had free WiFi for the two-hour journey.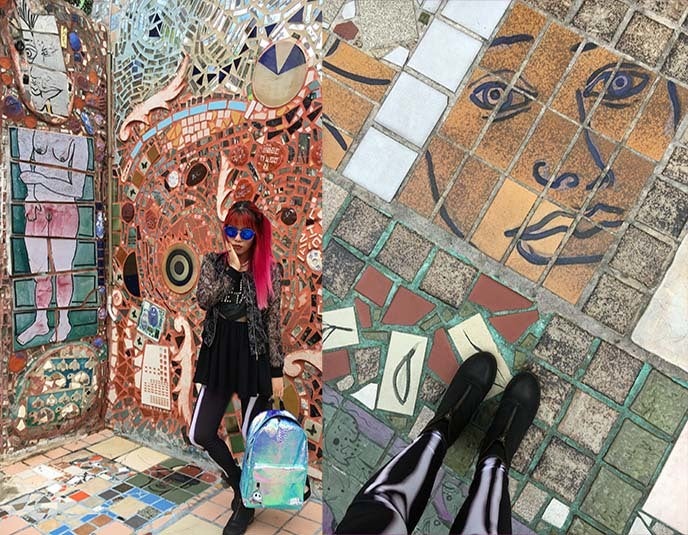 My first stop: Philadelphia's Magic Gardens, a wonderland of whimsical mosaics by local folk artist, Isaiah Zagar. The Gardens fill three city lots, including indoor galleries and an outdoor labyrinth. I recommend getting timed-entry tickets in advance from their website, since the daily time slots sell out quickly.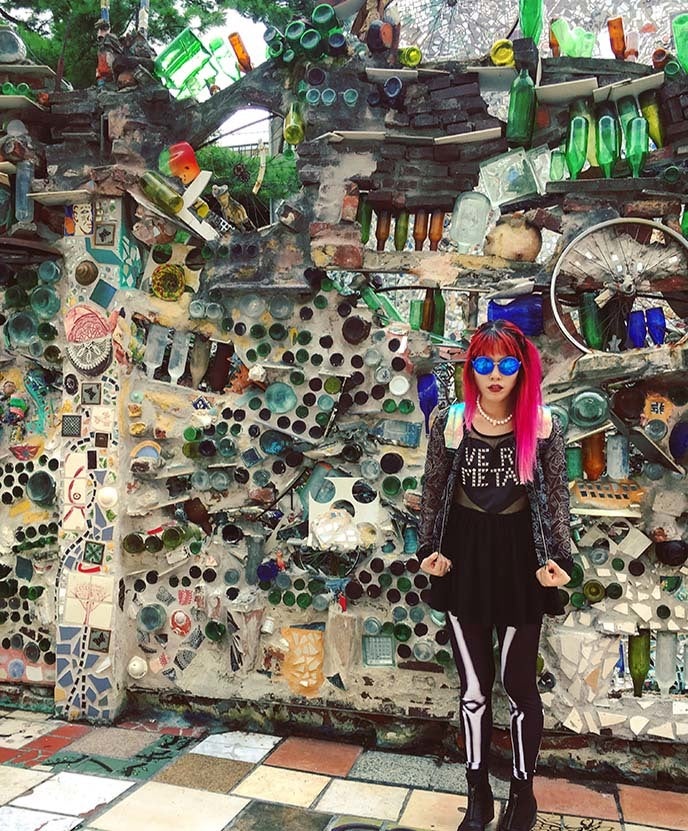 Photographer Ashley Yuen and I explored the tunnels and grottoes, which are filled from floor to ceiling with found objects (we spotted mirror shards, glass bottles, bicycle wheels, porcelain plates and dolls). Zagar's vision comes together harmoniously in colors and arrangements inspired by Latin-American art.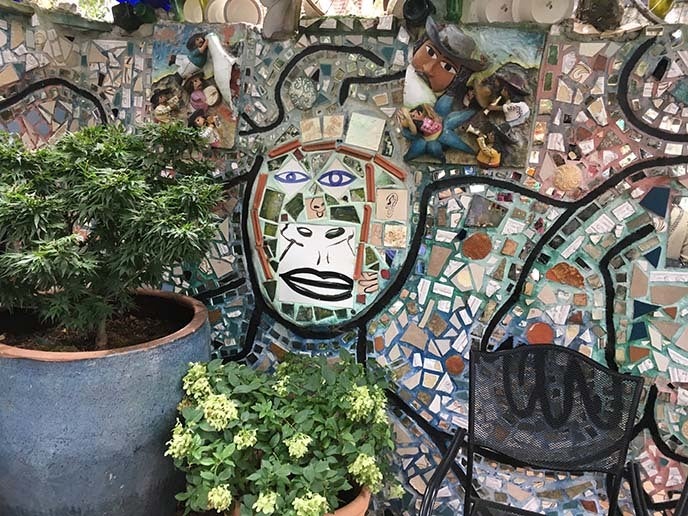 Isaiah Zagar and his wife Julia moved to Philly's South Street in the 1960s, and began revitalizing the neighborhood with imaginative mosaics. In 1994, he started beautifying the vacant lots near his studio. The sculptures grew and the area expanded, becoming the Philly Magic Gardens as we know them today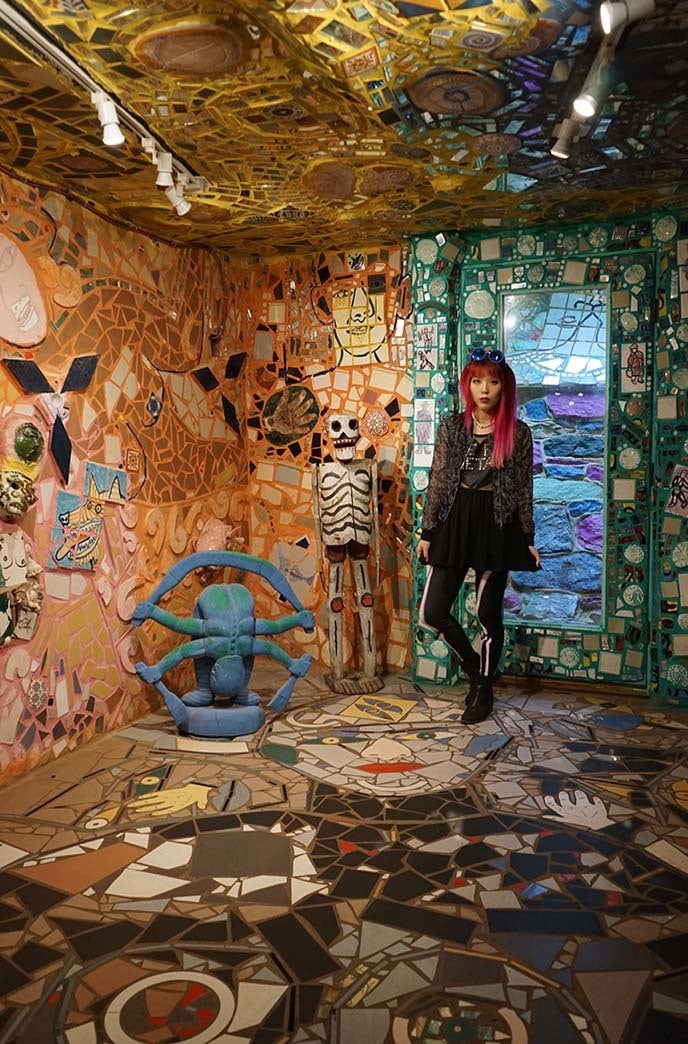 In 2008, Philadelphia's Magic Gardens opened up to the public. The non-profit organization works to preserve Zagar's artwork in this district, as well as educate visitors with interactive workshops and other community events. Above, La Carmina stands in the basement level that is only open to visitors during guided tours.
For those intrigued by unconventional fringe art, I encourage you to take a trip to Philadelphia Magic Gardens and see these visionary works for yourself.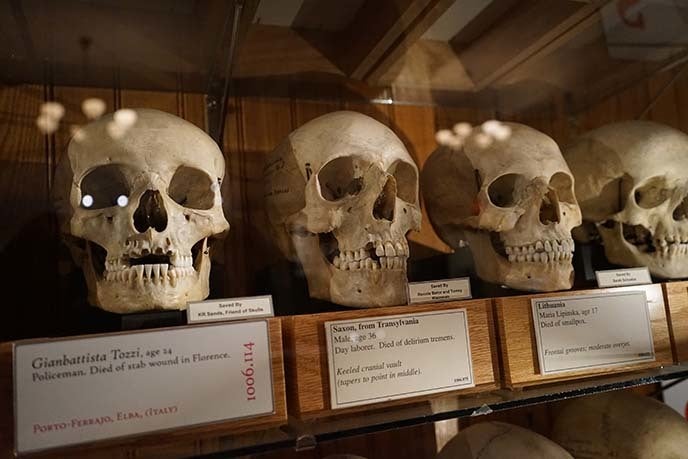 If you have an adventurous and Gothic spirit, then you'll enjoy The Mütter Museum as much as I did. This is one of the world's most celebrated medical museums: a mesmerising collection of anatomical oddities, pathological specimens, wax models, and skeletons.
The museum is part of The College of Physicians of Philadelphia, a non-profit founded in 1787 to promote the heritage and development of health and medicine.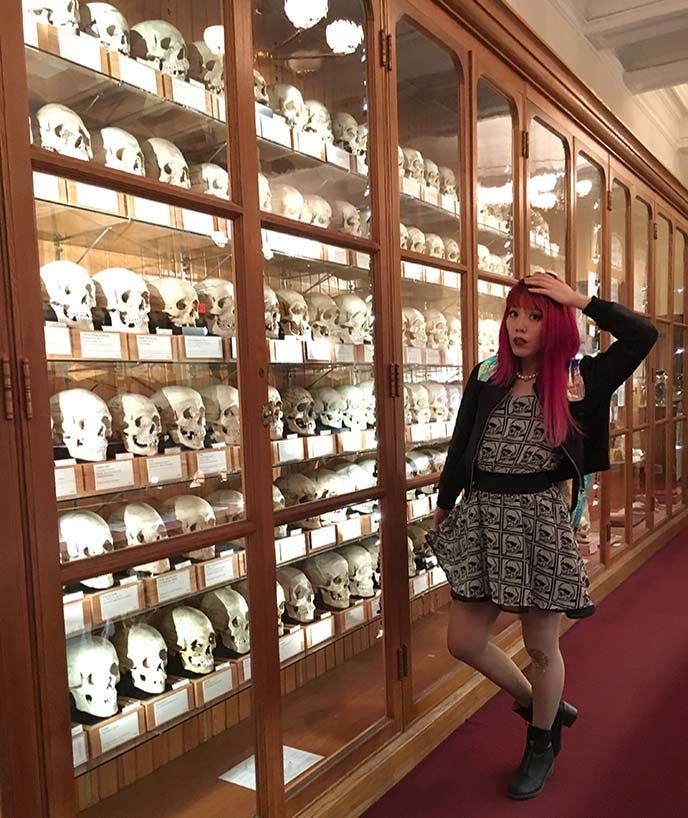 In 1858, Dr. Thomas Dent Mütter donated the original collection of nearly two thousand medical samples. Today, the Mütter Museum contains more than 25,000 items that help visitors understand "the mysteries and beauty of the human body, and appreciate the history of diagnosis and treatment of disease."
My mind was blown by the Hyrtl Skull Collection, which totals 139 human skulls. Joseph Hyrtl, a 19th century Austrian anatomist, collected crania to show the diversity of anatomy among various European groups.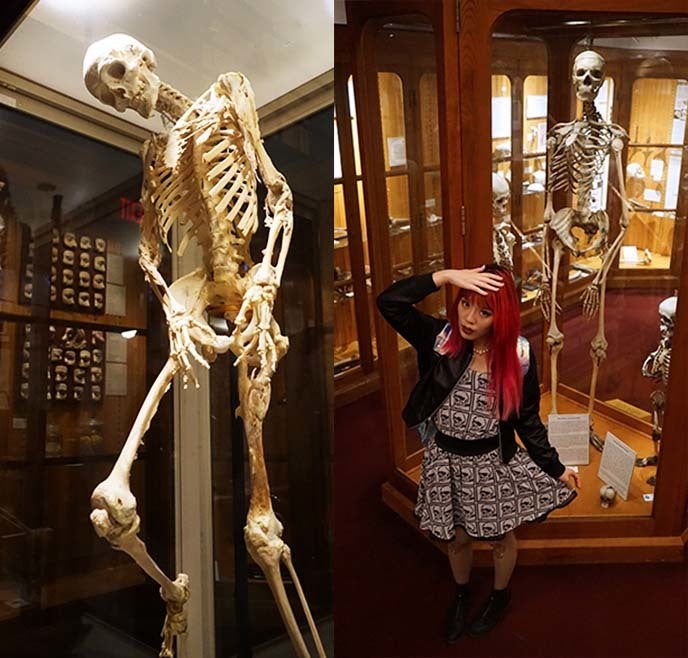 The articulated skeleton of Harry Raymond Eastlack stands above, on the left. Eastlack suffered from fibrodysplasia ossificans progressiva, a rare condition that turned his healthy tissues into bone — eventually causing him to be locked in this position.
On the right, I can't measure up to "The Mütter American Giant." Looming at 7 feet 6 inches, he's the tallest human skeleton on exhibit in North America. The size difference is stark between him and Mary Ashberry, the 3 fBoot 6 dwarf skeleton next to him.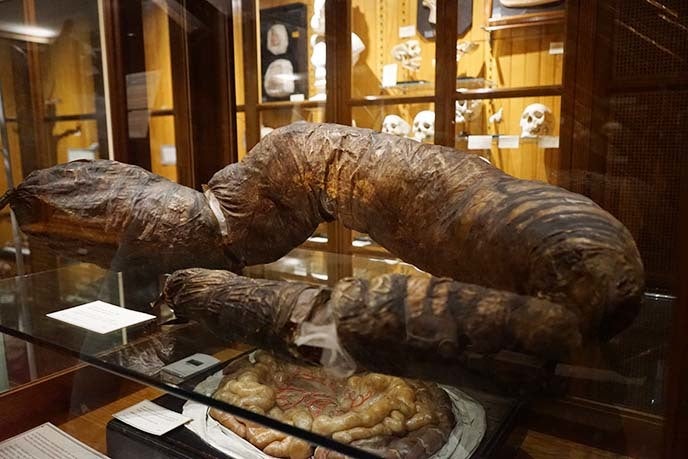 The museum contains such wonders as the Mega Colon, the gargantuan gastric tract of a man with Hirschsprung's Disease. The nerve supply to part of the intestine was damaged, making it extremely difficult to pass waste. As his condition worsened, the abdomen and colon swelled enormously. When he died days before his 40th birthday, his colon was 8 feet long and contained 40 pounds of feces.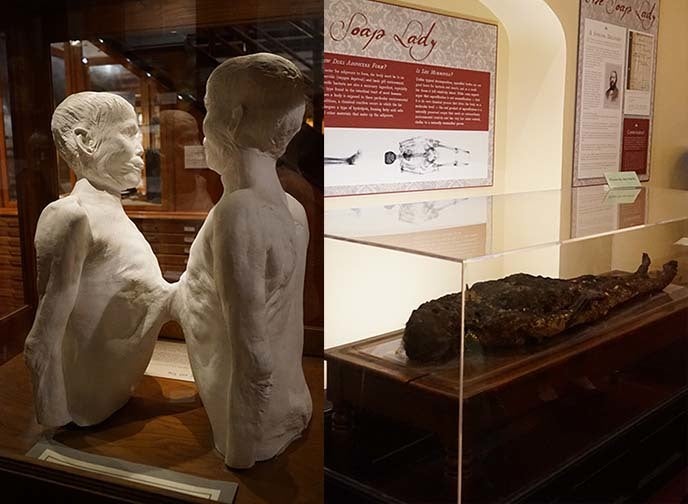 The Mütter's exhibitions may be intense for some visitors, but I thought they were engrossing examples of how pathology intersects with history and culture. Some of the most famous displays include cross-sections of Albert Einstein's brain, the plaster cast and fused liver of conjoined twins Chang and Eng, and "The Soap Lady," who is preserved in a fatty substance resulting from her burial environment.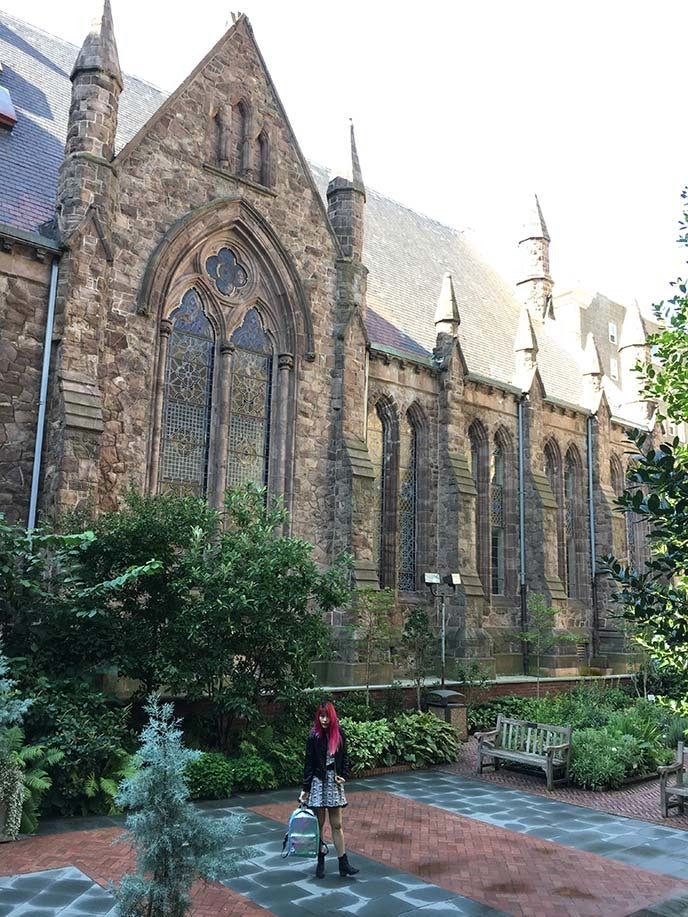 Don't miss the Benjamin Rush Medicinal Plant Garden, named after the Philadelphia colonial doctor and signer of the Declaration of Independence. Rush helped found The College of Physicians in 1787, and urged them to establish a garden for natural healing ingredients. Today, the courtyard has more than sixty kinds of medicinal herbs, and borders the First Unitarian Church of Philadelphia.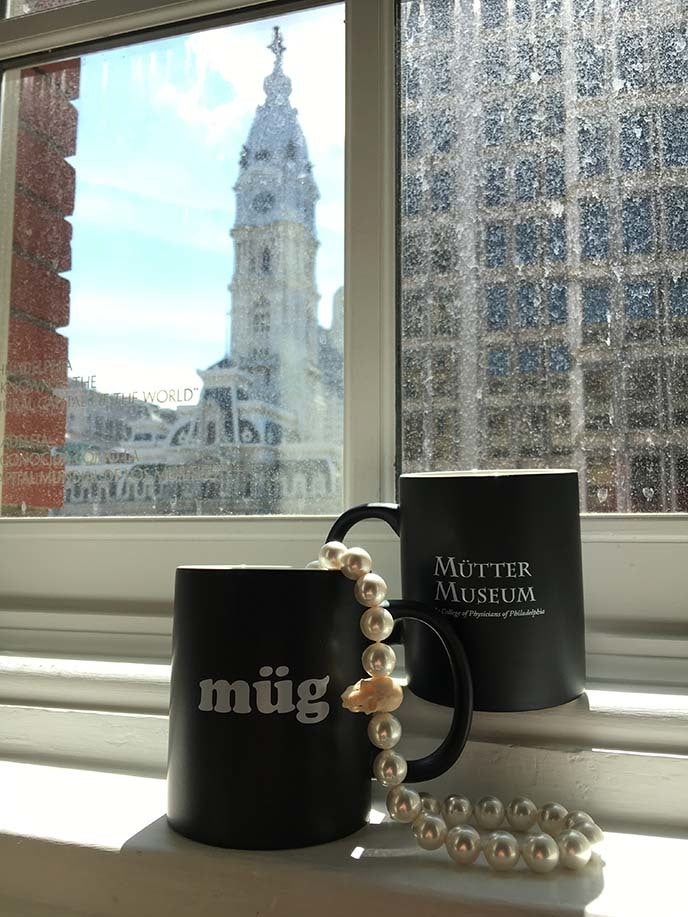 The Mütter Museum also has spaces for rotating exhibits, an impressive Historical Medical Library, and several stately halls for special events. At the quirky gift store, I picked up these two umlaut "mügs."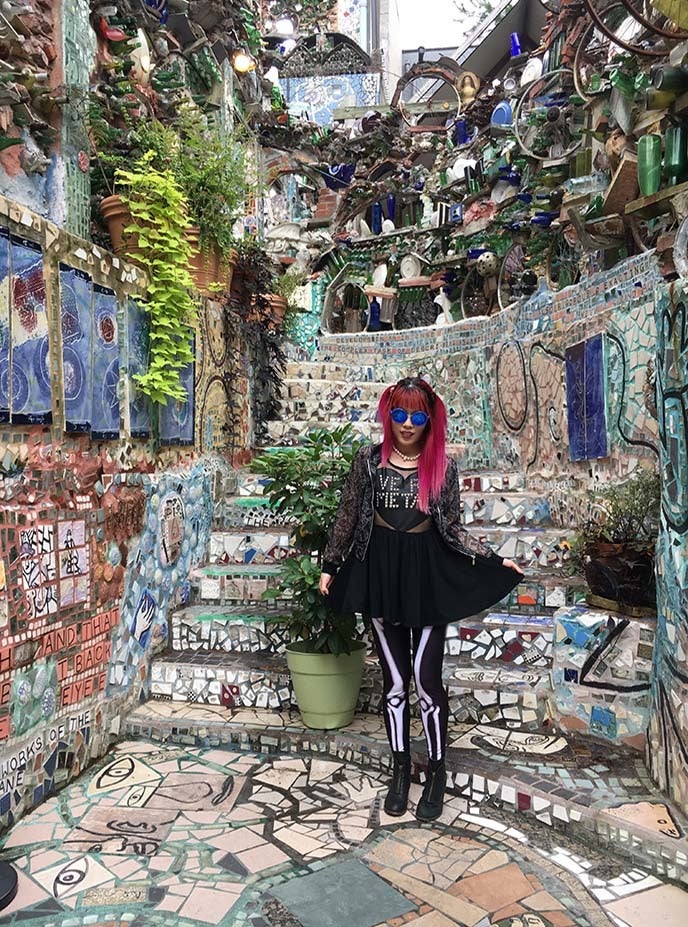 Philadelphia is well worth a visit, especially if you're in New York or somewhere nearby. My journey here was easy thanks to booking website Busbud. Their site let me search for bus routes and compare prices, times and other information, in thousands of cities across over 60 countries.
Philly has an artsy vibe that is right up my alley, particularly at the Magic Gardens and Mutter Museum. I'm keen to come back soon to see more of the city's underground attractions.
Popular in the Community