Mother's Day will soon be upon us again and while it is a cherished holiday full of rest, relaxation, breakfast in bed, flowers and brunch for some, for many single moms out there, it is just another day. It is a day where the weight of being a single mom is often magnified and while we want to rejoice and be thankful for the gift of motherhood, the depression of having to go it alone day in and day out feels even more heavy on this day. Don't get me wrong, we love our children and they enhance our lives in many ways, but sometimes, just like everybody else, we need that recognition, encouragement and support to help us make it through. There is something to be said for being showered with love and appreciation for the work you give so selflessly to. Receiving a hand crafted gift from your children and a note telling you how much they love and adore you is one of the best feelings in the world for a single mom.
I remember when I was a child, my dad would take my siblings and me shopping for that perfect #1 Mom pendant or mug to give to my mom on Mother's Day. We'd pick out a card and sign it from all of us and present our gift along with the ceramic handprint or macaroni necklace we made for her in school. Such pride would overwhelm me watching her open her surprises. In the days to follow, I'd smile when I saw it hanging from around her neck or when I saw the card proudly displayed on the coffee table. It felt good to give and to see my mom happy.
I know now, as an adult, that the gifts could have been anything. What did matter was the love she felt from us and the appreciation the gifts displayed. What I also know is that over the years, my mother has saved those gifts and cards and now has them as mementos of years past. Years when her kids were young, memories of us growing up, evidence of our handwriting changing each year and times that she can never live again. She has saved certain items in the hopes of sharing and passing them down to her grandchildren. I watch her as she rummages through the garage while the family gathers for holidays and finds things my brothers and sister and I crafted as children to show to our kids now. There is such nostalgia there.
Because there is no "dad" in our life to take my son shopping for Mother's Day goodies, in my six years of being a single mom, I've only received one gift and card from him and it came from his preschool Mother's Day celebration. As a person who can't keep anything alive for longer than a month other than my son, I tell you, that little three leaf spider plant I received is the most cherished thing I have aside from my son. I've managed to love it and feed it and grow it all because it is super special to me. I look at it as a daily reminder of something my son gave to just me. I'm filled with love and hugs and kisses everyday from him and above all else, that is what I love the most. But there is something to be said for being able to look at a gift and have it bring fond memories for years to come.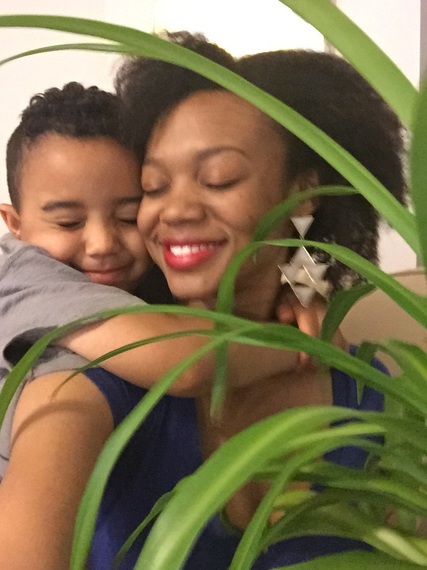 At the end of the day, material things don't matter. But for a single mom, who wears so many hats every single day, who is many times both mom and dad and who never gets any time off, a simple card signed by her children on mother's day could mean the world to her. So I urge all you non-single parents, if you know a single mom, pick up her kids, help them pick out a card and sign it. Try to remember her in your Mother's Day plans. Help her kids celebrate her and all that she does on that day. Many times her kids are too young to know the difference but it could just be the encouragement she needs to put all her hats back on the next day. Of all the holidays throughout the year, please, please don't forget the single mom on Mother's Day.