When the President gives a State of the Union address, he has the attention of both houses of Congress sitting in front of him, as well as the whole of the United States watching live on television. It is the perfect time to make a call to action, whether to Congress, military leaders, or ordinary citizens.
Rare is the citizen who takes that call to action to heart and answers it wholeheartedly. Talia Milgrom-Elcott is one of those rare citizens. When President Obama called for the country to recruit 100,000 STEM teachers in ten years in his 2011 speech, Talia decided she was going to lead the charge to make it happen.
Talia went on to form 100Kin10 (one hundred K in ten) with the vision of achieving the goal the President laid out for the entire country. At the beginning, she was bolstered by a strong idea, an incredible amount of drive, and, as she explains in our interview, perhaps even a touch of "naivety and foolishness."
But it all eventually came together through hard work and planning. At the halfway point 100Kin10 had recruited over 200 organization to participate resulting in over 40,000 STEM teachers in schools. Challenges remain, and Talia's journey is far from over, but gauging from her focus and determination, chances of her slowing down seem unimaginable anytime soon.
For information on how to help or join the movement, visit 100Kin10.org.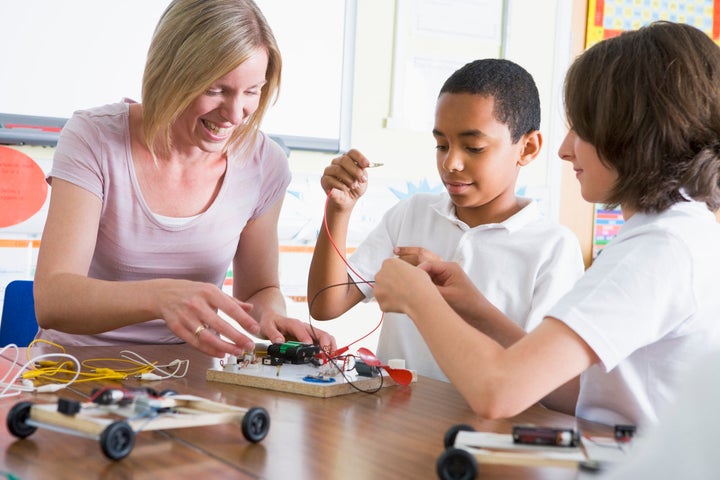 About Talia Milgrom-Elcott
Talia is widely recognized for her visionary and innovative approach to tackling large, systemic challenges. At 100Kin10, she's creating a new model for networked, nimble, and iterative collaboration that's relentlessly focused on identifying—and solving—some of our most intractable social challenges.
Under her leadership, what began as a call in President Obama's 2011 State of the Union address for 100,000 excellent STEM teachers in 10 years is becoming a reality, with more than 250 leading organizations from across sectors coming together in an unprecedented movement to train and retain 100,000 excellent STEM teachers by 2021. With 100Kin10, Talia is building a new type of collective-impact effort that breaks the mold for how organizations collaborate, learn from one another, and together tackle challenges that none could successfully address on its own.
Talia earned her chops in education and philanthropy working with amazing mentors as a Program Officer at Carnegie Corporation of New York from 2007-13, and as part of Chancellor Joel Klein's leadership team at the New York City Department of Education before that.
Talia graduated magna cum laude from Harvard College and Harvard Law School. She lives in Brooklyn with her husband and three little kids. She used to read lots of books and magazines, run, practice yoga, and sit in cafes reading the Sunday Times. Now she plays with Legos, magnetiles, and "stuffies" and reads books with pictures, a great tradeoff, all things considered.
Follow Talia Milgrom-Elcott on Twitter

Audiences have enjoyed education interviews with the likes of Sir Ken Robinson, Arne Duncan, Randi Weingarten, Sal Khan along with leading edtech investors, award-winning educators, and state and federal education leaders. Berger's latest project boasts a collaboration with AmericanEdTV and CBS's Jack Ford.
Related
Popular in the Community