 Back in 1949, when I was barely 12-years-old, I heard a 78 rpm recording of the great black American operatic star, Paul Robeson singing "Zog Nisht Kein Mol -- Never Say You've Reached the Final Road" -- the stirring Yiddish hymn of the wartime Jewish partisans.
Even now I remember how very moving Robeson's rich bass voice was to my young ears still burning from tales of the Holocaust horrors that had ended only four years earlier.
It was that same sense of deep emotion that overwhelmed me recently when I heard the voice of a budding new African-American operatic star, 32-year-old Anthony Russell. And he too was singing "Zog Nisht Kein Mol."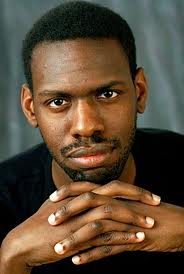 Born in Texas to a Baptist American military family, Russell received his formal vocal training as a classical bass in California. He was soon singing with operatic companies from San Francisco to New York. But it was when he saw the Coen brothers' magnificent 2006 film A Serious Man that he was first drawn to Yiddish song.
The film's soundtrack featured a recording of the Yiddish ballad "Der Millner's Trern -- The Miller's Tears." Russell, who'd recently converted to Judaism (and added Mordechai Zvi to his name), thought it was Robeson singing . But when he discovered it was actually the deep timbre voice of the late Sidor Belarsky, an almost forgotten Ukranian-Jewish born musicologist and operatice bass singer who'd been popular in the 40s and 50s, Russell's career took a turn. "I decided I wanted to revive Belarsky's works and I wanted to sing them first for Jewish audiences."
Russell dug up old Belarsky Yiddish sheet music and spent hours studying them as well as listening to Belarsky's old recordings -- most of which are available on line, carefully preserved in the Florida Atlantic University's extensive Judaica Sound Archives.
He even searched out Belarsky's still lively 91-year-old daughter, Isabel, at her Brooklyn home in Brighton Beach. When Russell sought guidance and direction from her, she was delighted.
In the time since, Russell has performed songs from what he calls his "Sidor Belarsky Songbook" at a variety of events on New York's rejuvenating Yiddish entertainment scene: from the Sholom Aleichem Cultural Center in the Bronx to Manhattan's JCC, Hebrew Actor's Union and the Workman's Circle annual Park summer Klez-Fest in Central Park. This month he's scheduled to appear at Toronto's popular Ashkenaz Festival
Russell's plans for the autumn include what he decribes as a new venture to broaden his audience. "I want to use the Sidor Belarsky Songbook as a point of departure, creating, performing and recording different collaborative versions of the Belarsky repertoire with musicians of varied genres and disciplines: classical, Klezmer, Jazz and World Music". The entire world deserves Belarsky's music!"
It also deserves Anthony Mordechai Zvi Russell's.
Related
Popular in the Community