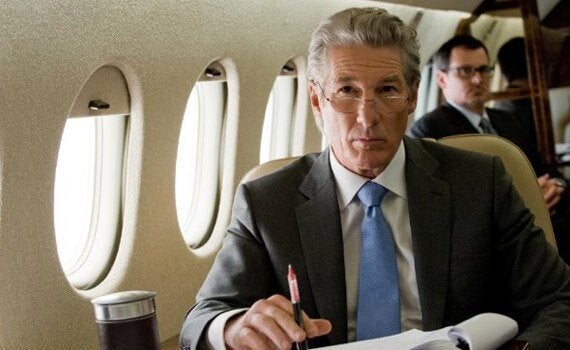 Since we will not learn in school the lessons about the 1% we ought to know, many of us rely on movies and TV, so that through images and sound we can form ideas of who the men were who screwed up our economy. In Arbitrage, we see how how Hollywood conceives of a cinematic grammar into which we can analyze the nature of the people who sparked the the financial crisis.
Nicholas Jarecki directed a film about a man who could model for the type of 1 percenter who helped destroy the U.S. economy. Robert Miller (Richard Gere) could have starred in Oliver Stone's Wall Street. This billionaire hedge fund executive made a bad investment in a tempting (huge profits promised) Russian copper mine and then had his accountant falsify his company's books to cover up the huge losses on his gamble. No big deal, he'll just sell the company, recoup the loss and even make a profit, so he can retire to enjoy his perfect life: a great wife (Susan Sarandon), two grown children and grandchildren, and a mistress he is in mad lust for, and elite recognition for his donation to charity. All he needs is to pass a phony audit, so he can sell the company he has just compromised. And he has arranged for that as well, as his daughter will later discover.
But shit happens. On route with his concubine to a romantic weekend in the mountains, his eyes close while driving the babe to their rendezvous. She dies. He decides to run away and, to do this, he involves a young black man (Nate Parker), who owes him for favors he did for his father, his former chauffeur, to drive him to safety. Enter the police. Will the young black man testify against him (the cops traced the phone call Miller made to him from a nearby gas station) and destroy Miller's image and his happy (on the surface) family? Will the cops -- trying to frame the young man as leverage to make him talk -- actually nail the criminal financier for manslaughter, not financial hanky panky?
The film moves effortlessly as a legal thriller and an allegory. It's not easy to keep viewers' attention when dealing with complicated financial dealings, but Jarecki succeeds in maintaining movement and suspense. Arbitrage tells the story, Hollywood style, of the moral Hell in which U.S. financial systems operate; also the context of the police drama where big bankers don't get arrested for monkeying with the system they rule: the nation's economy.
Arbitrage should enrage the viewer as it shows us the reality behind the patter about Wall Street and the constant news references to Dow Jones industrial averages. Behind this silly jargon, we see, lies a complex network of legally dubious activity and a complete absence of ethics. Miller, honored by the establishment for his charitable work, is a criminal with no conscience. He thinks only of himself while wearing the pretense of "community good guy" as his aura.
What arbitrage Miller did in the film resembles various bankers or investors who made bad decisions with other peoples' money and spurred the economic crisis. Miller's daughter (Brit Marling) who works in his office also gets involved as she inadvertently learns of his speculative malpractice, but she and his wife cover for him because money, as the film shows, can induce people to become moral schlemiels.
Miller's poise and confidence helps him maintain the façade of normalcy, while juggling his mistress, mega-deals and happy family.
But swelling his company becomes a hassle because he can't get a meeting with the prospective buyer. Indeed, his financial troubles and zest to meet with the buyer to close the deal lead him to break his promise to attend his mistress' art gallery opening. To assuage her fury, he proposes the romantic weekend that leads to the fatal accident.
Detective Bryer (Tim Roth), a pushy and disheveled New York cop solves the case -- in his head -- and to get Miller he tries to bully the young black man. Bryer closes in on the arbitrager, and the man supposedly wanting to buy Miller's company becomes elusive. The tension grows.
What emerges is a Hollywood portrait of the modern villain. Gere's character no longer resembles the one he played as the Pretty Woman millionaire. In Arbitrage, he portrays modern evil, a compelling looking man willing to do whatever it takes to help himself, in business and lust, but without social conscience or a sense of responsibility.
This facade of a philanthropic patriarch who philanders as naturally as he dines with his family, emerges on screen as a realistic portrait of a felon who could wreck the world economy and think only of saving himself as the world collapses around him. Realism, Hollywood style. Justice? Not in the Arbitrage script, nor in the vision of the U.S. economy or justice system. Attorney General Eric Holder has ordered fruitless raids on licensed marijuana distributors, unsuccessfully prosecuted former presidential candidate John Edwards for campaign funds-mistress problems, and former Yankee pitcher Roger Clemens for using steroids, but has indicted none of the criminal bankers who broke the system. Will a film about governmental cowardice toward Wall Street provoke the AG to arrest a real bad investment banker-arbitrager? Don't hold your breath!
Landau's WILL THE REAL TERRORIST PLEASE STAND UP screens in Toronto on September 25 at 7pm, Room 224, Dalhousie Student Union Building 6136 University Avenue, in Halifax on September 25 at the University.
Popular in the Community