Is a $7 or $8 dozen of eggs from the farmers' market worth the cost? It's a complicated question that elicits a touch of science and a whole lot of opinion from a cohort of tote-bag-wielding locavores.
Ross Reynolds -- a host with KUOW, Seattle's NPR affiliate -- decided to track down an answer to see if those labeling buzzwords ("free-range," "vegetarian diet" and so forth) actually translate into a better egg. The grocery store variety are available year-round, but for egg enthusiasts, summer may be peak season for omelets and frittatas.
"People wouldn't think of eggs in the middle of the summer, but in summer is when [hens] get the best opportunity to eat a diet that really gives them the best quality eggs," Cynthia Lair, a professor of culinary arts at the Emerald City's Bastyr University, said. "Hens actually like to eat greens and they also like to eat bugs."
Supermarket eggs, she says, have "no taste at all."
But a 2010 study comparing organic, cage-free eggs to their industrially farmed counterparts found no noticeable health difference between the two. A representative for the American Egg Board quoted a similar study conducted in 2011 to The Huffington Post. Researchers found higher fat and Vitamin D content in "range" eggs, as well as a deeper yellow color, but saw a negligible difference in other nutrients when compared to eggs from factory farms.
So, should we trust science, or the farmers?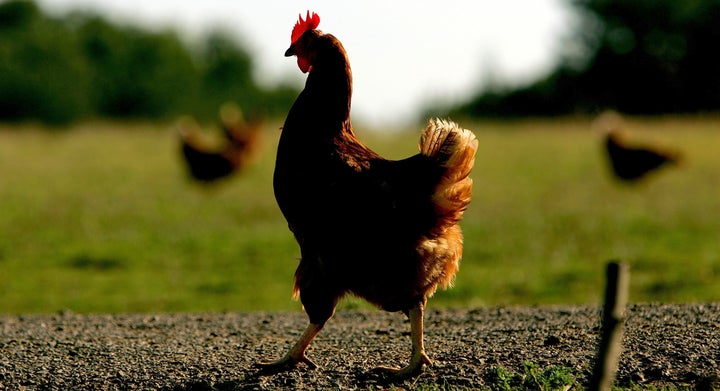 Researchers may say an egg is an egg is an egg, but when it comes to taste -- and your opinion of animal welfare -- farmers say free-range is the clear winner.
HuffPost spoke with half a dozen chicken farmers at New York's Union Square Greenmarket, and each one said a chicken able to forage for greens and bugs in the open air and sunlight will, to a bird, produce better eggs.
"The bigger variety the chickens have makes for a better tasting egg," Debi Farmer told HuffPost Friday. Farmer raises chickens for New Jersey's Bodhitree Farm, and said you can't even compare her animals' eggs from those produced at conventional farms, where chickens "don't even see the light of day."
Farmer's hens, on the other hand, live an enviable life. "We feed them lots of leftover greens, lots of tomatoes and melons" in addition to what they can forage, she said.
She peddles her eggs for $7 a dozen, more than twice the average price in the U.S. They sit underneath a sign that reads "Happy Chicken Eggs" and they sell fast. She says her birds live a grand life, and even if the science says her eggs have the same health benefits as those in the store, the comparison stops there.
Do they taste better? "Definitely."
"The more you can be truly outside and run around under the sun, the happier you are," she said.
That goes for humans, too.
What do you think? Let us know in the poll below.
Related