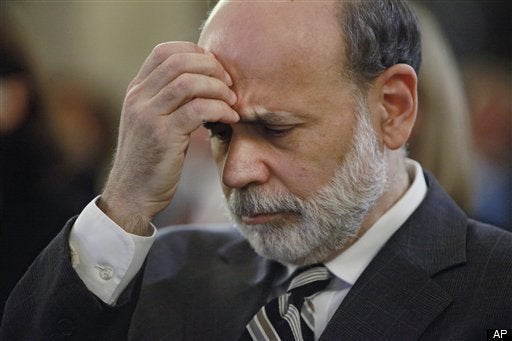 After more than 40 summits held across the country to figure out why the nation's small businesses aren't getting the loans they need and qualify for, America's central banker was no closer to a solution Monday than he was a year ago, when the Federal Reserve first identified a crippling small-business credit crunch.
With that in mind, Fed Chairman Ben Bernanke implored banks to free up credit, telling a conference in Washington that "lenders should do all they can to meet the needs of creditworthy borrowers."
The bankers aren't listening.
Bank loans to small businesses are down about $30 billion, or 4 percent, since last year, according to the latest figures from the Federal Deposit Insurance Corporation.
New loans guaranteed by the federal Small Business Administration fell off a cliff in June, dropping 66 percent to their lowest level in at least two years, according to agency data. The value of new loans in June -- $647 million -- is less than the total in February 2009, the month before the Obama administration's stimulus plan eliminated some fees on the taxpayer-backed loans and increased the federal guarantee on some of them to 90 percent, an incentive which has since expired. June's total loan figure was also less than half the total lent in September 2008, the flashpoint of the financial crisis.
The lack of credit is stifling the nation's ability to emerge from that crisis.
"Making credit accessible to sound small businesses is crucial to our economic recovery and so should be front and center among our current policy challenges," Bernanke said in prepared remarks. "Small businesses are central to creating jobs in our economy; they employ roughly one-half of all Americans and account for about 60 percent of gross job creation. Newer small businesses, those less than two years old, are especially important: Over the past 20 years, these start-up enterprises accounted for roughly one-quarter of gross job creation even though they employed less than 10 percent of the workforce."
But nearly a year after the Fed's main policy-making body, the Federal Open Market Committee, first identified the difficulties small businesses face in securing financing, the Fed appears no closer to solving the problem than they did during that two-day meeting in August of last year.
In Monday's speech, Bernanke addressed the lack of available credit, the lower demand for it, lenders' tighter underwriting standards and the frustration banks are feeling when dealing with regulators who are keen to tighten the reins after years of loose supervision.
"The insights we obtained from small business owners, lenders and others in this series of meetings have given us a more nuanced understanding of the problem and will help us identify areas where we might be able to do more," Bernanke said of the summits that began in February.
Bernanke has delivered at least seven speeches since November in which he referenced the lack of available credit, including one in each month since April.
The subject's importance cannot be overstated. Small businesses can't grow without credit, and because small businesses are the nation's primary job creators it's critically important for them to secure the financing they need, experts say. "The formation and growth of small businesses depends critically on access to credit," Bernanke said.
It's hard to understand, though, what new information the Fed has learned over the past few months that hadn't been known by experts for some time. Industry consultant Bob Coleman of Coleman Publishing said there hasn't been much in the way of new information on the credit crunch.
But Coleman said he hoped the summits have helped attract attention to the issue, and could prod Congress to pass a much-needed small business lending bill.
"We need to get this done. Businesses are dying on the vine," he said.
Some banks, sensing opportunity, have taken advantage of others' retrenchment.
Nara Bank, a $3-billion community bank founded in 1989 to serve Korean-Americans in Southern California, has increased its lending to small businesses by $250 million, or 37 percent, since last year, FDIC figures show.
"It's been a focal point for us," said Paul Choi, a bank spokesman. "A lot of the mindset here was to switch towards a more marketing-oriented mindset as opposed to a more conservative approach," Choi said. "We really wanted to push our lending volume up," he said, so the lender's district managers focused on finding good loan prospects.
More than 99 percent of the bank's loans go to businesses, according to a May investor presentation. Supermarkets are the bank's biggest borrowers of commercial and industrial loans. Hotels, motels and gas stations are among its biggest borrowers of commercial real estate loans.
"It's always been a philosophy to grow," said Choi, and the SBA's stimulus-funded efforts to increase lending provided new incentives to push in that direction. Given those incentives, the bank "made a conscious effort to really improve" its small business lending, Choi said. "We are actively and aggressively seeking qualified candidates."
Nara hopes to reduce its commercial real estate lending this year and instead focus on increasing its commercial and industrial loans.
But the nation's biggest banks continue to reduce their lending to small businesses. Coleman blames the economy for the lack of available loans, pointing to near-double-digit unemployment and the lack of demand for goods that's causing businesses and banks to hold back. Coleman also said uncertainty over new regulations -- like those businesses will face as part of the recently-enacted health care law -- has made some think twice about borrowing.
"A lot of people are saying, 'Hey, I don't know what's going on here.' I want to know how much health care is going to cost me,' for example," Coleman said.
The National Federation of Independent Business, an advocacy group, reports that its members say financing continues to be difficult to acquire, yet it's far from their biggest concern. About 92 percent of small business owners reported that "all their credit needs [were] met, or they did not want to borrow," according to the group's most recent monthly report.
What, then, caused the most angst?
Poor sales, taxes, and government red tape.
*************************
Popular in the Community