After 12 years of renting in New York and Los Angeles, designer Emily Henderson and
her husband started combing the real estate listings. They were expecting their first child and needed a space large enough to suit their growing family. "I wasn't looking for anything move-in ready," Henderson explains, "because, let's face it: I've been eager to have my own space where I can do everything my way for years." Soon, the couple stumbled upon "a quirky midcentury home with good bones" -- the quintessential fixer-upper -- with an airy floor plan and breathtaking views of the city. Given these advantages, the designer was willing to look beyond the 1980s finishes, "crackly and gross" textured walls and tattered carpeting to see the structure's bright potential.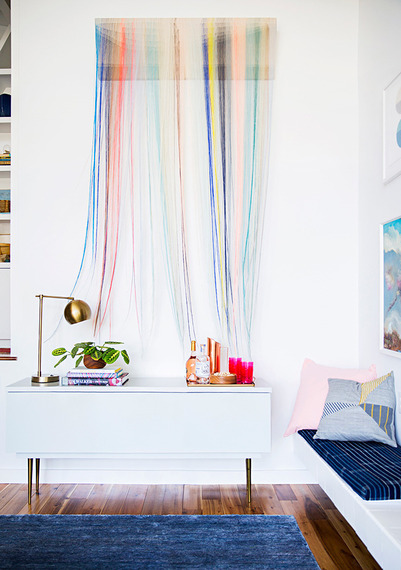 Henderson commissioned this string sculpture from Berlin-based artist Nike Schroeder. "I chose every color myself and told her to just have fun," says Henderson. "It turned out so beautifully and is such a showstopper."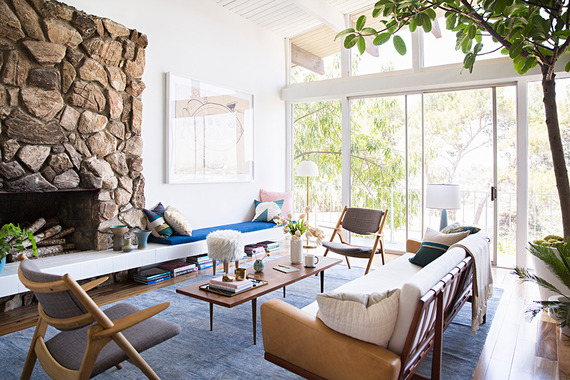 Flea market treasures and Target accessories -- in the designer's signature palette of
blue, white, and gray -- are woven throughout Henderson's rooms. "It's the combo of old and new, high and low that makes a home inviting and interesting to be in," she says.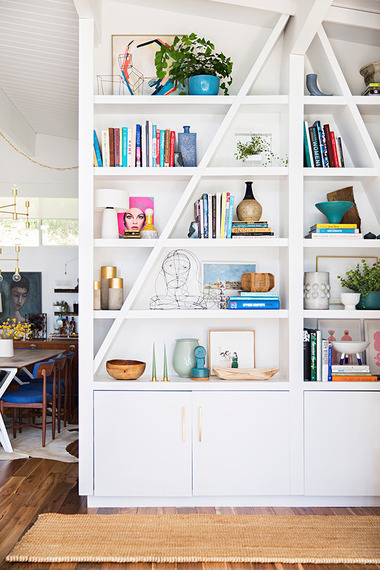 Splurge on vintage pieces. "Mix them with Target items to keep costs down," says Henderson. "The Target fall collections touch on all the key trends I'm coveting, and they make fantastic layering items."
Although Henderson's home didn't require a gut renovation, nearly every room received extensive updates, including the installation of new tile and hardwood floors. The biggest transformation, however, occurred in the kitchen, where new cabinetry, a backsplash of marble subway tiles with brass edging, and Caesarstone countertops modernized the outdated space. Aiming to keep things simple, the designer coated the whole house in Benjamin Moore's Super White while accessorizing with bright bursts of color. "I love color," says Henderson, "but I've learned over the years that it's smarter to paint the walls white so that everything else will pop."
photographs by Brittany Ambridge text by Brittany S. Chevalier interior design by Emily Henderson