A major power outage at the Hartsfield-Jackson Atlanta International Airport on Sunday prompted officials to order all flights headed there to be grounded at their departure points or diverted.
It would take nearly 11 hours for power to be restored.
The electricity outage, which occurred just before 1 p.m. local time, affected multiple terminals and delayed hundreds of flights, the Federal Aviation Administration said in a statement to HuffPost.
While the airport's flight control tower operated "normally" during the outage, airport equipment in the terminals did not, according to the statement. The disruption prompted FAA officials to order a "ground stop," which meant that flights headed to airport were held on the ground at their departure airport.
A fire at one of the airport's underground electrical facilities caused the outage, according to a statement from Georgia Power, the utility company servicing the airport. Officials were continuing to investigate what caused the fire on Monday.
"There is no evidence to suggest that the fire was caused deliberately," Atlanta Mayor Kasim Reed said during a news conference Sunday night. "Even so we are taking this matter extremely seriously in making sure that after this fire event occurred, that the airport is safe and secure to begin operating."
Nearly 1,200 flights arriving to or departing from the airport were canceled on Sunday, according to flight data website FlightAware. At least 400 flights had been canceled on Monday as of 8 a.m. ET, the site reported.
Hartsfield-Jackson, located about 9 miles south of downtown Atlanta, Georgia, has been named the busiest airport in the world. Roughly 275,000 passengers use the airport each day, according to the airport's website.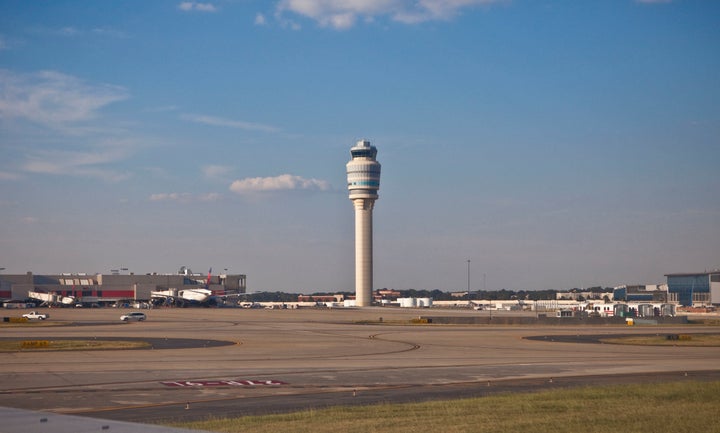 Until power was restored Sunday night, all arriving international flights were diverted to other airports, tweeted U.S. Customs and Border Protection. By 3:30 p.m. Sunday, approximately 80-100 aircraft were parked on the airport's taxiways and a runway, the FAA confirmed to HuffPost.
Hours after the outage began, passengers on inbound flights reported being stuck on the tarmac and unable to disembark while passengers waiting to fly into the Atlanta airport complained of significant delays.
People waiting for outbound flights in Atlanta described chaos and confusion, while tweeting photos of fellow passengers sitting in dark terminals, including Rachel Kent, who arrived at the airport moments after the lights went out.
Kent, 28, told HuffPost that the airport's lights "flickered and then went out" moments after she entered the airport after disembarking from a Southwest flight from Milwaukee.
"Everyone had their phone flashlights on using that to walk," Kent said. "People were getting mad ... People were talking like, 'What's going on? Is this the apocalypse?'"
Laurie Simon, who was trying to get home to Minnesota, reported on Twitter that travelers were evacuating out of Terminal D at approximately 3 p.m. local time. Simon also reported seeing smoke in the terminals while firefighters began to come in. She said she was fortunate enough to find a room at a hotel nearby the airport with power.
Hartsfield-Jackson representatives did not respond to HuffPost's request for information regarding evacuations.
Georgia Power said the outage was the result of a fire that caused extensive damage to an underground electrical facility.
"The fire was safely extinguished by fire crews before Georgia Power could enter the area to assess damage and begin repairs," Georgia Power released in a statement to HuffPost. "The event impacted not only the underground facilities, but also substations serving the Airport and, while the cause is not yet known, Georgia Power's system responded by isolating areas where equipment wasn't operating correctly to ensure safety and minimize damage."
No passengers or personnel were harmed by the fire, the company added.
Power was restored to the airport at 11:45 p.m. Sunday for flight operations:
All passengers who were stranded at the airport during the outage received a night of free parking for their troubles.
As a result of the outage, Delta said it was canceling about 300 flights on Monday, on top of the 900 cancellations on Sunday. United Air Lines also warned that travel on Monday may be affected, Reuters reported.