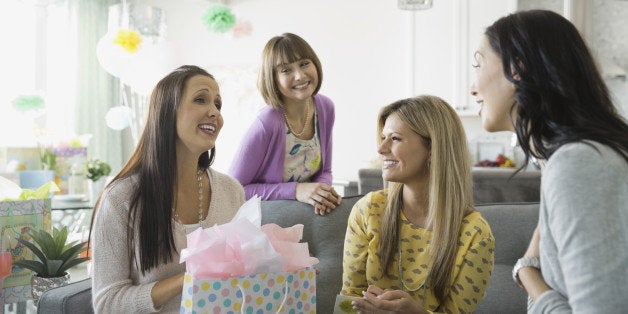 The following is a fun and friendly Q and A to help you politely stroll through baby shower season unscathed.

Baby Shower Q and A:
Can immediate family members host a baby shower?
Traditionally, a family member should not host a shower for a daughter, sister or other close relative. However, when good friends don't offer to step in, an immediate member of the family can get by with hosting a small (or large) gathering, in honor of the mother, and to celebrate the upcoming birth.
How far in advance should baby shower invitations be sent out?
Invitations should be sent anywhere from four to six weeks in advance. Summer is a busy travel time and vacations are often planned months ahead. Be prepared to see more RSVP declines during the summertime. Sending out the invitation sooner rather than later gives the recipients the opportunity to mark their calendar and, when possible, make plans around the special day.

Should the host(s) include the mom-to-be in the planning of the shower?
It's important to ask how involved she would like to be in the process. Some future mothers want to pick out their own invitations, while others may be comfortable with being totally surprised. Ask about details, such as if the mother-to-be would like party games, a particular theme or if she has a color preference. The guest of honor should compile an accurate guest list and give it to her host(s) early, allowing them to send out the invitations in a timely manner. While the expectant mother may offer some input, she should not anticipate micromanaging the event.

Is it in bad taste to send out a baby shower invitation by evite?
On the contrary, while beautiful card stock is a lovely way to receive an invitation and can be saved in a baby book for years to come, an evite is a perfectly acceptable option; time efficient, cost effective and a "greener" alternative to a paper invitation. The ultimate decision should be based on the preference and circumstances of the host(s) and the mother-to-be.

If I thank someone for a baby gift in person, do I still have to send a thank-you note?
Etiquette dictates under certain circumstances, a face-to-face thank you will suffice, but a baby shower gift is not one of those occasions. A thoughtful handwritten note is in order for a shower gift of any kind.

If I send out my baby shower invitation by evite, can I send a thank you note by email?
It's always best to thank someone for a thoughtful gesture, especially a baby shower gift, with a handwritten note. You are not only showing gratitude for the gift, but also the effort it took to take time out of your guest's busy day to attend your baby shower.

Is it bad form to have a baby shower for a second or third baby?
It's up to the soon-to-be mom to decide how she would like to celebrate the births of her second and third children. Some mothers will welcome the opportunity to share time with friends and family, while receiving a few gifts that will assist with her second or third child, while others would prefer a low-key celebration, with no gifts or opting for a donation to a local children's shelter. Ask the mom what she would prefer and respectfully honor her request.

Should I add a gift registry to a baby shower invitation?
Yes, you can go about this a couple of different ways. Ideas include adding the registry to the actual invitation, inserting a separate card into the invitation envelope and/or relying on family members to let guests know where you are registered. Using a registry makes gift giving much easier for those who are long distance or simply at a loss as to what the new mom wants or needs.

Is it OK to call guests who have not sent in their RSVP?

Absolutely. For planning purposes, and in order to ensure there will be enough food and seating, someone other than the guest of honor should make follow up calls to confirm attendance. Keep your tone of voice pleasant and upbeat so you don't come across as punitive or judgmental.
Related