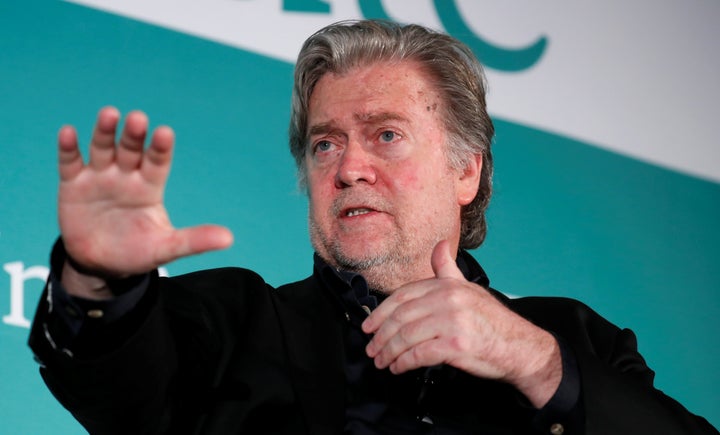 WASHINGTON ― With his boss escalating tensions with North Korea and Iran, former White House adviser Stephen Bannon on Monday instead pitched as a major foreign policy success an event many have already forgotten: an anti-terrorism conference President Donald Trump arranged in Saudi Arabia this spring.
That visit, Trump's first on foreign soil as president, was mocked at the time for a photo opportunity featuring Trump and other leaders laying hands on a glowing orb to mark the opening of a counter-terrorism center.
Bannon claimed during an appearance at a Hudson Institute conference on violent extremism in the Islamic world that Saudi Arabia has become much more aggressive about fighting terrorism in the months since Trump's visit. "They've had a fundamental change since that summit," Bannon said.
Bannon barely mentioned North Korea or Iran. Trump has ramped up war threats over the former's missile and nuclear weapons programs, and is threatening to pull out of a multination agreement blocking the latter from developing nuclear weapons.
Instead, Bannon essentially blamed the foreign policy woes facing the nation on the foreign policy establishment of recent decades.
"The geniuses in the foreign policy elite, what they left for President Trump is essentially the Bay of Pigs in Venezuela, the Cuban Missile Crisis in Korea and the Vietnam War in Afghanistan. All at one time," he said.
Despite inheriting these problems, Bannon argued, Trump is doing a brilliant job.
"I'm not here as his apologist," Bannon said of Trump. Yet he proceeded to praise Trump for building a "pax Americana" without forcing American values on countries that don't want them.
Bannon, wearing a dark blazer over his idiosyncratic multiple shirts, acknowledged that he disagreed with Trump's decision to keep troops in Afghanistan. "We're trying to impose a liberal democratic system on a society that doesn't seem to want it," he said.
Bannon said Trump ran on the message of pulling back from long-term wars, which was among the reasons he defeated former Secretary of State Hillary Clinton. "He can connect to the American working class and the American middle class in a very plain-spoken vernacular," Bannon said of Trump.
Bannon served as a top Trump adviser for the first seven months of Trump's presidency, holding the title "chief strategist" and even for a time enjoying membership on the National Security Council. He joined Trump's campaign in August 2016 in a shakeup demanded by the billionaire Mercer family.
He had previously been running Breitbart, a web site that caters to white nationalist views, and had started backing Trump in 2015 as way to get his anti-immigration, populist ideas more prominence in the GOP presidential primary.
Bannon returned to Breitbart after new White House chief of staff John Kelly pushed him aside in an effort to streamline authority chains and to limit access to Trump. From his previous media position, Bannon has resumed his battle against the Republican Party.
He has promised to oppose incumbent Republican senators in the hope of replacing majority leader Mitch McConnell ― which won a rebuke from McConnell last week during a Rose Garden appearance with Trump. The Kentucky senator pointed out that candidates the tea party backed in 2010 and 2012 won Republican Senate nominations but then failed to win their general elections.
Bannon of late has been gloating over the GOP Senate primary runoff election in Alabama, where the candidate he supports, controversial former state Supreme Court justice Roy Moore, easily defeated Luther Strange. Strange was appointed to the post when longtime Sen. Jeff Sessions became Trump's attorney general. Both McConnell and Trump had backed Strange.