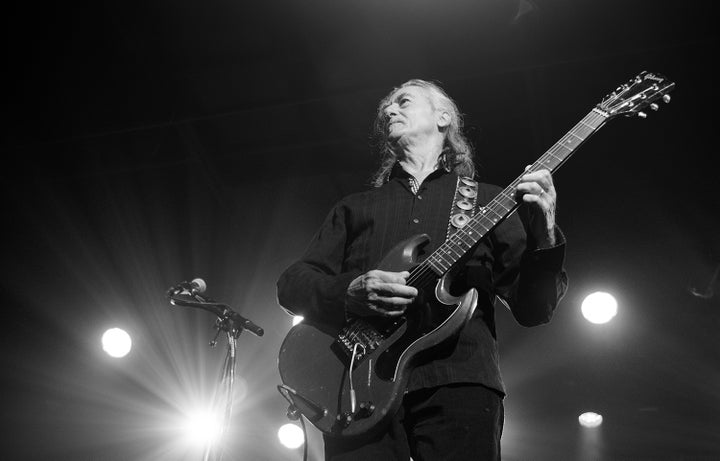 Barry Goudreau played guitar and toured with the band BOSTON from 1976-1979. After his departure, he went on to start numerous groups, including his newest band Barry Goudreau's Engine Room. I caught up with Barry at his studio in Massachusetts where he talked about being influenced by the blues, his love for Gibson SG's, and the inspiration behind his new music.
JL: What inspired you to become a musician?
BG: Way back when I was a little kid, I remember driving in my mother's 59 Plymouth standing in the backseat listening to rock n' roll radio and that's when I heard Elvis. Then I saw Elvis on T.V., and he had the guitar swung down low and all the girls were screaming, and I decided, I wanna do that! I didn't want to be the singer, I just liked the guitar part. I was about nine at the time and I kept telling my parents, I wanna play the guitar. Their response was, maybe later. By the time I got to be eleven, they finally gave in and borrowed my babysitters acoustic guitar and hitched me up with some lessons, and like the saying goes, I played until my fingers bled. I really loved it and they realized that I was serious about it and they bought me a used 1962 white Fender Stratocaster. That was one of the greatest things that ever happened to me. By the time I was 13, I was in my first band playing covers of bands like The Rolling Stones and The Kinks, and I have been at it ever since.
JL: Some of the earliest songs that you did with the band Boston have gone on to become "rock anthems". What is your point of view about what makes a song a rock anthem?
BG: Oh my god……I suppose if we knew the answer to that, every song we wrote would be a rock anthem. When we were working on the material, we all thought it was great and it should do really well. The songs that turned out to be the most popular, I wouldn't have necessarily picked out to be the hits.
JL: When you think about music and getting played on the radio, every song on that the first Boston album got airplay–– which is a rare feat for many bands. Do you think that is even possible for bands today to achieve?
BG: No I don't. Part of the problem is the way radio is formatted. There is a lot of radio for the Pop kind of music, and if you do that, then I suppose you have a pretty good chance. But for a straight-ahead rock band, there's not a whole lot of outlets for it. Now-a-days, streaming and social media is really the way things happen. For what I play, which is blues-rock, there is no format on radio that's playing that. Stuff I played in classic rock, is played on classic rock stations, but classic rock radio doesn't play anything new.
JL: Do you think it's because more people are buying individual songs rather than full albums?
BG: Yes, I think that is a lot of it. Back in the day, going out and buying that vinyl record––it was big, and you could sit there and look at it and there was liner notes and pictures––it was a whole different experience. When it went to CD's, it was kind of close to the record but the CD was little and all the writing was tiny. That whole experience is practically gone. A lot of people are now turning back to vinyl which I think is great, but I don't think it will ever get back to what it was.
JL: Since Boston, you've been in or started a number of bands including: RTZ, Orion The Hunter, Ernie and The Mechanics, American Vinyl All-Star Band and now your newest project is Barry Goudreau's Engine Room. The new CD titled Full Steam Ahead is very guitar centric. What was the inspiration behind this new band and music?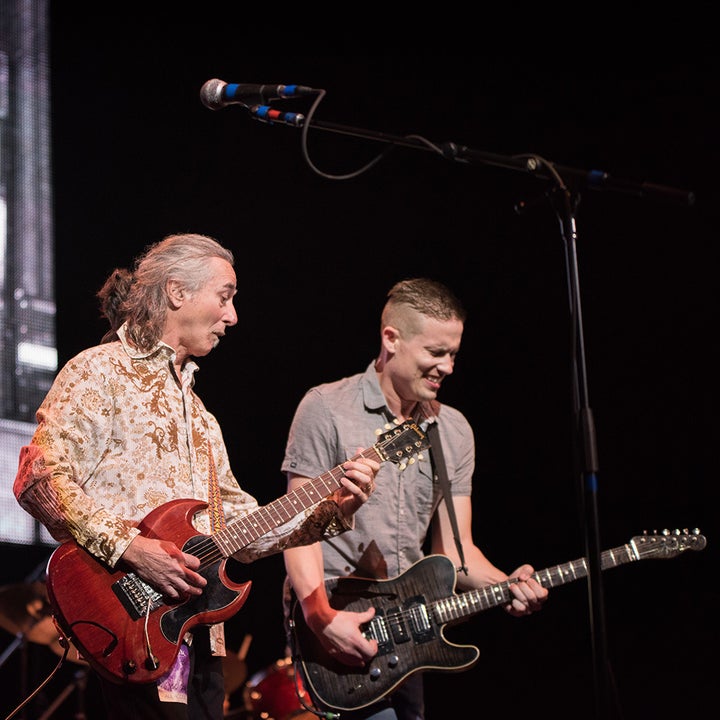 BG: Well, in 2016, I had the opportunity to sit in with the Experience Hendrix tour down at the Hard Rock Hotel in Florida. I had met Jonny Lang a couple of times before. He had played with us once in the All-Star band. I was invited to go up and play with him on this tour and it was great––we got a standing ovation. After the set, I was walking through the hall backstage and people were giving me high-fives, and I thought to myself, this is what I should be doing. When I started playing guitar, I played along to blues records, one being the Paul Butterfield Blues Band. And when the English bands came over, like Jeff Beck, Humble Pie, and Cream, they were taking this American blues and kicking it up with big drum sounds and big guitars and Marshall Amplifiers. That's what I was in to before Boston took off. So, I just had this epiphany, this is what I should be doing. I called up my old buds Tim Archibald and Brian Maes from the RTZ band to see if they'd be interested, and they both signed on immediately and said let's get together next week. After I hung up the phone, I realized that I didn't have a note of music written––Nothing! I sat down over that week and came up with a whole bunch of musical ideas and chord changes and the other guys had some great ideas as well. The very first time we got together, most of the record came into focus.
JL: Much of the music feels rooted in the blues. What blues musicians really captivated you and made you interested in that genre of music?
BG: The Paul Butterfield Blues Band in the mid-60's was really big for me. When I first started playing guitar, I was a rhythm guitar player. When I started playing along to those blues records is when I started to find my musical voice. I remember going to see Cream here in Boston who took some of the blues classics and supercharged them. I remember the curtains opened up and there was this giant drum set and Marshall amps and Eric Clapton was playing a Gibson SG guitar. Right there on the spot I said, I have to have one of those guitars and one of those amplifiers. After the show, I went out and bought a '68 SG which I still play to this day.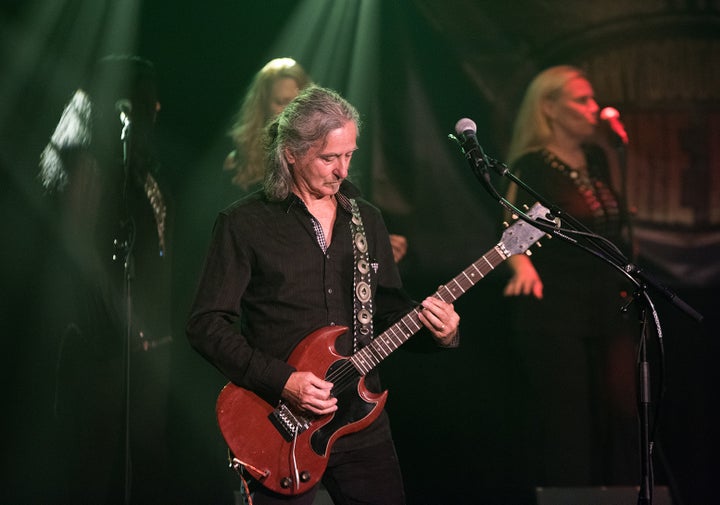 JL: I've seen a lot of pictures of you playing those Gibson SG's. What do you get out of that guitar that you don't in other guitars?
BG: One thing about them––they're very light unlike Les Paul guitars which are very heavy––and I'm a small guy so, playing the Les Paul's for a long period of time on stage is a lot of work. The other thing that I liked about the SG's is that they have a long, thin neck.
JL: What's the most important song on Barry Goudreau's Engine Room?
BG: That's a tough one. I'm proud of all of them. The first song on the album, Need, is a rocking song, which is one of my favorites, as well as Time, which Brian Maes started writing years ago and we finished up for this record. It's the first song that we used women singing the background parts.
JL: As a songwriter, did you ever go through a bout of writer's block in any of the bands/projects you were a part of? If so, how does an artist overcome that?
BG: Absolutely. I did the RTZ record in the early 90's. We did one record for Warner Brothers. We had a whole lot of material to do a second record, but Brad (Delp) ended up leaving to rejoin Boston for a tour. After RTZ ended, I felt that I needed to be around for my kids. So, I was home for most of the 90's and I decided I wanted to do another record, and I sat down and I couldn't come up with anything. I spoke to a friend of mine who was a recording engineer at the time and he said, you know what you need to do is, turn on a recorder and just play. And then later on, listen back and pick out what you think works or doesn't work. I tried it, and sure enough, it worked. I then brought Brad in to help me with lyrics and that ended up being the Delp Goudreau CD that I did in 2003.
JL: Do you embrace the digital technology that is used now-a-days to record & produce music?
BG: I use to have a 16-track analog recorder and absolutely loved the sound of it. The problem was, it came to a point where buying the tape and maintaining the machine was difficult. So I ended up buying a digital recorder and it's so much easier to work with.
JL: Do you find that there are advantages or disadvantages vs. recording analog?
BG: In the analog days, when you recorded a song, you wanted to get everything right. The performance was much more important than it is now. With digital, you can just go in and fix a note if you wanted or move a section around.
JL: What are some of the most important things that you know now about the dynamics of being in a band and working in the industry that you wish you had learned earlier in your career?
BG: Being in a band is like being married. You learn over the course of it how to do it. I really enjoy the camaraderie of working in a band. Looking back with my history with Boston, I could have handled things a little bit differently, and things could have turned out differently, but you learn as you go along. Every situation is different––every band is different.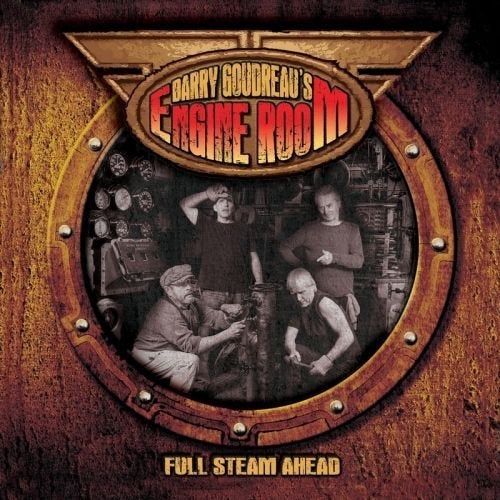 JL: What is your greatest musical achievement to date?
BG: I'd have to say this new record I did. It was so fulfilling to me. The way it all came together so quickly. I had a hand in writing songs for it and it has me and my style all over it. This is exactly how I feel right now, and I am thrilled to death.
Popular in the Community