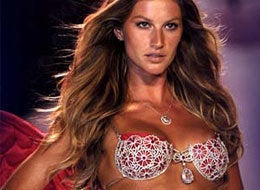 Stock market volatility. Credit card debt. Sarah Palin.
It's all too depressing to think about.
So here's something lighter. The latest fashion dilemma: what to wear under the sheer, worn-in tees available at the most coveted boutiques? A nude bra reveals too much (it's getting chilly outside too!) and a padded bra looks well padded.
We asked the ladies behind Shopbop's in house label, Bop Basics, how they wear their line of burnout tees, as well as stylist Katy Robbins for how she'd style the look. The overall consensus? A black or colorful bra.
Sure, a lacy bra peeping through a ho-hum tee epitomizes effortlessly chic. But can a less fashionably daring woman in her thirties pull something like that off? We asked people on the streets of Downtown Manhattan what they thought of such a look. Most found the style to be fashionable, modern, and downright cute. A few of the men did wonder why smart and trashy can't be the same thing; making the point that attitude is what gives off any look.
Okay... need we be reminded.