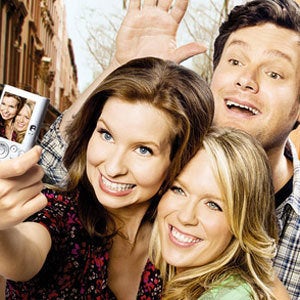 Thank you. Thank you for watching our show, our stories and our neuroses come to life. Thank you for tweeting us photos of Scoops, baskets of woven belts and your babies. Thanks @kyleshank for being brave enough to admit that you still own a bottle of Drakkar Noir. (http://pic.twitter.com/nIHH6jXG) Thank you for inviting us to your end-of-school party @TeenStandup, aka the "professional masturbator," Jessica is seriously considering it. Thank you @elizabeth_baugh for using episodes of BFF as research for your Maid of Honor speech for @dozierra's wedding. Thank you @campellartsoup for photoshopping Lennon's head onto the body of Mel Gibson as Braveheart's William Wallace even though the visual freaked Jessica out so much she could only look at it once (#fightlikewarriorpoets pic.twitter.com/gpJ6oanc). Thank you for the countless gif's and for starting a petition and rallying the troops for the #SaveBFF campaign: @liekefeet @TessTalks @ConnorRatliff. Thank you for the adorable #SaveBFF drawings @KimberlyWong and for risking imprisonment in the Magic Kingdom for drawing "Save BFF" on a sidewalk at Disneyworld @AlbearAndWine. Thank you for loving Queenetta. Thanks for watching each episode dozens of times @MissGormann. Thanks for laughing and crying. Thank you for making us laugh and cry: "@MamaTisch: My BFF died six years ago. Watching #BFF makes me feel closer to her for 30 mins/week. Thanks for that gift." Thanks for skyping with your long distance best friend to watch BFF. And bottom line, thanks for the support: "@Rippaz: just wanna give due to your show -- best new sitcom this season and amazing representation of real female friendship." Thanks for being there from the beginning @Brocklesnitch and not being weirded out when we talked about you on Craig Ferguson. And thanks to those fans who took the time to record themselves for this fan video: @Brocklesnitch @wastelandblues @albearandwine @talking_bird @CaitSchan @drivemycarlye @christinarusso @josephpapa @kylemfox @liekefeet @dirtpoordiva @thisisconlan @erinutech @missgormann @comealongsong @cristinasanza @marleyyamanda @TracySoren @meagangordon .
Above all, thanks for "letting it get weird." #savebff #bffday
Episodes 5 & 6 of Best Friends Forever air tonight, June 1st at 8 p.m. on NBC.
REAL LIFE. REAL NEWS. REAL VOICES.
Help us tell more of the stories that matter from voices that too often remain unheard.