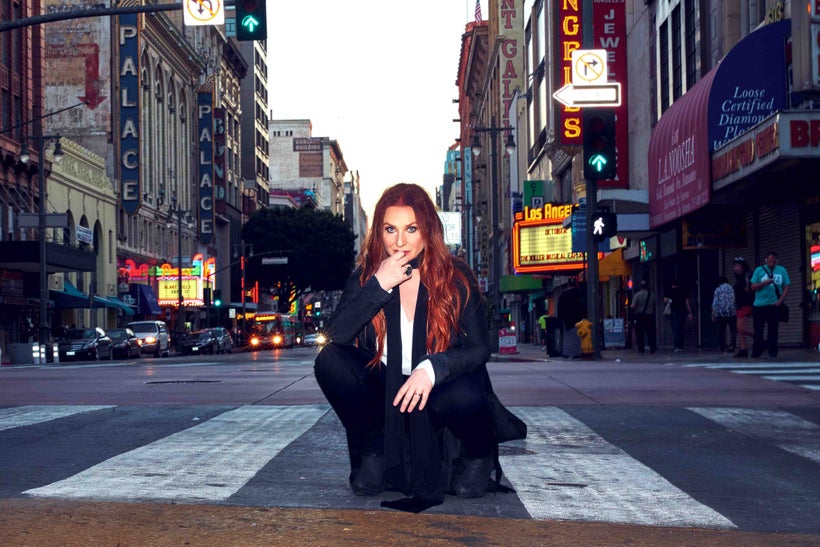 To be one's true self is the goal in life. This blog series would not exist if it weren't for a reunion with an old friend who had all the makings of a modern-day Mozart. But at a pivotal fork in the road, he chose the path behind a desk, instead of one behind a keyboard, which would've honored his gift - like Mozart did. Now, 20 years later, he's unrecognizable, this friend who once had music radiating from every cell, especially when singing in random bursts of happiness. The years have taken their toll - not just in the added 20 pounds that don't belong, but in the heaviness that comes when living someone else's life, and not one's true purpose. The life you came here to live.
As a writer, this inspired me to highlight the special souls who chose to follow their true path. The tougher path, but one that honors and expresses the powerful gift of music they've been given. To live the Mozart life. May some of their words help or inspire you to find your true calling in life.
Welsh pianist and singer-songwriter Judith Owen just got off a tour with Bryan Ferry, and recently released her 11th solo album "Somebody's Child," from Twanky Records, which she co-founded with husband Harry Shearer. It's a mix of songs that are vignettes of life from the perspective that we are all "somebody's child" - parental as well as planetary. It was called "near perfection" by Paste, and was named in the 2016 "Top 100 Records of the Year" in the UK's Sunday Times. For "Somebody's Child," Owen had Los Angeles session musicians bassist Leland Sklar, guitarist Waddy Wachtel and drummer Russell Kunkel (whom have worked with Carole King, Joni Mitchell, jackson Brown and Laura Nyro), incorporating them with her British-based musicians - percussionist Pedro Segundo and cellist Gabriella Swallow.
In working and touring with her musical idols, she called herself a "late bloomer" and it's befitting that Owen chose these L.A. session musicians for this album, since she talks about her music fitting more into the 1970's singer-songwriter scene, like the title track, which has echoes of Mitchell's "River." Owen's sound, and this album certainly takes you back to that time we wish we can still visit. The time when melody and the Laurel Canyon sound dominated the airwaves on car radios, or the device we held in our hands and looked down at back then - our transistor radios.
Among Owen's own original songs, there are two covers on the album that both have its own mellow take on the original - with "Aquarius" and, speaking Ferry, her version of "More Than This" is one you're going to want to put on repeat mode on a lazy Sunday afternoon. If you like the original, chances are, you'll love having this new cover version to enjoy. And if you weren't a fan of the '80s New Wave Roxy Music tune, this smooth, yet at times jazzier translation might change your mind, because it retains shades of the original, yet it sounds like a new song. I may even like Ferry's song more now because of this piano-driven acoustic cover, where you can feel Owen throughly enjoying each note, from her rich alto to mezzo soprano range. Her version only adds to Ferry's. Owen's take makes you want to luxuriate, and take time out, and just be. I love finding new songs to play on repeat, and I'm thrilled to find this new favorite.
Owen shares about being broke, but feeling the joy that financial security can't provide, and working jobs like delivering sandwiches, cleaning and night shifts at call centers, how she found her musical path from having an opera singer father, and the journey of one's path and not its destination.
What inspired this blog series was seeing an old friend who has a special gift of music, but didn't choose that path, who, 20 years later, isn't living the life he thought he would live. People who make music and get to travel the world doing so are a rare example of a life where one is able to honor and channel their gift of music. What are your thoughts? And do you feel you're consciously living the life you thought you would be living?
Absolutely! I have friends like this who regret it now, but here's the thing - you have to want it so badly that you don't chose the job that pays. I remember being the broke one for years, but not minding it at all because I got to play at night and feel the kind of joy that financial security alone wouldn't provide. It was easier for me though as I had a father who was an artist. He told me from day one that if you got paid to do the thing you loved, you were the luckiest person on earth. So I chose to clean, and deliver sandwiches and work at one of those terrible call centers at night to keep afloat. But I never did anything that would detract from the music. It's a passion and it drives and consumes you. Not everybody has that, and I don't blame them for wanting financial security - it's bloody hard out there!
I've said in that blog post about living the Mozart life, that it may be a tougher road to choose, but you're fully living your true selves. Do you resonate to that? You did not choose the 9 to 5 path. 
Totally. I've chosen the harder path, to be my authentic self. I don't write obviously commercial songs. I'm all about connecting emotionally with the listener, and although my kind of songwriting was commercial in the 70s, it's no longer the case. But you have to do what you do, be who you are and know that you get one life to live, so live it well whatever you do. As for the 9 to 5 path, I'd love the discipline but would die without the freedom. Like I said, it chooses you!
But to embark on this path you chose, was that difficult? You didn't know you would get here. 
I'm stubborn as a mule, you have to be in this business, and could never ever imagine not being an artist or doing anything else. I do it because I must. It's a necessity. It keeps me well and is the love of my life, apart from Harry of course. I wanted to be a success and have been pushing for years. I think it's the working towards something and not the arriving that makes for a great life. Personally I don't thing I'll ever feel like I've ever arrived. Artists never do. Your best work is always ahead of you.
There are divine moments of serendipity, where a catalyst opens the door that leads to the path we're meant to be on, the one where we live out the fullest expression of our true selves. What was that moment for you and how did it happen? 
I think it was meeting my husband Harry Shearer. He was in London doing a "Spinal Tap" show at the Albert Hall and I was playing in a hotel bar - doing my apprenticeship! I'd just finished playing a week at Ronnie Scott's jazz club and was broke again. Harry walked in, heard my voice and fell. I turned round hearing applause and saw him and Christopher Guest standing behind me clapping enthusiastically. Did I mention Harry was in full Derek Smalls beard, side burns and rock hair? I remember thinking that this was the most surreal and fantastic moment I'd ever had. He and I talked for hours, and I followed him after months of lengthy phone calls to America where a life devoted to music and getting mentally healthy began, with the person who was my anchor and greatest supporter.
How do you find inspiration for the music? It's said that's when we're most connected to our true selves, Higher Selves. For example, some of the best songs were written in minutes. What's your take on that, do you feel that those are the inspirational moments you're most connected to your true self?
As a "confessional' writer, I seldom take longer than 10 minutes to get the bulk of any song written. It's a direct line from your heart to your hands and it's the most inexplicable joy you feel when it happens! I go for fallow periods when I'm convinced I've lost my gift, the muse, and then life happens and boom! I'll rush to the piano and the melody will be out straight away along with the most important lyrics, the ones that define what it's about. After that I spend weeks tweaking and perfecting it, especially the lyrics. I'm not sure if it's a connection to our most conscious or unconscious selves, I'm just grateful for it. I think "No More Goodbyes" is a good example of a song that came quickly and was utterly connected to my higher self. I wrote it for my father when he was dying and even sang it to him before he passed. I've always written songs to tell those closest to me how much I feel for them as I'm as bad as the next Brit when it comes to speaking from the heart! And I knew this was the most important song I'd ever write. I wrote it in minutes yet it was only when I recorded it a year later that I realized it's true meaning. I was telling my father that losing him would break my heart but that ending his pain would also bring peace and relief. I was giving him permission to leave, to let go. It came from an authentic human place that we all know and share, that's why when I sing it in concert, people come up to me after and share their stories of loss, grateful that someone understands what they've been through.
Do you have a daily musical process?
I'm the most distracted musician, until there's a tour or recording ahead that is, and then I turn on my OCD button! I've never over-practiced or made myself tired of playing. It's too important to me to risk ever losing the pure joy I feel when I play and sing songs and they feel like old friends I haven't seen for a while. I do sing every single day though, in the shower, on the elliptical, walking the dog, buying food, driving the car - well, we all do that! I'm constantly humming and warming up with operatic exercises. Bloody irritating for anyone remotely near me, but I can't help it, it feels too good! Every time I sit at the piano and play after a few days off, I'm amazed at how great it feels and fall in love with it all over again. Mostly I just wait for the muse to come.
When did you know you had this gift of music and how did it manifest for you? How did you start to do the human discipline it takes to channel your gift, hone it, and bring it forth? 
I was brought up in a very musical house. My father was an opera singer at Royal Opera House Covent Garden, so there was always singing and piano playing throughout the day. I actually learnt how to sing properly and protect my voice by copying my father's operatic warm up exercises, which I still do to this day! My big sister was already excelling at the piano and cello and at age four I began to copy her at the piano. I couldn't read music but I could hear it and then play it. Naturally, my parents thought I was going to be a great classical pianist, until lessons highlighted a form of symbol dyslexia, along with the usual kind, which coupled with anxiety made any concert pianist plans moot! Thankfully I was left alone to write and sing at the piano, which was actually all I ever wanted to do. Music chose me, it always does and seeing the look on my father's face whenever he sang and spending so much at the opera, soaking up the music and the magic sealed my fate. I didn't want to follow in his footsteps though, and for the longest time I was a secret singer-songwriter preferring instead to focus on acting. But at Performing Arts school I was "outed." When asked if we had musical talent, I played one of my "confessional" songs to the class, eyes shut tight, and upon finishing was certain that the awful silence meant that I really shouldn't have exposed my inner self. When I finally opened my eyes I noticed that one of the girls was crying. The drama teacher then asked me why I was bothering with acting! So that was that. I still studied acting, it's part of my job as a performer, but from then on I started playing anywhere and everywhere around London to really learn my craft. You can play forever in your living room, but I've always needed to connect with an audience. It's been that way ever since.
How did you know that this is your life path, your calling? How does one know when you're on the correct path?
By audience reactions. It's the only way. Whether in a club, someone's house, it doesn't matter. I remember as a kid going to the opera, or listening to Stevie Wonder and Aretha, and experiencing that filled up feeling that only music can bring. So when I see and hear how strongly people resonate with my music, how it touches them and makes them feel like I'm singing about their lives, well, that's all I need to hear. I believe that my job as an artist is to give people permission to feel. I want joy and tears 'cause I've sung about the hardest things we all go through in life. I write these songs to share, so that none of us have to feel so isolated and alone in our struggles. I used to worry that I was overly honest and emotional in my songwriting. Now I know it's my calling. I'm here to make you laugh and cry!  
Life does give us catalysts, a release valve, which often is our lowest point in life, that allows us to push up to the next, hopefully better chapter. Like a desert, wilderness period in life, that helps raise our consciousness and stay true to yourself and your own path. What was that low point for you that helped you push yourself further, evolve and do better, and what did you do when you had that epiphany?
My lowest point in life was losing my mother when I was 15. She'd struggled with mental illness her whole life and finally took her own life as living was unbearable. I don't blame her as I've experienced similar lows in my own life, having the same genetic predisposition to low grade depression and anxiety. Her loss was the catalyst for my song writing, as it was the only way I could express my pain, guilt and fears. I was desperately ill throughout my teens and early 20's, although you'd never have known it my game face was so good! Thankfully, I was performing throughout my worst of my illness as it was truly the best self-medication I could have. When I met my husband and went to California, I knew that I needed help and was in the right place to find it. So began the road to recovery and 11 albums! I know I'm back to being the person I was at age six 6, with better life skills of course, before our lives unraveled, because my current album "Somebody's Child" is very outward looking. Some songs are confessional of course, but many of the songs especially the title track about seeing a homeless pregnant girl on the snow covered streets of Manhattan, act as social commentary. They highlight how we all miss the important stuff, in favor of our "first world problems." Being able to look outside of myself tells me that I'm finally out of the hole. When you're in the illness you can only look inside.
It's been a tough time for music, losing many of its legends. What are your thoughts on time, how it seems to go by faster each year. Perhaps it's made you reflect on what you want to achieve in the time we're given here? Do you think about time much and what you want to achieve in the time we have?
When I lost my father I certainly became more aware of time passing and what I was doing here - that's probably why I've turned into such a road warrior! Opening for Bryan Ferry around the world has been the opportunity of a lifetime and the most vindication and rewarding experience. I've spent a lot of time hiding from life in case it took someone else away from me. But that's not living. So now I'm truly whole again, I'm cramming in as much as possible and doing everything I'm capable of - more albums, a musical, and shows, shows, shows. I'm finally living in the moment. It's a huge moment when you realize that we can't control tomorrow, but we can enjoy today.
Unlike any time in history, we're in a overwhelming digital era. There is so much detritus, noise and schadenfreude. What's your view on that, and how do you find quiet in this era? What do you do to connect with your Higher Self, your true self? How do you ground yourself, focus on your own life path and purpose?
I have a very funny song on the "Somebody's Child" album about my inability to close my computer or put down my phone. We're all consumed with self-promotion, especially if you're a performer and God forbid if you don't answer my text in 20 seconds, I go into plummet mode! But with all this around me, I'm trying hard not to forget the simple pleasures that I also need to keep sane - my family, my dog, cats, friends, food, sleep, exercise, Southpark & TCM marathons.
I'm a firm believer in doing mitzvahs, especially in the tougher times of our lives. To give back, be of service in some way, to use our time most wisely, can only help us in the end. What are your thoughts and do you try to do your own mitzvahs to help others, even in the smallest way?
Harry and I do a holiday show that we tour every year called "Christmas Without Tears." It's our favorite way of giving back, filled with joy, and good will. It's entirely for charity and amazing performers (Jane Lynch, Tim Minchin, Stephen Merchant, Richard Thompson, Donald Fagan), have performed in aid of homeless, mental health and musician welfare charities throughout the U.S. and U.K. We always end in our hometown of New Orleans, which is where the show began, as a money raiser post Katrina for the NOLA Musicians Clinic. It's important for musicians to support other musicians in any way they can. It's a hard road for most and getting harder all the time in this digital age.  
What advice do you have for people who have the gift of music, but don't know how to start channeling it, to develop that gift and bring it out? 
I can only advise people on being a singer-songwriter. For that, I'd say write about what you know, is authentic to you and the listener will hear and feel it. Get out and do it wherever you can, even if you invite people over to listen in your bedroom or have house concerts. The more you do it the better you get and the more you develop and know who you are as an artist. It's like any muscle. Just be true to yourself and try not to be too undermined by the business arseholes out there. Remember - if they could, they'd be doing it!
What do you do to help pick yourself up when you're feeling down, and help you stay the course? Is there a song you play that inspires you when you're needing some inspiration or to pick yourself up? 
The best pick me up is to play and write. Getting to the piano when you're low is another matter however! If that fails, then an emergency viewing of "Team America" or a lengthy cuddle with the hound will do the trick!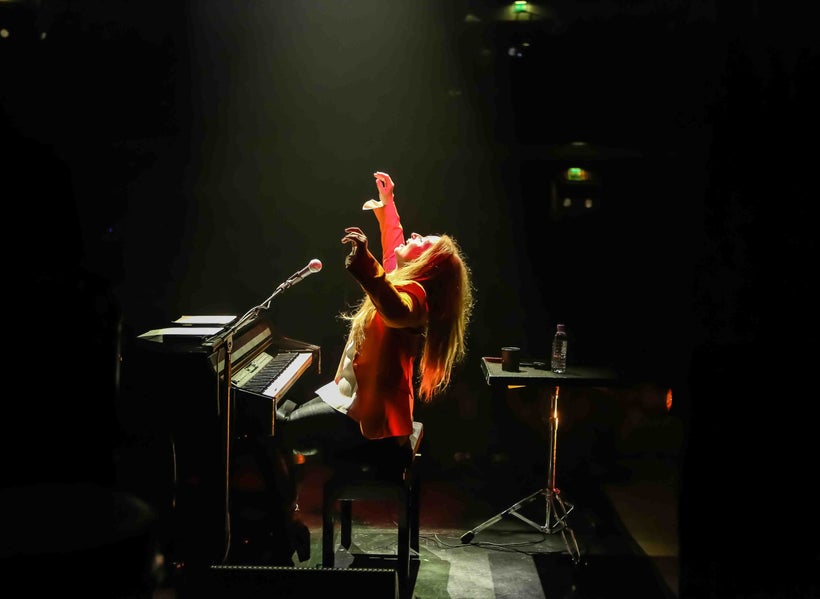 REAL LIFE. REAL NEWS. REAL VOICES.
Help us tell more of the stories that matter from voices that too often remain unheard.
This post was published on the now-closed HuffPost Contributor platform. Contributors control their own work and posted freely to our site. If you need to flag this entry as abusive,
send us an email
.